18 Karat Gold, Pink and Blue Sapphire and Diamond Bracelet, Bulgari. Photo Sotheby's
The flexible band set with oval blue sapphires weighing approximately 24.50 carats, framed by small round diamonds weighing approximately 7.00 carats, accented by round pink sapphires weighing approximately 33.00 carats, length 7¼, signed Bulgari. With signed box. Estimate 12,000—15,000 USD. Lot Sold 31,250 USD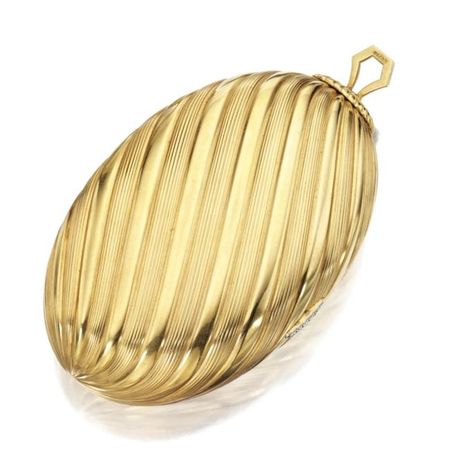 18 Karat Gold and Diamond Evening Bag, Bulgari. Photo Sotheby's
The textured gold oval bag with a thumbpiece set with round diamonds weighing approximately .30 carat, the interior fitted with a mirror, lighter, cigarette compartment, powder compartment with screen, lipstick holder, comb holder, and a smaller compartment, gross weight approximately 480 dwts., signed Bulgari. Estimate 18,000—22,000 USD. Lot Sold 27,500 USD
Platinum, Pink Sapphire and Diamond Ring, Bulgari. Photo Sotheby's
The cushion-shaped pink sapphire weighing 4.80 carats, flanked by round diamonds weighing approximately .50 carat, size 5¾, signed Bulgari. Estimlate 25,000—30,000 USD. Lot Sold 26,250 USD
Accompanied by GRS report no. GRS2004-090486 stating that the natural pink sapphire is of Burmese origin, no indications of thermal treatment.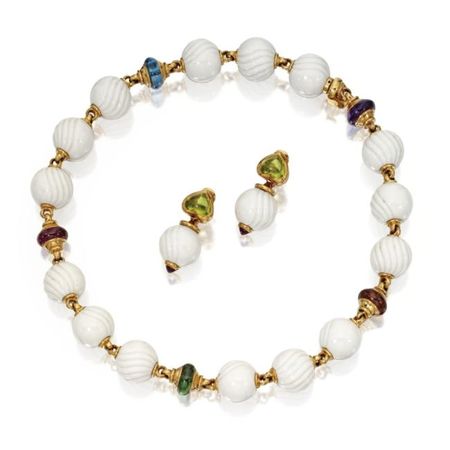 18 Karat Gold, White Porcelain and Colored Stone 'Chandra' Necklace and Earclips, Bulgari, Circa 1995. Photo Sotheby's
The necklace composed of fluted white porcelain beads, accented by an amethyst, a green tourmaline, a pink tourmaline, a citrine and an aquamarine bead, length 17½ inches, signed Bulgari; the earclips of similar design supporting fluted white porcelain beads, the bottoms set with cabochon pink tourmalines, surmounted by heart-shaped cabochon peridots, signed Bulgari. Estimate6,000—8,000 USD. Lot Sold 20,000 USD
NOTE: Jewelry of similar design illustrated in Bulgari, Amanda Triossi and Daniela Mascetti, pages 118-119.
Platinum, Orange Sapphire and Diamond Ring, Bulgari. Photo Sotheby's
The oval orange sapphire weighing 6.69 carats, framed and flanked by baguette and round diamonds weighing approximately 1.90 carats, size 6½, signed Bulgari.Estimate 10,000—15,000 USD. Lot Sold 20,000 USD
18 Karat Two-Color Gold and Diamond Evening Bag, Bulgari; Photo Sotheby's
The woven 18 karat white and yellow gold purse set with single-cut diamonds weighing approximately 1.25 carats, the interior fitted with a mirror, gross weight approximately 265 dwts., measuring approximately 7½ by 3½ by 1 inches, signed Bulgari, two diamonds missing..Estimate 12,000—15,000 USD. Lot Sold 18,750 USD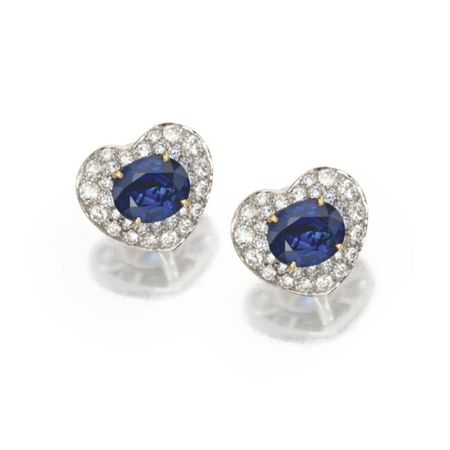 Pair of Platinum, Sapphire and Diamond Earclips, Bulgari. Photo Sotheby's
Designed as hearts set with oval sapphires weighing 9.92 carats, framed by round diamonds weighing approximately 3.50 carats, signed Bulgari.Estimate 10,000—15,000 USD. Lot Sold 15,000 USD
Sotheby's. Magnificent Jewels, 14 Apr 11, New York www.sothebys.com