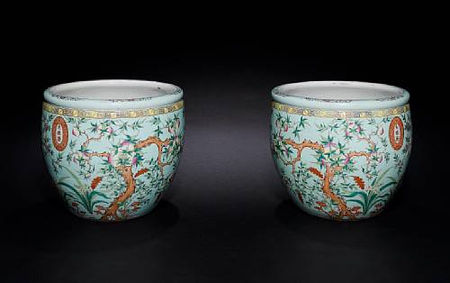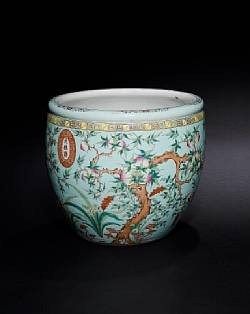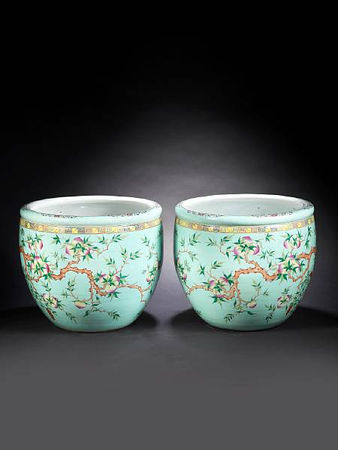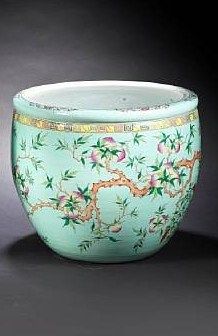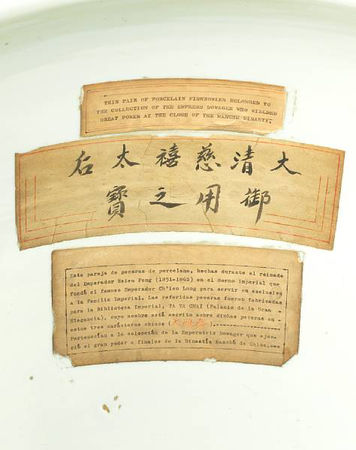 A very large pair of famille rose turquoise-ground 'peach' fishbowls. Da Ya Zhai marks, Guangxu. Photo Bonhams
Each enamelled with large leafy gnarled peach trees amidst nandina sprays, the trees bearing peach on one side, and peach blossom on the reverse, all reserved on a turquoise ground, with a key-fret border on yellow ground below the lipped rim enamelled with chrysanthemum scrolls, each bowl with an oval iron-red Da Ya Zhai mark within an oval frame flanked by a pair of dragons pursuing the flaming pearl above waves within a wider oval border. 51.5cm (20¼in) diam. (2). Sold for £333,600
Provenance: a Spanish private collection

The mark Da Ya Zhai (Studio of Greater Odes) has been associated with the Dowager Empress Cixi. Though no such hall has been identified, a wooden framed plaque has been found in the Imperial workshops, bearing the characters Da Ya Zhai and with one of two seals reading Tiandi Yijia Chun: see Guo Xingkuan and Wang Guangyao, Guanyang Yuci: Gugong bowuyuan cang Qingdai zhici guanyang yu Yuyao, Beijing, 2007, pp.145-147. According to the authors, in the 12th year of Tongzhi (1873) work began on the restoration of the Yuanming Yuan, and by 1874, the interior of the Tiandi Yijia Chun would have been in need of furnishing. Rosemary Scott in her article For Her Majesty's Pleasure - Dayazhai Porcelain, published by Christie's Hong Kong, 3 December 2008, p.23, suggests that the new-style porcelains were not produced until the Guangxu reign, and by the second year of Guangxu, 4,922 porcelains had been produced bearing both Dayazhai and Tiandi Yijia Chun marks. As the restoration work at the Yuanming Yuan had been halted for economic reasons, the vessels would have been delivered to the Forbidden City.

Compare a very similar pair of fishbowls illustrated by Guo Xingkuan and Wang Guangyao, ibid.p.167.
Bonhams. Fine Chinese Art, 12 May 2011, New Bond Street www.bonhams.com