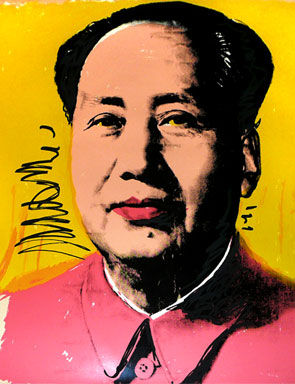 Andy Warhol, MAO (F.S. 90-99), 1972. Portfolio of 10 screenprints on Beckett High White paper, 36 x 36 inches each. Est.: US $750,000-850,000.
NEW YORK, NY.- artnet Auctions announces an important offering of Andy Warhol's original, complete portfolio of 10 Mao color screen prints from 1972. Close analysis of past auction results reveals that the majority of Mao suites have been broken up, which adds to the rarity of this exquisite set. These works are coming to auction on the heels of Phillips de Pury's successful auction in April, which realized USD 938,500.

In the aftermath of President Richard Nixon's 1972 visit to China, and its subsequent buzz in the press, Warhol created a series of prints around the now immortalized image of the Chinese leader, Mao Zedong. Inspired by a parallel between Communist propaganda and American media, as well as the cult-like followings of Mao in the East and movie stars in the West, Warhol executed his Mao portrait series echoing his portraits of celebrities such as Marilyn Monroe and Elvis Presley.

These brightly colored portraits of Mao, which were enhanced by the additions of layered graffiti-like scribbles screened on separately, transformed Mao into a worldwide pop icon. The Whitney Museum of American Art exhibited this portfolio in their wildly successful 1979 exhibition, Andy Warhol: Portraits of the 70s.

The majority of Mao prints that come up for sale have some degree of sun damage, fading, foxing, handling border/edge dings, and rippling, however, each impression in the portfolio offered on artnet Auctions is in mint condition. This portfolio was stored safely in a flat file at the original printers for nearly 40 years, and therefore retains all of the original color and quality.

Each impression is uniquely numbered and signed with a stamp on the verso by The Andy Warhol Foundation, "COPYRIGHT © ANDY WARHOL 1972 PRINTED AT STYRIA STUDIOS INC." Each impression is also accompanied by an individual certificate of authenticity by the Andy Warhol Art Authentication Board. Each work is museum mounted and framed with retro Kulicke 1970s-style plexi-boxes.

The lot is currently live for bidding here http://www.artnet.com/auctions/andy-warhol-mao and closes May 18.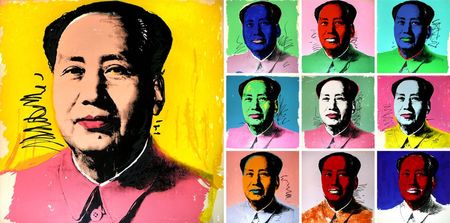 Andy Warhol, MAO (F.S. 90-99), 1972. Portfolio of 10 screenprints on Beckett High White paper, 36 x 36 inches each. Est.: US $750,000-850,000.
Warhol's Mao at Philps de Pury, Contempory Art Auction, 12 may 2011, New York :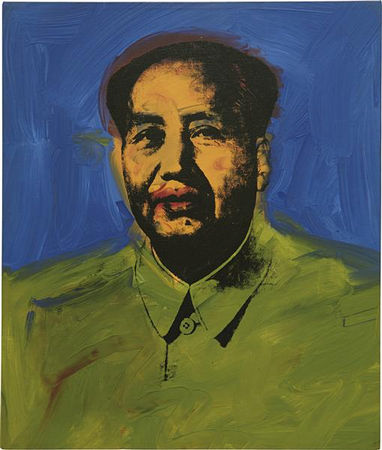 Andy Warhol, Mao (Mao 10), 1973. Acrylic and silkscreen ink on linen. 26 x 22 in. (66 x 55. Sold at $4,002,500 by Philps de Pury, Contempory Art Auction, 12 may 2011, New York.
PROVENANCE Leo Castelli Gallery, New York (LC 997); The Sonnabend Collection, New York
EXHIBITED Paris, Musée Galliera, Andy Warhol: Mao, February 23 – March 18, 1974; Monaco, Fondation Grimaldi, SuperWarhol, July 16 – August 31, 2003, no. 119 (illustrated in color); Monaco, Fondation Grimaldi, New York, New York: 50 Years of Art, Architecture, Photography, Film and Video, July 14 – September 10, 2006, no. 224 (illustrated in color); New York, Gagosian Gallery, Warhol from the Sonnabend Collection, January 20 – February 28, 2009, p. 111 (illustrated in color)
LITERATURE M. Yonekura, Andy Warhol, Tokyo, 1993, no. 50 (illustrated in color)
G. Celant, SuperWarhol, Milan, 2003, p. 274, no. 119 (illustrated in color)
J. Richardson and B. Richardson, Warhol from the Sonnabend Collection, New York, 2009, p. 111 (illustrated in color)
G. Frei and N. Printz, eds., The Andy Warhol Catalogue Raisonné: Paintings and Sculptures 1970-1974, Volume 3, London and New York, 2010, pp. 214 and 223. no. 2322 (illustrated in color)
NOTE: 'I've been reading so much about China ... The only picture they ever have is of Mao Zedong. It's great. It looks like a silkscreen. ' ANDY WARHOL

(G. Frei and N. Printz, eds., The Andy Warhol Catalogue Raisonné: Paintings and Sculptures 1970-1974, Volume 3, London and New York, 2010, p. 167)

And silkscreen Mao he did. Andy Warhol's portraits of Mao are some of the most critically important of his career. They mark his return to painting after having taken a premature hiatus from it to focus on film-making after his 1968 shooting. Not only was Warhol's high profile return to painting in 1973 monumentally important to his career but it also marked a new and incredibly successful focus on the dramatic use of color and gestural brushwork.

Mao 10 stands out amongst the Warhol Maos. It was perhaps the bold brushwork and the striking color combination of cobalt blue and vibrant green that caught
the attention of the illustrious art dealer, Ileana Sonnabend, earning this painting a spot in her personal collection. The majority of Warhols in her collection were early works dating from between 1962 through 1965. Mao 10 was one of the only late Warhols she acquired, further illuminating its importance within the series. Ileana certainly could have had her choice of works from the series as she was in fact the person who organized the Musée Galliera exhibition of the Mao paintings in Paris in 1974. This exhibition marked a significant moment in Warhol's career. Mao paintings of varying sizes hung on gallery walls covered in Mao wallpaper and the exhibition quickly became an absolute sensation, further cementing Warhol's burgeoning international reputation.

Aside from the highly fueled subject matter, the Mao paintings are also significant in the development of Warhol's technique. These canvases mark a departure from his previously highly repetitive silkscreened works – each canvas in the Mao series is significantly unique. The paintings are expressionistic, bold and brilliant, perhaps none more so than Mao 10. The energetic colors and brushwork of the present painting are perhaps the best examples from the entire series of Warhol's extraordinary ability in this regard. Warhol has given special attention to Mao's face with particular emphasis on the red lipstick and blue eye shadow that both highlight and deface his visage.

Warhol's Mao paintings take a radical departure and stand in high contrast to the original source photograph of Mao and certainly create an irreverent representation of the Chinese Communist leader. They shout more of Hollywood glamour than they do of Chinese politics. Warhol began the Mao series upon the urging of his dealer, Bruno Bischofberger, who implored Warhol to return to painting after his premature "retirement." As inspiration Bischofberger suggested that Warhol paint the most important figure of the twentieth century. Bischofberger's suggestion was Albert Einstein. Warhol's response to this was, "Oh, that's a good idea. But I was just reading in Life magazine that the most famous person in the world today is Chairman Mao. Shouldn't it be the most famous person, Bruno?" (G. Frei and N. Printz, eds., The Andy Warhol Catalogue Raisonné: Paintings and Sculptures 1970-1974, Volume 3, London and New York, 2010, p. 165).

The issue of Life Warhol would have been referring to dated from March 3, 1972 with Mao on the cover. The cover was spurred on by Richard Nixon's historic visit to the People's Republic of China during the last week of February 1972. This was the first time a U.S. President had visited China, a country considered one of the United States' staunchest foes. Nixon's visit was of tantamount importance - not only to relations between the United States and China but for engineering an evolved global dynamic. Thanks to this visit, in what Nixon termed "the week that changed the world," Cold-war tensions between the United States and China were beginning to thaw. These improved relations with both China and Russia became the hallmark legacy of Nixon's career and of monumental global significance.

Although Warhol had addressed American politics a decade earlier with his Race Riot and Electric Chair paintings, it wasn't until the Mao series that he truly engaged in political discourse through this art. He could not have picked a more loaded political subject that that of Mao and everything that he represented, particularly in the United States. Warhol's choice of Mao was also interesting in that Mao and Warhol both believed in the importance of uniformity and collective identity, and perhaps most importantly in the power of an image. Warhol based his Mao series on the official portrait of Mao, reproduced as the frontispiece of Quotations from Chairman Mao Tse-Tung, known in the west as the "Little Red Book" — Warhol incidentally owned a copy of this. This official portrait of Mao was not limited to the book — it was disseminated across the country including a monumental version hanging in Tiananmen Square in Beijing. Like Warhol, Mao was well aware of the importance and influence of an image and he used the omnipresent billboards, posters and pamphlets of his face to reflect himself as both a benevolent and fearsome leader, keeping an eye on all of his subjects. Considering the size of China's population, this particular image of Mao became one of the most widely distributed, viewed and recognizable images in the world. Warhol's choice of Mao as the subject of these paintings was subversively brilliant — his face already had a pop and iconic presence in China.

Mao was responsible for having engineered the persecution of intellectuals and artists throughout China during the Cultural Revolution so it is very powerful that an artist representing everything Mao loathed about Western culture chose to turn his very face into high art. In many ways, Mao had already manifested himself as the reincarnation of the very figures he was trying to erase, turning himself into an infamous icon and celebrity. The original portrait was a tool for the dissemination of Mao's Communist propaganda and distinctly anti-Western ideals — Warhol transformed this propaganda into an object of distinctly Western consumer culture embodying the tenets of a Capitalist free economy.

Mao was an extraordinarily controversial figure. He is credited with turning China into the superpower it is today however he is also notoriously responsible for the deaths of millions of Chinese. The significant controversy (followed by the significant press) surrounding Mao firmly cemented the Communist leader as one of the most influential and notorious figures of the 20th century and in turn he became forever memorialized in Warhol's portraits.

In addition to the medium-sized works, including Mao 10, Warhol also completed four giant canvases in 1972 followed by the canvases measuring 50 x 42 in., then
the present series and lastly the most plentiful series of 12 x 10 in. canvases. The 1973 medium-sized Maos are arguably the best from the series, demonstrating
a significantly greater variety of colors, more complicated color mixtures and a more improvisational gestural approach.

The Mao series are crucial artworks within Warhol's career without which it cannot be fully understood. The series is credited with Warhol's return to painting, and with paving the way for a number of portraits and politicallyinfused subjects including Lenin and his Hammer and Sickle series. Aesthetically, these paintings, and Mao 10 in particular, inaugurate a new painterly expressiveness in Warhol's oeuvre on a scale not previously seen in his work.