NEW YORK, (REUTERS).- Spring art auctions ended on Thursday with another big Andy Warhol sale when "Liz #5" sold for $27 million at Phillips de Pury's $99 million contemporary art sale.

The pop artist's iconic portrait of the late actress Elizabeth Taylor went a long way toward the total for Phillips, the number-three auction house behind Sotheby's and Christie's, where Warhols also played a huge role this season.

"We're thrilled with the strong results ... (which were) more than double this time last year," said Phillips chairman Simon de Pury, who also served as auctioneer.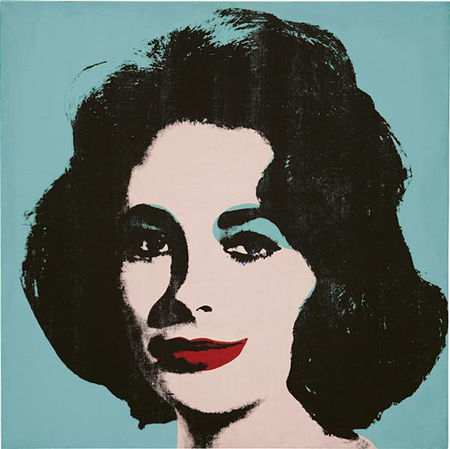 Andy Warhol, Liz #5 (Early Colored Liz), 1963. Silkscreen ink and acrylic on linen. 40 x 40 in. (101.6 x 101.6 cm.) Executed between October and November, 1963. Sold at 26,962,500. Photo Philps de Pury
PROVENANCE Stable Gallery, New York; Leo Castelli Gallery, New York (LC 127); The Sonnabend Collection, New York; Private Collection
EXHIBITED Cincinnati, Contemporary Arts Center, An American Viewpoint, December 4, 1963 – January 7, 1964, no. 23 (illustrated); New York, Sidney Janis Gallery, Three Generations, November 24 – December 26, 1964, no. 40; Venice, Palazzo Grassi, Campo Vitale, 1967, no. 250 (illustrated "Liz no. 1" by error, no. 530, illustrated); Turin, Galleria Civica d'Arte Moderna, new-dada e pop art newyorkesi, April 2 – May 4, 1969, p. 43; Zurich, Kunsthaus, Andy Warhol, May 26 – July 30, 1978, no. 45 (illustrated in color); Humlebaek, Louisiana Museum of Modern Art, Andy Warhol, October 7 – November 26, 1978, no. 11; Venice, Palazzo Grassi, Pop Art: evoluzione di una generazione, 1980, p. 141, no. 61 (illustrated in color); Hannover, Kestner Gesellschaft; Munich, Städtische Galerie im Lenbachhaus, Andy Warhol : Bilder 1961 bis 1981, October 23, 1981 – February 7, 1982, no. 8 (illustrated in color); Baltimore Museum of Art, Sonnabend Extended-Loan Collection, 1982 - 2008; Sydney, Art Gallery of New South Wales; Brisbane, Queensland Art Gallery; Melbourne, National Gallery of Victoria, Pop Art, 1955-70, February 27 - June 1, 1985, p. 86 (illustrated in color); Madrid, Centro de Arte Reina Sofía and Bordeaux, Musée d'art contemporain, Colección Sonnabend/Collection Sonnabend, October 30, 1987 – August 21, 1988, p. 116 (Madrid) and p. 132 (Bordeaux) (illustrated in color); Hamburg, Deichtorhallen, Sammlung Sonnabend: Von der Pop-art bis heute: Amerikanische und Europäische Kunst seit 1954, February 23 – May 5, 1996, p. 78 (illustrated in color); Munich, Kunsthalle der Hypo-Kulturstiftung and Staatsgalerie moderner Kunst, Amerika Europa: Sammlung Sonnabend, July 5 – September 8, 1996, p. 61, no. 12 (illustrated in color); Barcelona, Fundació Joan Miró, Andy Warhol, 1960-1986, September 19 – December 1, 1996, no. 11 (illustrated in color); Hartford, Wadsworth Athenaeum and Miami Art Museum, About Face: Andy Warhol Portraits, September 23, 1999 - June 4, 2000, p. 15, no. 16 (illustrated in color); Basel, Fondation Beyeler, Andy Warhol Series and Singles, September 17 – December 31, 2000, p. 89, no. 36 (illustrated in color); Saratoga Springs, The Frances Young Tang Teaching Museum and Art Gallery at Skidmore College; Columbus, Wexner Center for the Arts at Ohio State University; Milwaukee Art Museum, From Pop to Now: Selections from the Sonnabend Collection, June 2002 – May 2003, p. 29 (illustrated in color); New York, Gagosian Gallery, Warhol from the Sonnabend Collection, January 20 – February 28, 2009, p. 56 (illustrated in color); Basel, Kunstmuseum Basel, Andy Warhol The Early Sixties Paintings and Drawings 1961-1964, September 5, 2010 - January 23, 2011, p. 165, no. 41 (illustrated in color)
LITERATURE "Lichtenstein-Segal-Oldenburg-Warhol-Wesselmann-Rosenquist," Aujourd'hui, no. 55-56, December 1966 – January 1967, pp. 124-143, no. 2 (illustrated); A. Boatto, Pop Art in USA, 1967, p. 221 (illustrated); R. Crone, Andy Warhol, New York, 1970, no. 86; O. Hahn, Warhol, Paris, 1972, p. 14 (illustrated in color); R. Crone, Das Bildnerische Werk Andy Warhols, Berlin, 1976, no. 95; E. Billeter, Andy Warhol: Ein Buch zur Ausstellung 1978 im Kunsthaus Zürich, Switzerland, 1978, no. 45 (illustrated in color); C. Pirovano, PopArt: evoluzione di una generazione, Milan, 1980, p. 141, no. 61 (illustrated in color); C. Haenlein, ed., Andy Warhol: Bilder 1961 bis 1981, Hannover, 1981, no. 8; Geldzahler, Pop Art 1955-70, Australia, 1985, p. 86 (illustrated in color); J-L. Froment and M. Bourel, Colección Sonnabend, Spain, 1988, p. 116 (illustrated in color); M. Bourel and S. Couderc, Collection Sonnabend, Madrid, 1988, p. 132 (illustrated in color); C. Schulz-Hoffmann and C. Thierolf, Amerika Europa Sammlung Sonnabend, Germany, 1996, p. 61, no. 12 (illustrated in color); R. M. Malet, Andy Warhol 1960-1986, Barcelona, 1996, p. 78, no. 11 (illustrated in color); Z. Felix, ed., Sammlung Sonnabend: Von der Pop-art bis heute Amerikanische und europäische Kunst seit 1954, Ostfildern, 1996, p. 78 (illustrated in color); N. Baume, D. Crimp and R. Meyer, About Face: Andy Warhol Portraits, Cambridge, 1999, p. 15, no. 16 (illustrated in color); E. Beyeler, G. Frei, P. Gidal and E. Sanders, Andy Warhol Series and Singles, Germany, 2000, p. 89, no. 36 (illustrated in color); G. Frei and N. Printz, eds., The Andy Warhol Catalogue Raisonné: Paintings and Sculpture 1961-1963, Volume 01, New York and London, 2002, pp. 452 and 457, no. 533 (illustrated in color); M. Sundell, ed., From Pop to Now: Selections from the Sonnabend Collection, New York, 2002, p. 29 (illustrated in color); J. Richardson and B. Richardson, Warhol from the Sonnabend Collection, New York, 2009, p. 56 (illustrated in color); N. Zimmer and M. Stotz, eds. et al. ANDY WARHOL: The Early Sixties. Paintings and Drawings 1961-1964, Ostfildern, 2010, p. 165, no. 41 (illustrated in color)
NOTE; Andy Warhol. Celebrity. Fame. Glamour. Mortality.

These words conjure up the life and work of both Andy Warhol and one of his most famous muses, Elizabeth Taylor. Perhaps it is only now that this portrait, one of the artist's most stunning, achieves the true Warholian effect, forever memorializing an actress who will always be remembered as one of the most iconic, glamorous and beautiful faces ever seen.

Andy Warhol's art defined a generation. It both shocked and transformed the idea of what art is and could be. He captured the most famous and recognizable faces of the time and his portraits have transcended the era in which they were made. Warhol's art has become such an indelible part of our culture and his Liz such an iconic symbol, that upon hearing the name Elizabeth Taylor, Warhol's portrait is often what first comes to mind.

To Andy Warhol, Elizabeth Taylor epitomized everything that so fascinated him. She was shockingly beautiful and devastatingly alluring, yet her life was full of both tragedy and scandal. Most importantly, her face was one of the most famous in the world. Warhol's enthrallment with her began in the late 1950s and would stay with him throughout his life. Of the various portraits he did of the Hollywood starlet, none is more rich and striking than Liz #5. In it Warhol perfectly captures the glamour, sex appeal and ravishing beauty that epitomized Elizabeth Taylor. Yet behind this stunning façade is a rich and varied history which lends the painting a depth only found in the best of Warhol's work.

In 1963, Elizabeth Taylor was at the height of her film career and Warhol at the height of his artistic creativity. Taylor was the highest paid actress in the world, internationally renowned for her unparalleled beauty. Warhol was the king of the New York art world, revolutionizing the status quo with his new style and technique. This legendary portrait was a groundbreaking masterpiece when it was painted then and today, with its rich history it becomes a timeless homage to two of the world's most iconic figures. Elizabeth Taylor, along with Marilyn Monroe and Jackie Kennedy would become Warhol's most famous muses and lasting legacies.

Over the course of her life, Elizabeth Taylor collected five Oscar nominations, two Oscar wins, seven husbands and left a path of broken hearts in her wake. Her life matched the drama of the roles she played, full of triumph, tragedy and romance. It was in the early 1960s that she truly began to enthrall the world with both her high-profile films and her high-profile love life. Her face graced the covers of magazines and she quickly became a media sensation.

It was this media frenzy and undeniable worldwide attraction that so captured Warhol's attention. It would be the April 13, 1962 issue of Life Magazine that officially cemented Warhol's love and fascination of her. The cover of the magazine was a photograph of Taylor and her costar (and lover) Richard Burton on the set of Cleopatra under the headline BLAZING NEW PAGE IN THE LEGEND OF LIZ. The ten pages in the magazine chronicled her professional rise to fame as well as the romantic scandals that began to surround her. It began with her first marriage to Nicky Hilton in 1950 to her then love, Richard Burton (even though at the time Taylor was still married
to Eddie Fisher); from her start as a child star in National Velvet to the drama surrounding her role in Cleopatra, a film for which she was receiving the unprecedented salary of one million dollars.

Her high earning potential came on the wings of massive media attention fueled by tragedy and scandal. In 1958, Taylor's third husband, Mike Todd, died in a plane crash. His plane was aptly called The Liz and Liz was in fact supposed to have been on the flight, only cancelling last minute due to a cold. At Todd's funeral, thousands of voyeuristic fans came to watch Taylor grieve, gawking at and surrounding her. It was front page news. The media followed her incessantly and shortly after, the tragedy was replaced by the uproar of her taking up with Eddie Fisher, whom she turned to for comfort and solace. Fisher was the best man at her wedding to Todd and then
husband of America's sweetheart (and Taylor's childhood friend), Debbie Reynolds (the foursome were photographed together in the Life magazine spread in what would become the source material for Men in Her Life) – Taylor was quickly castigated as a home wrecker and hussy.

She was once again front page news and this element of salaciousness only increased her fame. In 1961 Taylor traveled to London with Fisher to begin filming Cleopatra with Richard Burton. The filming had to be postponed – Taylor came down with such a severe case of pneumonia that she almost died. A few months later, following this near brush with death, Taylor won the Oscar for her performance as a high class call girl in Butterfield 8. While all this was happening thousands of miles away, Warhol was devouring the daily headlines and photographs documenting her every breath.

This soap opera worthy life, outstanding beauty and international fame were the stuff of dreams for Warhol. The powerful combination of immense celebrity, fragile mortality and indefatigable press coverage would become the inspiration for Warhol's Liz series. By the time Warhol captured her face in these 1963 works, Elizabeth Taylor was only thirty-one years old yet had already lived a far more extraordinary life than most people do in an entire lifetime.

Despite Warhol's fame within the art world, he had yet to meet the leading ladies who graced his canvases. To him, this was inconsequential. He was much more fascinated by and much preferred consuming these stars through the glossy reproductions, photographs and tabloid gossip that surrounded him. The Early Colored Liz paintings are based on an MGM publicity photograph from the late 1950s. Warhol was enamored with the graphic simplicity of the headshot and, following her tragic suicide, based his early Marilyn Monroe paintings on a similar shot. These headshots would also become the basis for Warhol's screen tests shot between 1963 and 1966.
He was equally enamored by the mechanical and mass production appeal of silk-screening. Warhol said, "you get the same image, slightly different each time. It was all so simple – quick and chancy. I was thrilled with it." It was in early 1962 that Andy Warhol began to experiment with these silk-screens, first with the headshots of teen stars Natalie Wood and Troy Donahue and then with the first Marilyns, following her tragic suicide on April 5, 1962. By 1963 he had fully mastered the technique which would come to define Warhol's brand of Pop art. Not only was silk-screening instantly recognizable as his trademark but it embodied the electric artificiality and consumer
culture that he so sought to capture.

Owing to Warhol's mastery of his technique, these Early Colored Liz paintings are undeniably the best-executed and striking pieces of Elizabeth Taylor. Liz #5 is one of the standout pieces. Not only is the brilliant turquoise-hued phthalo green background heavenly but the screen is perfectly registered. The paintings from this series required an additional phase of work: Warhol would lay the screen twice, the first time to establish color registration and the second after the hand painting was complete. This extra attention is particularly noticeable in Liz #5 in the slight doubling (or volumizing) of her halo of black hair. The surface is impeccable and the sensuous lines of her
face are highlighted with carefully painted makeup, if you will. Her crimson lips curve into a sultry smile, her glimmering violet eyes are accentuated by turquoise eye shadow and her skin is luminous. Warhol's aim was to capture and exaggerate Taylor's flamboyance, pure physicality and sexual appeal. He succeeds, laying bare the trappings of celebrity and fame. The result is an extraordinarily artificial image – yet one that radiates the promise of Hollywood sex and glamour. Liz #5 wholly seduces the viewer.

The sheer visual splendor and shameless appeal of this painting is enhanced by its history: Liz #5 also captured the attention of one of the most important art world figures of Warhol's time, the powerhouse art dealer, Ileana Sonnabend. It became a central piece of Ileana's personal collection and remained so until her death in 2007.

Ileana Sonnabend had a famously astute eye and a deeply passionate commitment to showing cutting-edge and avant garde art. She would only select pieces that truly embodied this vision for her personal collection. Ileana was steadfastly dedicated to pushing the limits of the art world and this reputation elevated her to the top rank of New York (and international) art dealers. At that time, in the early 1960s, the New York contemporary art world was small, with just a few galleries showcasing these young artists. Among them were the Betty Parsons Gallery, Eleanor Ward's Stable Gallery, the Sidney Janis Gallery and Leo Castelli's gallery. Even amongst this illustrious company, Ileana Sonnabend separated herself - few art dealers were as influential as she was or had such a lasting legacy. With her passion for the next big thing, it was inevitable that Ileana would meet Andy and in early 1962 she did. Warhol's fame was in no small part due to the influence that she had on his career. Were it not for her early interest in him, he perhaps would not be the artist he is known as today.

Both Ileana and Andy had larger than life personalities and though they weren't regular occupants of each other's worlds, neither of their lives would have been complete without the other. "In the last interview he gave before his death in 1987, Andy Warhol was asked to comment on a remark – 'For Andy, everything is equal' – made about him by the gallerist Ileana Sonnabend. Warhol thought about it for a second and then said, 'She's right.' Challenged by the interviewer to expand on his answer, a clearly rattled artist snapped, 'I can't. If Ileana said it, she's right.' Even for Warhol, there was no arguing with the woman known as "the mom of Pop" (C. Darwent, "Ileana Sonnabend: Queen of the SoHo art world," The Independent, October 27, 2007).

As part of this illustrious collection, Liz #5 has traveled the world and dazzled its viewers in exhibition after exhibition showcasing the best of Andy Warhol's art and the icons of Ileana Sonnabend's collection. The powerful merger of Sonnabend, Warhol and Taylor, all famous stars within their own fields, highlight the timeless beauty, cunning eye and groundbreaking vision that define this painting.

Few women have so elegantly mastered the game of seduction as well as Elizabeth Taylor and few portraits have elicited as much attention as Andy Warhol's 1963 paintings of her. He perfectly captures her glamour and she becomes the masterpiece of his iconic style. The result is a timeless portrait of a legendary woman embodying the glamour, glitz and love for life that defined her.

In Andy Warhol's own words, "When I die I don't want to leave any leftovers. I'd like to disappear. People wouldn't say he died today, they'd say he disappeared. But I do like the idea of people turning into dust or sand, and it would be very glamorous to be reincarnated as a big ring on Elizabeth Taylor's finger" (K. McShine, Andy Warhol A Retrospective, New York, 1989, p. 466).
Other highlights included Warhol's collaboration with Jean-Michel Basquiat, "Third Eye," which fetched $7 million including commission, more than twice the high estimate and a record for a joint work by the two artists.
Andy Warhol and Jean-Michel Basquiat, "Third Eye," 1985. Acrylic on canvas. 80 3/4 x 128 3/4 in. (205.1 x 327 cm.). Sold at $7,026,500. Photo Philps de Pury
PROVENANCE The artists, New York; Galerie Bruno Bischofberger, Zurich; Acquired from the above by the present owner
EXHIBITED Lyon, Maison Lyon, 2ème Biennale d'Art Contemporain, September 3 – October 13, 1993, p. 265 (illustrated in color); Kassel, Museum Fridericianum and Munich, Museum Villa Stuck, Collaborations Warhol ∙ Basquiat ∙ Clemente, February 4 – September 29, 1996, p. 90 (illustrated in color); Torino, Castello di Rivoli, Museo d'Arte Contemporanea, Collaborations: Warhol Basquiat Clemente, October 17, 1996 – January 19, 1997, p. 139 (illustrated in color); Zurich, Galerie Bruno Bischofberger, Jean-Michel Basquiat & Andy Warhol – Collaborations, December 10, 1998 – March 13, 1999; Madrid, Museo Nacional Centro de Arte Reina Sofía, Warhol Basquiat Clemente – Obras en Colaboración, February 5 – April 29, 2002, p. 86 (illustrated in color); Milan, Fondazione La Triennale di Milano, The Andy Warhol Show, September 20, 2004 – January 9, 2005, p. 282, no. 208 (illustrated in color)
LITERATURE Art Press 183, International Edition, 1993, p. 38 (illustrated in color); M. Dachy, T. Raspail and T. Prat, 2ème Biennale d'Art Contemporain, Et Tous Ils Changent Le Monde, Lyon, 1993, p. 265 (illustrated in color); Atelier Magazine, No. 802, Japan, 1995, pp. 64-65 (illustrated in color); I. Gianelli, J.B. Danzker, T. Osterwold, T. Fairbrother et al., Collaborations Warhol ∙ Basquiat ∙ Clemente, Ostfildern and Torino, 1996, p. 139 (illustrated in color); T. Osterwold, Collaborations Warhol ∙ Basquiat ∙ Clemente, Ostfildern, 1996, p. 90 (illustrated in color); J.M. Bonet, R.D. Marshall and E. Juncosa, Warhol Basquiat Clemente – Obras en Colaboración, Madrid, 2002, p. 86 (illustrated in color)
G. Mercurio and D. Morera, The Andy Warhol Show, Milan, 2004, p. 282, no. 208 (illustrated in color)
NOTE: Please note that this work has been requested and promised to be included in the forthcoming exhibition Warhol and Basquiat at the Arken Museum of Modern Art, Denmark from September 3, 2011 to January 14, 2012. The exhibition will be curated by Dieter Buchhart, the curator of the Basquiat Retrospective at the Fondation Beyeler 2010-2011.

Jean-Michel Basquiat and Andy Warhol were two of the most brilliant artists of their generations, if not the most brilliant. Basquiat and Warhol's
friendship began just as Warhol's career was beginning to calm down from the frenzy of the 1960s and 70s and Basquiat's career was beginning to explode. With the Collaborations, the foremost art figure of the previous two decades was joining artistic forces with the wild-child of the 1980s.

Much like Warhol, Basquiat first became famous for his art and then became famous for being famous. Basquiat began his career as a graffiti artist, under the tag name SAMO (Same Old Shit). At that time, the purpose of graffiti art was to obtain a level of fame — a certain status and recognition and this was always Basquiat's goal. He saw Andy Warhol as being number one and he wanted that same level of fame and respect. And he would indeed achieve that level of celebrity in an incredibly short period of time — within a span of two years he went from living on the streets to being a millionaire and celebrity.

Basquiat's life was a whirlwind of extremes. He "captured the downtown pulse of his time, for good and ill, and defined some key cultural crossovers. The son of Haitian and Puerto Rican parents, he embodied the emerging doctrine of multiculturalism and jumbled up various traditions with devilmay- care energy…He did not have much formal training as a painter and did not pretend otherwise, perhaps sensing that without a long apprenticeship, pretenders to the high tradition become derivative artists. Instead, he developed a distinctive, rough style that has the aura of a self-taught, sui generis outsider who lives in the middle of nowhere. Except, of course, that
this smart naïf lived in the heart of the New York art world" (M. Stevens, "American Graffitti," New York Magazine, May 21, 2005).

It was this exact energy that would so catch Warhol's attention, although at the beginning Warhol was a bit weary of this young wünderkind. Basquiat invaded the New York art world with a vision and pictorial vocabulary that was both innocent and rough. Much of the thematic symbolism of his work was focused on money, politics and death — not altogether different from some of the themes that fascinated Warhol.

In the same way that Warhol culled inspiration from popular culture, Basquiat was constantly painting and absorbing different sources of
inspiration whether from books, TV shows, magazines or his friends. He took the street energy surrounding him in downtown New York and translated it into high art. Basquiat had a brilliant mind and was continuously absorbing all of the information around him and reinventing it on his canvases in a freshly urban and totally unique way.

It was the dealer Bruno Bischofberger who had the idea for the two artists to combine both of their distinctive brands of art making in a series called Collaborations begun in 1984. Bischofberger could not have known how significant and mutually beneficial this joining of artistic forces would be on both artists' careers. He recalls "I personally had been fascinated by [collaborative] works for some time. I knew collaborations of painters from the fifteenth to nineteenth century and the 'cadavre exquis' of the surrealists. For over twenty years I had owned a collaboration, dating from 1961, between Jean Tinguely, Niki de Saint Phalle and Daniel Spoerri...The conceptuality
of these paintings fascinated me, because through the voluntary act of collaborating a certain theory became more apparent than in works which the artists create individually" (B. Bischofberger, "Collaborations and Reflections on/and Experiences with Basquiat, Clemente and Warhol," The Andy Warhol Show, Milan, 2004, p. 38).

At that time, everyone looked up to Andy and he would in turn be seduced and enamored by Jean-Michel. Basquiat was fascinated by Warhol and had already been to the Factory many times as a teenager. He had even tried to sell Warhol one of his postcards (which he sold in Washington Square Park) during a lunch Andy was having with Henry Geldzahler. However, Warhol officially met Basquiat when Bischofberger took him to be photographed at the Factory for a portrait Warhol was planning to do of the young artist. Not too long into their meeting, Basquiat left. An hour later one of his assistants returned with a still wet painting of Andy and him. Warhol, who had been
previously unconvinced of the young artist's talent, responded "I'm really jealous — he is faster than me!" With that, Warhol's weariness quickly evaporated and an incredibly strong and mutually beneficial friendship began between the two artists. To say this was an integral moment for both artists would be an understatement.

By 1983, Andy had given up drawing and hand-painting and it was Basquiat who got him to return to that. Basquiat said to Bischofberger "Andy is such a fantastic painter! His hand painting is as good as it was in his early years. I am going to try and convince him to start painting by hand again" (B. Bischofberger, "Collaborations and Reflections on/and Experiences with Basquiat, Clemente and Warhol," The Andy Warhol Show, Milan, 2004, p. 43).

In the Collaborations each artist contributed both the materials and styles for which they were best known. Though each of the artist's styles were worlds apart, when combined they created bold, powerful works. Both artists looked to popular culture for inspiration – Warhol to advertising and celebrities, Basquiat to street life, jazz musicians and professional athletes. Though teaming up with the legendary Warhol was the stuff of dreams for Basquiat, the collaboration was mutually beneficial, if not more so for Warhol than Basquiat, whose career had been sidelined recently. As Ronnie Cutrone said "Jean-Michel thought he needed Andy's fame, and Andy thought he needed Jean-Michel's new blood. Jean-Michel gave Andy a rebellious image again" (V. Bockris, Warhol: The Biography, Cambridge, 2003, p. 461-2).

The Collaborations are bold, bright and visually arresting and perhaps none more so than Third Eye with its brilliantly hued background, Warhol's bold color blocking and Basquiat's frenzied style. To create these collaborations, the artists painted over one another's work, each emphasizing their distinct brands of art, creating a moving tension between the two styles and across the canvas. As was typical in the Collaborations, Warhol would be the first to lay down his images. Then, once the graphics were blocked, Basquiat would fill in other areas of the canvas. Warhol's main contribution to these works featured his poster-style hand-painted enlargements of advertising images or company logos. His painterly brushstrokes were evocative of his earlier hand-painted works. In turn, Basquiat was usually the second painter to work
on the canvases, fusing his spontaneous and expressive iconography with Warhol's distinctly unique style.

Both Basquiat and Warhol were aware of the great history of artists before them and Basquiat, in particular, let their art inspire him. In this painting he references Leonardo da Vinci and Cy Twombly with his anatomical details and dynamic brushwork. However, Basquiat did not limit himself to visual artists – he culled inspiration from books such as Gray's Anatomy; musicians such as John Coltrane and Miles Davis; from scientists such as Gregor Mendel and Charles Darwin; and from poets such as John Giorno and William Burroughs. It was in fact Burroughs who inspired his technique of cutting up and collaging his text in different ways.

Basquiat would later recall "[Andy] would start most of the paintings… he would put something very concrete or recognizable like a newspaper headline or a product logo and then I would sort of deface it and then I would try to get him to work some more on it and then I would do more work on it. I would try to get him to do at least two things. You know, he likes to do one hit and then have me do all the work after that….we used to paint over each other's stuff all the time" (Jean-Michel Basquiat as interviewed by Tamra Davis).

A third eye represents a deeply mystical and spiritual belief in enlightenment and intuition and is typically associated with imagination and creativity. The present painting, so aptly titled, is a striking homage to the styles that made both artists so famous. There is a distinctly visceral and carnal feel to this painting with an undeniable focus on actual consumption. Warhol's painted advertisements of prime cuts of meat form a visual tension with Basquiat's anatomical depiction of a fractured skeleton and its organs. Basquiat's carefully chosen words, Chewing, Meat and Sausage — some clearly visible, some crossed out, heighten the dynamism of the canvas. He once said "I cross out words so you will see them more: the fact that they are obscured makes you want to read them." This constant adding and changing technique not only epitomized Basquiat's own personal technique but also the central theme of the shared Collaborations. The giant twisted pretzel in the background is also no less evocative, perhaps a nod to New York City street life.

Many believed that if Basquiat could align himself with Warhol both as a friend and fellow artist, he would achieve the respect he was searching for. And in many ways he did, obtaining an almost rock star status and becoming a figure with a cult following. Keith Haring was quick to note the profound harmony between Basquiat and Warhol:

"The collaborations were seemingly effortless. It was a physical conversation happening in paint instead of words. The sense of humor, the snide remarks, the profound realizations, the simple chit-chat all happened with paint and brushes…There was a sense that one was watching something being unveiled and discovered for the first time. Andy was intrigued and intimidated at the same time. It seemed to push him to new heights. Andy returned to painting with beautiful, delicate lines, carefully laid into the canvas. The drips and gestures immediately reminded me of the earliest Warhol paintings I had seen. The new scale had forced him to develop an even richer draftsmanship. The lines flowed onto the canvas" (K. Haring, "Painting the Third Mind,'' Jean-Michel Basquiat, New York, 2009, p. 298).

The goal of these collaborations was contrast, even a certain level of chaos, rather than harmony or a unified symbolism. As Trevor Fairbrother aptly wrote in 1996, "Warhol's most recognizable contributions to the collaborations are flat graphic motifs from advertisements and newspaper headlines. He often painted them big enough to be oppressive, but his loose, consciously imperfect technique gave them a worn-out, almost bogus aura... In contrast, Basquiat's contributions are frenetic and forceful;
often they seem to glower at the viewer. While he mimicked the rawness of pictures by children and naives, Basquiat made his marks with eloquence and assurance, and endowed them with a fierce presence." (T. Fairbrother, "Double Feature," Art in America, September 1996, p. 81).

The Collaborations are also tinged by a certain element of tragedy. Many people from that time recall that they had never seen two people as close as Warhol and Basquiat were. By the mid-80s Basquiat was deeply involved with drugs and constantly surrounded by people, becoming intensely paranoid and distrusting of those around him. Warhol was one of the only people whom Basquiat could turn to and go to for advice. Unfortunately the lukewarm reception that the Collaborations initially received caused a rift between the two artists. When Warhol died in 1987, Basquiat was inconsolable and fell even more deeply into the drug use that would eventually lay claim to his life. Third Eye is a lasting legacy to both artists and to the friendship they shared, embodying the technique, style and unique brands that they are both best known for.
Warhol's "Flowers" sold for just over $8.1 million, while "Mao (10) went for $4 million, each clearing the low estimate.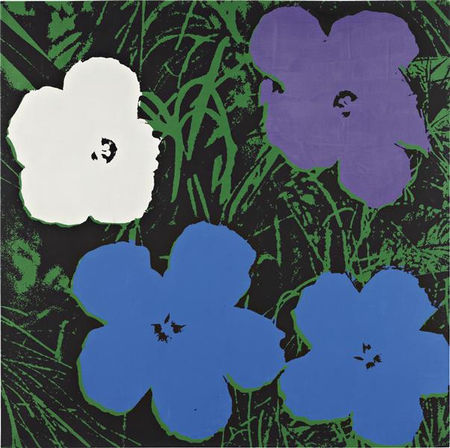 Andy Warhol, Flowers, 1964. Acrylic and silkscreen ink on linen. 48 x 48 in. (121.9 x 121.9 cm.) Signed "Andy Warhol ©" and inscribed by Frederick Hughes "I certify that this is an authentic painting by Andy Warhol completed by him in 1964, Frederick Hughes" on the overlap. Sold at $8,146,500. Photo Philps de Pury
PROVENANCE Galleri Faurschou, Copenhagen; Ingemar Pousette, Stockholm; Jan-Eric Löwenadler, Stockholm and New York; Klabal Gallery, Minneapolis; Private Collection; Sale: Christie's, London, Post -War and Contemporary Art Evening Sale, June 20, 2007, lot 51; Acquired from the above by the present owner
EXHIBITED Humlebæk, Denmark, Louisiana Museum of Modern Art, Andy Warhol, September 1990 -January 1991, no. 27
LITERATURE G. Frei and N. Printz, eds., The Andy Warhol Catalogue Raisonné: Paintings and Sculptures 1964-1969, Volume 02A, London, 2004, p. 290, no. 1316 (illustrated in color)
NOTE: "'Death? It has become a bore,' Andy Warhol said after completing his series of suicides, accidents, and electric chairs. He started looking for an image that could stand for the very symbol of joy and happiness: flowers, of course. They appeared one after the other, in all sizes, formats and colors, covering flower beds and entire walls" (O. Hahn, Translation: Andy Warhol, Galerie Ileana Sonnabend, May 1965).

Andy Warhol's Flowers, 1964 was produced during what was arguably the most significant time period of the artist's career. Though Warhol had already experienced a great deal of success with his images of Campbell's Soup Cans, Liz, Marilyn and Elvis, the year 1964 saw his dramatic and meteoric rise to fame. To round off an outstanding season, Leo Castelli scheduled a Warhol show to take place at his gallery from November to December of that year featuring the artist's new Flowers paintings. The source of the image Warhol appropriated for this series first appeared in the June 1964 issue of Modern Photography, a photograph of hibiscus blossoms illustrating an article about color processing.
Following the show at Castelli Gallery, critic David Bourdon described Warhol's Flowers as "…cut out gouaches by Matisse set adrift on Monet's lily pond" (The Village Voice, December 3, 1964). The color scheme is also highly evocative of Van Gogh's Irises.

Culling inspiration from a seemingly banal source, using a lithographic process, Warhol produced only two or three basic designs in a variety of color schemes, each in a square format. The artist found this format particularly satisfying because its regular shape allowed these paintings to be hung with any side up. As Warhol himself explained, "I like painting on a square…because you don't have to decide whether it should be longerlonger or shorter-shorter or longer-shorter: it's just a square" (D. Bourdon, Warhol, New York, 1989, p. 191).

The following year, in May 1965, Warhol had another Flowers exhibition at Galerie Ileana Sonnabend in Paris. The result was a dramatic installation of various sized paintings hung floor to ceiling and wall to wall. Still relatively new to his oeuvre, Warhol thought that "the French would probably like flowers because of Renoir and so on. Anyway [the artist himself explains] my last show in New York was flowers and it didn't seem worthwhile trying to think up something new" (J. Ashbery, "Andy Warhol Causes Fuss in Paris," New York Herald Tribune (European Edition), Paris, May 18, 1965).

The artist set his irregular, roughly cut blossoms in a range of unnatural colors against either a blackened or color tinted grass background. Just as he did with Marilyn, here Warhol reduces the subject to its image — flattening, artificially coloring, and dismembering it. In so doing, he rids the flowers of their assumed vitality and prettiness.

The present lot is a beaming example from this iconic series. The canvas is meticulously executed, using the same composition of the four hibiscus flowers against a green and black background. Each uniquely colored; their petals in jewel-like vibrant hues of phthalo green, rich aubergine and opalescent white. This work updates the age-old genre of still life; Warhol's choice of a vibrant palette is consciously synthetic and an outright rejection of the complex color harmonies normally associated with the genre. In place of painterly illusion, Warhol's choice of unnatural color emphasizes the flowers' manufactured plasticity and relevance. His version is consciously
banal, yet unexpected and enchantingly beautiful. Quintessentially sixties in their colors and floppy petal shapes, Flowers is a wonderful example of the counterintuitive elegance of Warhol's work. Technologically mediated, repetitive and depersonalized, characterized by the modes of mass production, the formal aspects of this work force viewers to question the disconnect between image and reality, culture and nature.

As Warhol's then assistant Ronnie Cutrone explains, "We all knew the dark side of those Flowers. Don't forget, at that time there was flower power and flower children. We were the roots, the dark roots of that whole movement. [When] Warhol…made Flowers, it reflected the urban, dark, death side of that whole movement. And as decorative art, it's pretty dense… You have this shadowy dark grass…and then you have these big, wonderful, brightly colored flowers" (J. Richardson, "Warhol, the Exorcist," Warhol from the Sonnabend Collection, New York, p. 8).

In Flowers, Warhol has captured the ethos of the sixties in a single shot — "its mass-mediated banalities, hallucinogenic excesses, and atomic anxieties" (D. Pinchbeck, "Flowers," Jeff Koons Andy Warhol Flowers, New York, p. 1). The 1960s represented a radical departure from the 1950s. There was a literal explosion of technicolor advertising and, in many ways, this reflected the cultural and political uproar of that decade, including the tension of the escalating war effort in Vietnam, coupled with the social upheaval surrounding the civil rights movement and the changing role of women.

In true Warhol fashion, he started this series with an image that had already been brought to stand still, fixed in the pages of magazines and newspapers — mass produced, flattened, lifeless. What his works depict, then, are not flowers, Marilyns, Campbell's Soup Cans or Car Crashes, but the mechanized, objectified contact one maintains within the world of images. At the same time as the Flowers images celebrate the color and life of the natural world, they also "joyfully affirm the media industry's equally manic compulsion for repetition. While flora propagates its DNA by releasing its seeds on the wind, pictures and art images reproduce asexually and spread like memes swirling through the social body on pulsing currents of money and desire" (D. Pinchbeck, "Flowers," Jeff Koons Andy Warhol Flowers, New York, p. 1).

Today, the Flowers exist, "… neither alive nor dead, just present. Joy and happiness have frozen up on the way. In the hands of Andy Warhol, there remains only an anonymous, mechanical image of them, from which all life is absent. Warhol has drained the flowers of their moistness and sensitivity and stripped them of all complicity. Nothing remains but form and color. In spite of himself, then, his flowers go down the path of the pale Marilyns, the black-and-white disasters, and the Campbell's soup cans" (O. Hahn, Translation: Andy Warhol, Galerie Ileana Sonnabend, May 1965).

The sale capped two weeks of mixed results, with wobbly Impressionist and modern sales, a strong result at Sotheby's sale of works from dealer Allan Stone's estate and a terrific total Wednesday when Christie's sold more than $300 million in contemporary and post-war art.

Marc Porter, Christie's Americas chairman, said the strong results "illustrate the global demand for works of art created by the broadest spectrum of artists and cultures."

"As the audience grows and prices increase, we expect superb consignments" later this year, Porter said.

Officials at both houses spoke of the difficulty assembling sales this year, largely due to the relative absence of estate sales, which tend to draw higher prices.

With demand outstripping supply as more collectors see art as a real asset and inflation hedge amid volatile financial markets, the houses worked hard to induce scores of clients to sell individual works, enticing them with estimates that in some cases were too aggressive for the market.

The result was a few sales where the total did not achieve even the low estimate.

But the Mei Moses Art Index, which tracks returns on publicly sold art, said that "from a financial returns perspective, the (Impressionist) results were quite strong," particularly when compared to the returns the S&P 500 Total Return index would have provided -- nearly twice as good.

"We are encouraged by what we have seen over these past two weeks, where that classic formula for success -- very high quality works that are fresh to the market -- has been much in evidence," said Sotheby's president and CEO Bill Ruprecht.

Baird Ryan, the former managing partner of the investment firm Art Capital Group who now advises clients privately on acquisitions and sales, was also bullish.

"With the past two weeks, it is clear we now have a healthy, active market that in my view will certainly find new highs in the next two to three years," said Ryan, who attended all the sales at the three auction houses.

Art "has become a great alternative asset class, with a built-in inflation hedge," he said. © Thomson Reuters 2011. All rights reserved.