14 mai 2011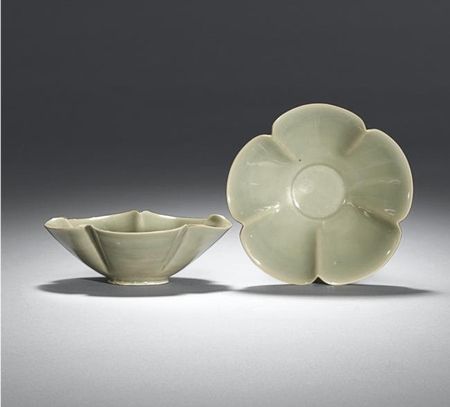 An exquisite pair of Yaozhou flower-shaped bowls. Five dynasties, 10th Century. Photo Sotheby's
each of conical shape, delicately potted and deeply indented in five-lobed prunus form, with narrow flat base inside and a low footring, covered with an attractive, slightly opaque, glossy blue-green glaze, each in a Japanese padded purple silk cloth, in a joint ribbon-tied paulownia-wood box and cover, and brown cotton furoshiki with inscribed wooden tag; 12.8cm., 5 1/8 in. Estimate 25,000—30,000 GBP. Lot Sold 67,250 GEP
EXHIBITED: Chūgoku no tōji/Special Exhibition of Chinese Ceramics, Tokyo National Museum, Tokyo, 1994, cat. no. 145.
NOTE: This is perhaps the most striking bowl shape ever produced by north China's celadon manufactories, and the present bowls are among the best specimens in this form. Their superb blue-green glaze, which is extremely rare among 'Yaozhou' wares, identifies them as early examples, as this glaze colour disappeared when the kiln switched from using wood as fuel to firing with coal. During the Five Dynasties period the main 'Yaozhou' kilns at Huangpu in Shaanxi province tried out many similar five-lobed forms, sometimes with a small applied motif in the centre, but the present bowls are exceptionally successful examples.
A similar bowl excavated from the kiln sites is illustrated in Wudai Huangpu yaozhi/Excavations of the Five Dynasties Period Kiln-site at Huangpu in Tongchuan, Shaanxi, Beijing, 1997, p. 62, fig. 34: 1 and pl. 27, fig. 3; two bowls of this form were included in the exhibition Yōshuyō/The Masterpieces of Yaozhou Ware, Museum of Oriental Ceramics, Osaka, 1997, cat. nos 20 and 21; another is illustrated in Regina Krahl, Chinese Ceramics from the Meiyintang Collection, London, 1994-2010, vol. 1, no. 404; one from the Hellner collection in the Museum of Far Eastern Antiquities, Stockholm, is published in Oriental Ceramics. The World's Great Collections, Tokyo, New York, San Francisco, 1980-82, vol. 8, no. 131; another in Sekai tōji zenshū/Ceramic Art of the World, vol. 10, Tokyo, 1955, p. 180, fig. 10; and one from the Muwentang collection, included in the exhibition Song Ceramics from the Kwan Collection, Hong Kong Museum of Art, Hong Kong, 1994, cat. no. 69, was sold in these rooms, 12th November 2003, lot 42. All these bowls seem to have a more olive-green glaze.
Sotheby's. Fine Chinese Ceramics & Works of Art, 11 May 11, London www.sothebys.com
Commentaires sur An exquisite pair of Yaozhou flower-shaped bowls. Five dynasties, 10th Century