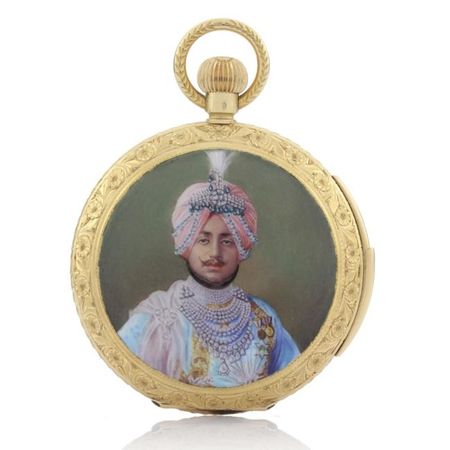 A rare gold, enamel, hunting cased minute repeating watch with noble portrait, made for the Indian market, circa 1920. Photo Sotheby's
• gilt lever movement, cut bi-metallic balance, jewelled to the centre, two hammers striking on a gong for the repeating mechanism, gold cuvette • white enamel dial, Roman numerals, outer track for the minute indication, subsidiary seconds • the front cover with enamel plaque representing His Highness the Maharaja of Patiala, border surrounded by engraved floral arabesques, the band with chased and engraved leaf design, the gold back covered with the Coat of Arms of Patiala in enamel surrounded by chased and engraved floral arabesques, sliding device to the band for the repeating mechanism; diameter 50 mm. Estimate 20,000—30,000 CHF. Lot Sold 122,500 CHF
NOTE: Maharaja Bhupinder Singh of Patiala was born October 12th, 1891. During his reign, which lasted from 1900 to 1938, he introduced many social reforms in his region. He founded the State Bank of Patiala, he was also a great patron of sports, leading famous Indian cricket and polo teams. Among his many commitments, he served on the General Staff, occupying various positions during World War I; he represented India at the League of Nations in 1925, and was a representative at the Round Table Conference.
The Maharajah of Patiala was also great patron of Cartier. In 1925 he engaged them to remodel the crown jewels of Patiala, which has been described in Nadelhofer, Cartier, Jewelers Extraordinary, "In purely quantative terms, the biggest commission of all time."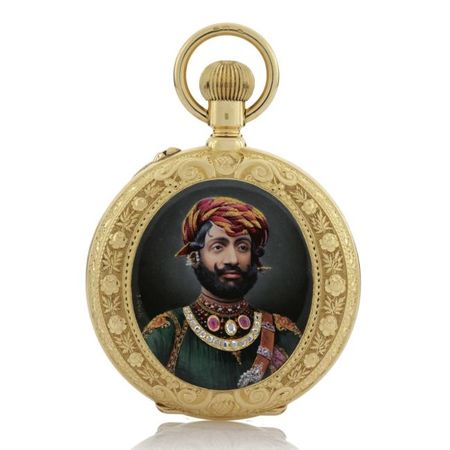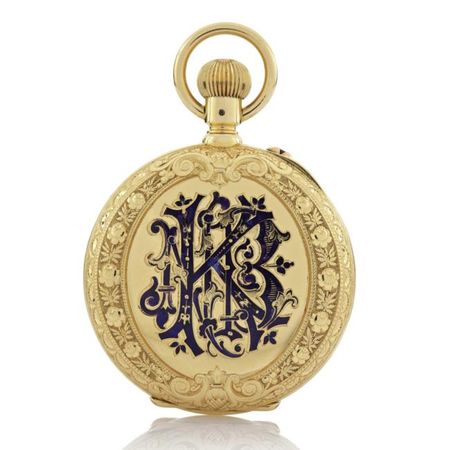 Seeland. A rare gold, enamel, ruby and diamond-set watch with noble portrait signed Graff, made for the Indian market. circa 1890, no. 370026. Photo Sotheby's
• gilt three quarter plate lever movement, partly in chaton screws, cut bi-metallic balance, swan neck micrometer regulator • white enamel dial, Roman numerals, outer track for minute indication, subsidiary seconds • gold case, chiselled to the edge on both sides with foliage decoration, the front panel decorated with painted enamel panel of a Maharajah inlaid with diamond and rubies showing his necklace, the reverse with a black and blue champlevé enamel monogram • signed and numbered on the movement; diameter 51 mm. Estimate 20,000—30,000 CHF. Lot Sold 74,500 CHF
NOTE: John Graf (Graff), 1836-1906, is considered to be the foremost Swiss portraitist in enamel of the later half of the 19th century. His clients were among the most important families in Europe. His skills being highly recognized, he was also commissioned to execute portraits on watch cases destined for the Indian market such as the present one.
This present example represents the portrait of His Highness Sawai Mahendra Sir Pratahsing Bahadeer, K.C. J. E., Savanad- i -Rajaha - i - Bundelkhand, Maharajah of Orchha, Tikamgarh, Bundelkhand.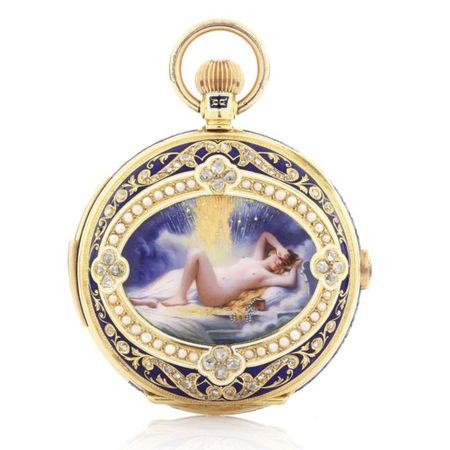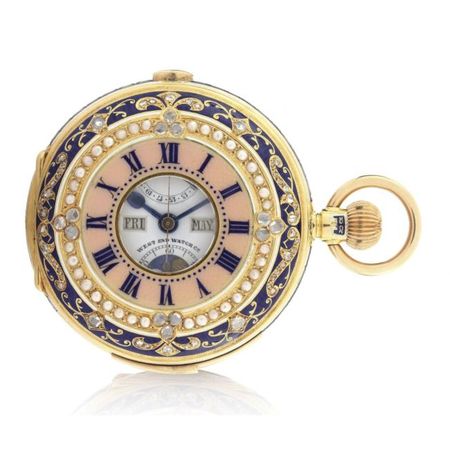 West End Watch Co. A rare gold, enamel, pearl and diamond-set half hunting cased minute repeating chronograph watch with triple calendar and moon-phases, circa 1910. Photo Sotheby's
• gilt lever escapement, cut bi-metallic balance, two hammers striking on a gong for the repeating mechanism, gold cuvette • white enamel dial, Roman and Arabic numerals, outer track for the minute and 1/5th indication, central for chronograph, aperture for days of the week and month indication, register for the date, subsidiary seconds and moon phases • gold case, the band with enamelled decoration, dark blue enamel bezels with diamond-set ornaments on both sides, the front with Roman numerals over a pink translucent enamel chapter ring on the dial aperture, framed by a row of inlaid split-pearls and rose-cut diamonds, the back decorated in the same style and centred with an oval finely painted scene depicting Dunne and Golden Rain • dial signed; diameter 53 mm. Estimate 60,000—80,000 CHF. Lot Sold 74,500 CHF
NOTE: West End Watch Co. specialized in the sale of gold and enamel watches made especially for the Indian market, richly decorated with precious stones and pearls like the present example. Watches were also fitted with complicated movements including calendar and moon phase indication, as well as the chronograph function. 'Dictionnaire des horlogers genevois' by Osvaldo Patrizzi, Antiquorum Editions, 1998.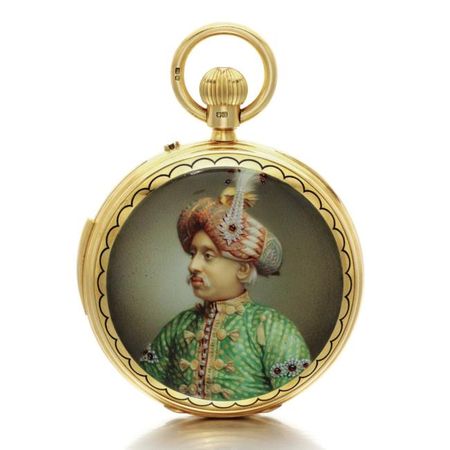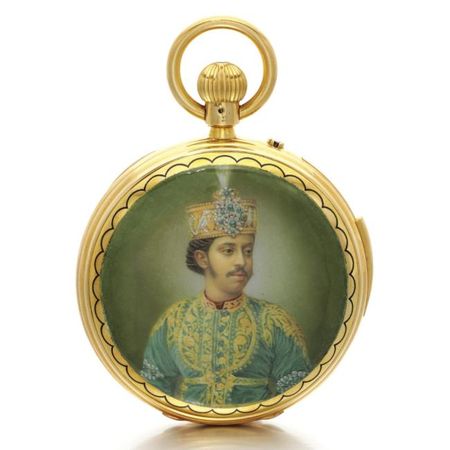 Charles Frodsham. An 18k yellow gold hunting cased minute repeating watch made for the Indian market with enamel portraits. Circa 1890, no 06763. Photo Sotheby's
• gilt three quarter plate lever movement signed Cha. Frodsham, some jewels carried in screwed gold chatons, repeating on two steel gongs • white enamel dial, Roman numerals, subsidiary seconds • both sides of the hunting case with polychrome enamel portraits of Indian dignitaries dressed in embroidered robes and impressive jewels • dial and movement signed diameter 54 mm. Estimate 8,000—12,000 CHF. Lot Sold 62,500 CHF
Sotheby's. Important Watches, 15 May 11, Geneva www.sothebys.com