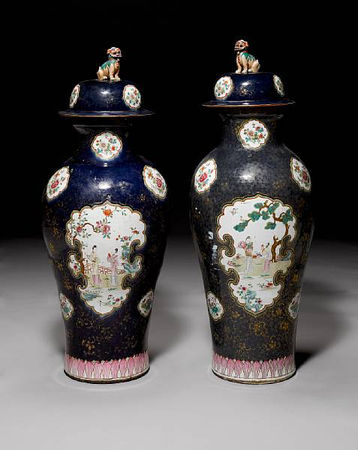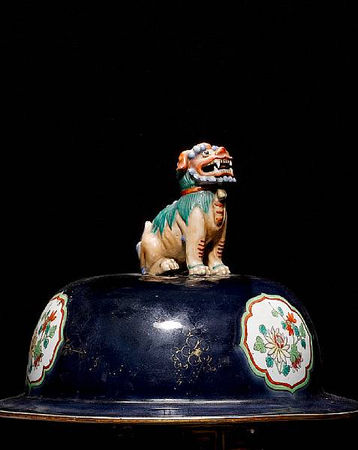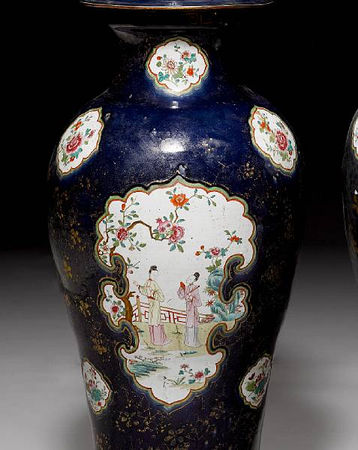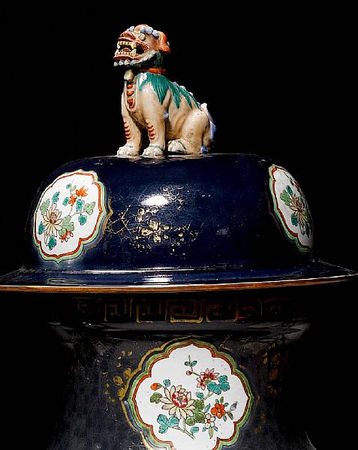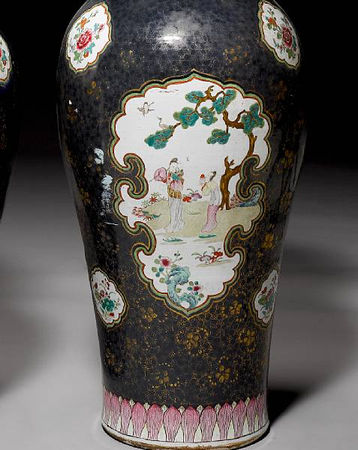 A massive pair of famille rose powder-blue-ground baluster vases and cover. Qianlong-Jiaqing period. Photo Bonhams
Boldly reserved on the bodies with three large leaf-shaped panels in similar designs, one with an elegant lady and attendant on a fenced terrace, one with a lady Immortal holding a basket of flowers beside a bowing lady, one with a standing lady and a spotted deer on a leafy terrace, the three large panels divided by pairs of smaller four-lobed oval floral panels on the body, the necks and cover each with three smaller floral cartouches. Both about 140cm (55in) high (4). Sold for £42,000
Provenance: Brightling Park, East Sussex, prior to the 1950s

The Fullers of Brightling Park
Brightling Park was acquired by the iron master and gun-founder John Fuller (1680-1745) in 1705. Almost immediately he renamed the property 'Rosehill' in honour of his wife Elizabeth Rose, who was the heiress of Fulke Rose of Jamaica. During the next forty years John Fuller used her inheritance to purchase a great deal of property in the Brightling and Burwash areas, as well as buying a large furnace at Heathfield in 1716. However, he and his wife did little to the estate while they were living there. On John II Fuller's death, the property passed to his younger brother Rose Fuller (1708-1777) who was at that time running the family estates in Jamaica. Upon returning to Sussex, Rose Fuller concentrated on his political career and as well as being MP for New Romney, he was also MP for Maidstone in 1761 and MP for Rye in 1768, a seat he held until his death in 1777. He passed the house on to his nephew who was perhaps Brightling's most famous inhabitant. Known as both 'Mad Jack' and 'Honest John', John III Fuller (1757-1833) was a friend and patron of JWM Turner as well as many other artists and writers. Between 1810 and 1812 Fuller employed the architect Sir Robert Smirke to extend the house as well as to build various follies in the park including a temple and observatory. Two years earlier Fuller had also commissioned the landscape architect Humphry Repton to advise on the layout of the park, the design for which Repton presented to his client in the form of a 'Red Book' dated 1806-1807. Lancelot 'Capability' Brown's son (also called Lancelot) had married Rose Fuller's sister in 1784. When John Fuller died in 1834 the house was inherited by his cousin, Augustus Fuller, who let the house to tenants until he eventually sold it in 1879 to a Percy Tew (d.1953), it having been on the market for over two years. The house has stayed with members of the Tew family (and later the Grissells, who were related by marriage) until the present day. The most dramatic event occurred when the part of the house that contained the drawing room was demolished in 1955 to pay death duties. This was not an unusual event in the years after the Second World War.
Bonhams. Fine Chinese Art, 12 May 2011. New Bond Street www.bonhams.com