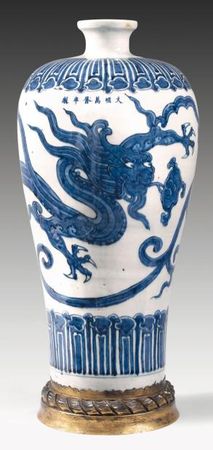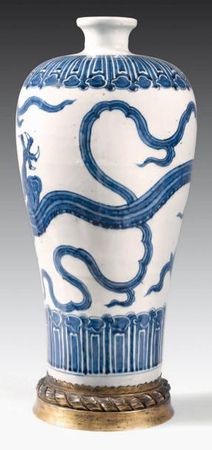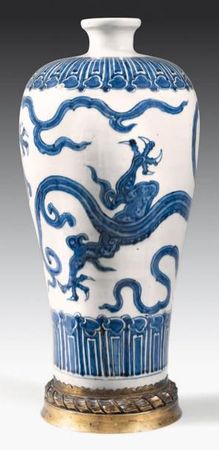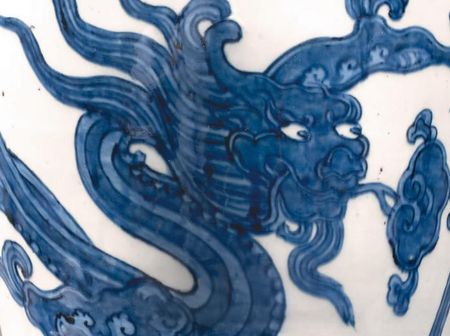 Important vase meiping. Marque Da Ming Wanli nian zhi. Époque Wanli. Photo Mathias - Baron Ribeyre & Associés, Farrando Lemoine SVV
en porcelaine blanche décoré, en bleu sous couverte, d'un dragon à quatre griffes s'enroulant autour de la panse entre deux frises de pétales de lotus stylisées. La base non émaillée. Marque Da Ming Wanli nian zhi au-dessus de la tête du dragon.À la base, monture en bronze doré française d'époque postérieure. Haut. du vase : env. 51 cm. Haut. totale : 55,5 cm - Estimation : 200 000 - 250 000 €
Un vase semblable se trouve à la Percival David Foundation, n° 669, reproduit dans le catalogue illustré par Margaret Medley (1963).
Mathias - Baron Ribeyre & Associés, Farrando Lemoine SVV. Mercredi 08 juin à 14h30. Paris - Drouot Richelieu -Salle 5. EMail : Contact Mathias - Adrien Blanchet - Contact Farrando Lemoine - tact Baron Ribeyre - Pauline Ribeyre. Tel : Baron Ribeyre : 01 42 46 00 77 - Farrando Lemoine : 01 47 70 50 11 - Mathias : 01 47 70 00 36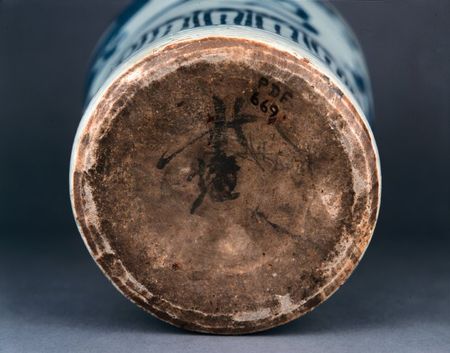 Porcelain meiping vase. Porcelain with underglaze cobalt-blue decoration. Jingdezhen, Jiangxi province 江西省, 景德鎮. Ming dynasty, Wanli mark and period, AD 1573–1620. On loan from Sir Percival David Foundation of Chinese Art , AN584923001. Bristish Museu
There is a four-clawed dragon carrying a 'lingzhi' fungus in its mouth, with streamers attached to its legs and a bifocated tail in underglaze cobalt blue on the body, and bands of complex lotus panels at the top and bottom. There is a mark on the shoulder.
Note: The organisation of production at Jingdezhen changed radically during the Jiajing to Wanli (AD 1522–1620) era. After 1530, the palace no longer sent officials directly to supervise the kilns. Local officials and members of the Board of Works then alternated that role. Potters produced a wider variety of forms and designs and in larger numbers than at any previous period in Jingdezhen's history. Despite some individual court orders of more than 100,000 items, the imperial quota accounted for just one per cent of the total output. Many 16th century imperial porcelains, such as this, were made in earlier 15th century styles.
Large porcelain meiping vase with underglaze blue decoration. Ming dynasty, Wanli mark and Period. Bequeathed by Brenda Zara Seligman, 1973, AN262139001. British Museum © The Trustees of the British Museum
This large heavily potted meiping has a short narrow neck with a flaring mouth and thickened rim. Its sides taper in from broad shoulders and it is supported by a broad foot ring, inside which the unglazed base is recessed. Boldly painted in a dark cobalt blue, it shows a four-clawed, one-horned dragon clenching a 'lingzhi' fungus in its jaws. This undulating dragon's sinewy body and flowing mane are striped rather than covered in scales and it has a foliage tail. Below is a border of tall lappets with 'ruyi-style' heads and above the identical border is inverted. A horizontal six-character Wanli reign mark is written from right to left above the dragon's head. Height: 52 centimetres. Diameter: 24 centimetres.
Note: Harrison-Hall 2001:
Recent excavations at the imperial Xuande (1425-36) kiln site at Jingdezhen have revealed the prototype for this style of meiping. Made to the same scale and with only minor variations in the design, the Wanli meiping lacks energy by comparison to the Xuande original. The blue is much more uniform and the lappets are simplified. Numerous late Ming porcelains were made in deliberately archaistic styles. Fifteenth-century designs were much admired and imitated. Other identical Wanli pieces are, for example, in the Percival David Foundation of Chinese Art, London, the Lee Kong Chian Art Museum, National University of Singapore, and the Kunstindustrimuseet, Copenhagen. Meiping with phoenix instead of the dragon were also made and an example is in the Idemitsu Museum, Tokyo.
Eight blue-and-white meiping of this form, still with their covers, were discovered in the Wanli emperor's tomb, the Ding Ling. They were among the relatively few porcelains discovered there when the tomb was investigated. Meiping are one of the most common forms found in grand Ming burials.