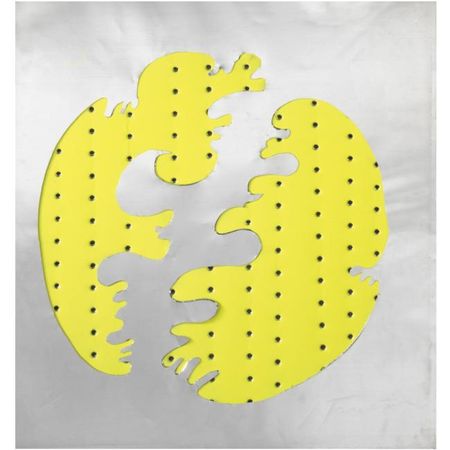 Lucio Fontana (1899 - 1968), Concetto spaziale, Teatrino.
stagnola e cartoncino giallo; firmato e numerato 5/50; Estimate 4,000—6,000 EUR. Lot Sold 10,625 EUR
Eseguito nel 1966
Opera registrata presso la Fondazione Lucio Fontana, Milano, con il n. 618/20
L'opera è accompagnata da certificato su fotografia rilasciato dalla Fondazione Lucio Fontana, Milano
PROVENANCE: Milano, Libreria Internazionale
Ivi acquistato nel 1968
NOTE: Siigned and numbered 5/50, tinfoil and yellow cardboard
L'opera fa parte di una cartella curata da Sergio Tosi, stampatore a Milano, contenente quattro découpages in alluminio di Lucio Fontana numerati e firmati a mano dall'artista, e due poesie di Salvatore Quasimodo.
Sotheby's. Modern & Contemporary Ar t25 May 2011, Milan. www.sothebys.com