01 juin 2011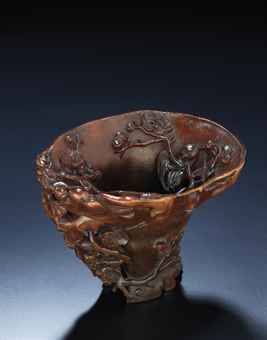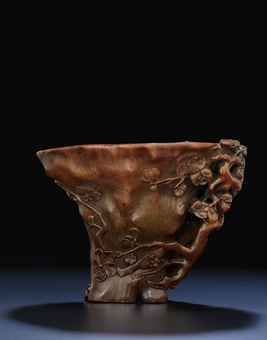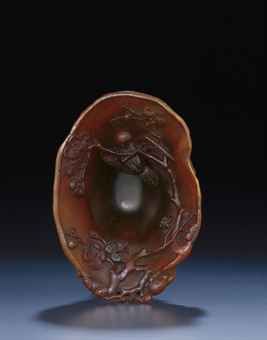 An exquisitely carved rhinoceros horn libation cup. Qing dynasty, 17th-18th century. Photo: Christie's Images Ltd. 2011
The thick irregular sides superbly carved as a tapering knotted hibiscus branches issuing from the exterior to form the handle, growing smaller branches bearing hibiscus flowers enveloping the sides of the cup and extending over to the interior upon which a swallow naturalistically carved in openwork is perched looking upwards grasping a branch that bridges the spout while a second swallow perched on the handle, peers over the side of the rim to the interior, the material of a rich reddish-walnut tone; 6 1/2 in. (16.6 cm.) wide. Estimate HK$5,000,000 - HK$7,000,000 ($650,000 - $900,000).. Price Realized HK$6,620,000 ($854,928)
清初 犀角雕海棠春燕盃

盃透雕環足,外壁仿結節海棠樹幹,一側鏤雕樹枝構成盃柄,其餘滿佈高浮雕枝葉,並過枝盃內,口沿枝上佇立一燕,探頭盃內,跨沿枝上圓雕另一燕,雙燕遙遙對望,精緻生動,趣味盎然。犀角料呈胡桃褐色。

此盃主題並不常見,盃內圓雕燕鳥更絕無僅有,霍滿棠藏近似花鳥紋犀角盃,載1999年香港出版《中國犀角雕刻珍賞》,圖版91、94號。其他犀角雕鳥紋盃例子,見1999年Jan Chapman著作(同下書),185-187頁;仇焱之及仇大雄舊藏犀角雕英雄圖(鷹紋)盃一件,2011年4月8日於香港蘇富比珍藏專拍中拍賣,拍品2718號;另見「直生」款犀角雕雞群盃一件,2004年11月1日於香港佳士得拍賣,拍品951號。

此器曾錄於1999年倫敦出版Jan Chapman著《中國的犀牛角雕刻藝術》,186頁,圖252(內壁)。
Literature: Jan Chapman, The Art of Rhinoceros Horn Carving in China, London, 1999, p. 186, no. 252 (interior)
Notes: Not only is the subject matter on the present cup extremely rare but the extraordinary three-dimensional carving of the bird to the interior of the cup would appear to be unique. Compare with a cup in the collection of Thomas Fok with a short-tailed bird carved on the interior among branches, illustrated by the owner in Connoisseurship of Rhinoceros Horn Carving in China, Hong Kong, 1999, p. 140, no. 91.
Although the subject matter on the present cup is rare, a number of cups depicting other short and long-tailed birds are known as well as other examples carved with cockerels, phoenix and cranes are illustrated and discussed by Jan Chapman, The Art of Rhinoceros Horn Carving in China, London, 1999, pp. 185-187. A libation cup from the Edward T. Chow and Franklin Chow Collection depicting hawks was sold at Sotheby's Hong Kong, 8 April 2011, lot 2718. Another Zisheng-marked cup decorated with a cockerel on the side of the exterior, was sold at Christie's Hong Kong, 1 November 2004, lot 951.
Christie's. Important Chinese Ceramics and Works of Art, 1 June 2011, Convention Hall
www.christies.com
Commentaires sur An exquisitely carved rhinoceros horn libation cup. Qing dynasty 17th/18th century.