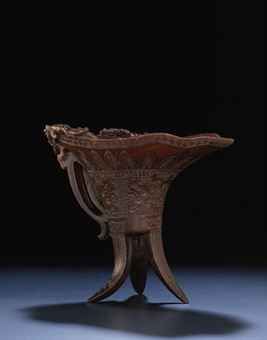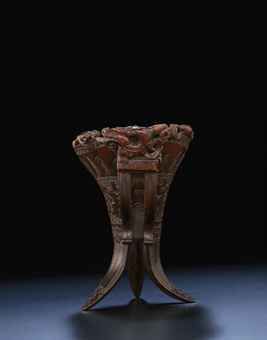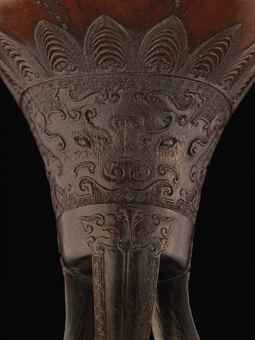 An extremely rare archaistic tripod rhinoceros horn libation cup.. Qing dynasty, 17th-18th century. Photo: Christie's Images Ltd. 2011
The archaistic vessel standing on three broadly splayed triangular lappet-form legs emerging from lion masks, the slender flared body exquisitely carved in low relief around the sides with a band of two taotie masks on a leiwen ground below a band of stylised lappets enclosing ruyi heads, the double strap handle spanning the lower body and the rim with a chilong resting on the top edge to peer over into the interior of the cup, flanked by two further chilong clambering over the rim of the cup, the legs and rim finely detailed with keyfret borders, the material of an attractive rich chestnut brown tone; 5 7/8 in. (15 cm.) wide Estimate HK$3,500,000 - HK$4,500,000 ($460,000 - $580,000).. Unsold
清初 犀角雕螭龍爵盃

盃三高足,雙環耳,造型仿古青銅酒器「爵」。腹刻仿古饕餮獸面雷紋帶,上托蕉葉紋一周。三足頂刻獸面紋,足呈蕉葉形飾回紋邊。口沿鏤雕三螭龍攀附緣上,一龍探身欲窺盃內,兩小龍各爬左右。犀角料呈栗褐色,角尖一分為三,用熱水煮軟後向外屈曲成足。

美國哈佛大學博物館藏犀角爵盃一件,見1999年香港出版霍滿棠著《中國犀角雕刻珍賞》,83頁,圖版36號;另見北京故宮博物院藏品一件,載2001年香港出版故宮博物院藏文物珍品全集《竹木牙角雕刻》,154頁,圖版136號。

此器源自1970年代Josette Schulman舊藏。
Provenance: Galerie Josette Schulman, Paris, 1971
Notes: The current vessel belongs to a group of rhinoceros horn carvings in the form of archaic jue. Some are carved to resemble the original vessels very closely while others, like the present example, are carved in the style of the bronze prototypes with contemporary adaptations to the form and decoration.

A closely related smaller example of this type in the Harvard University Museums Collection is illustrated by Thomas Fok, Connoisseurship of Rhinoceros Horn Carving in China, Hong Kong, 1999, p. 83, no. 36. The splayed legs in particular, display very similar treatment to the decoration on the current vessel. Compare also with a rhinoceros horn jue with chilong clambering around the sides and lingzhi forming the posts or handles in the Palace Museum Collection, Beijing, illustrated in Bamboo, Wood and Rhinoceros Horn Carvings, The Complete Collection of Treasures of the Palace Museum, Beijing, p. 154, no. 136.

Rhinoceros horn cups of this type were made by cutting the narrow tip of the horn and then pulling it apart after the horn had been made pliable through soaking. The legs are then curved outwards so that the cup can stand securely.
Christie's. Important Chinese Ceramics and Works of Art, 1 June 2011, Convention Hall www.christies.com