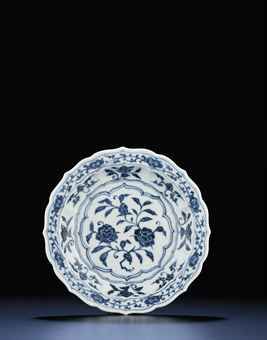 An early Ming blue and white small barbed-rim dish. Yongle period (1403-1425). Photo: Christie's Images Ltd. 2011
The eight barbs on the rim continuing into the well, finely painted in vivid cobalt tones at the centre with two pomegranate flowerheads borne on a leafy stem issuing further small buds within lobed double-line borders, the well divided into eight fluted panels, each filled with alternating pomegranate flowerheads and fruits below a continuous lingzhi scroll around the moulded rim, the underside of the well repeating the pomegranate design on the interior, all with extensive heaping and piling, the base unglazed; 7 3/4 in. (19.8 cm.) wide, Japanese wood box. Estimate HK$600,000 - HK$800,000 ($77,486 - $103,315). Price Realized HK$680,000 ($87,818)
Provenance: A Japanese private collection
Notes: A Yongle dish of almost identical size and design was sold at Sotheby's New York, 19 September 2002, lot 105; and a second from the Norton and R.H.R Palmer Collections, sold at Christie's Hong Kong, 17 January 1989, lot 562. Two Yongle bracket-lobed dishes of comparable size and similarly decorated with registers of various flowerheads include one included in Blue and White Porcelain from the Collection of Mrs. Alfred Clarke, London, 1974, no. 7, and later sold at Sotheby's Hong Kong, 1 November 1999, lot 314; and another from the Hobart and F. Gordon Morrill Collections was sold at Doyle New York, 16 September 2003, lot 80.

A Hongwu prototype of this design, made as a cup stand, with the petal collar in the centre painted onto a raised ring, was recovered from the Imperial Kiln site and included in the exhibitions Jingdezhen Ware, the Yuan Evolution, The Oriental Ceramic Society of Hong Kong, Hong Kong, 1984, no. 141, and Imperial Hongwu and Yongle Porcelain Excavated at Jingdezhen, Chang Foundation, Taipei, 1996, no. 18.

This design is also known with waves decorating the rim; compare a dish of this type in the National Palace Museum, Taipei, included in the Museum's exhibition Mingdai chunian ciqi tezhan, Taipei, 1982, no. 42.
Christie's . Chinese Ceramics and Works of Art, 1 June 2011, Convention Hall www.christies.com