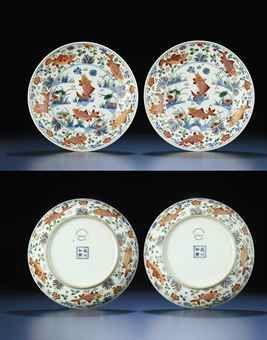 A rare pair of finely painted wucai 'fish' dishes . Kangxi period (1662-1722). Photo: Christie's Images Ltd. 2011
Each painted in the centre with two iron-red carp, one leaping from the water, in a river pool with lotus and arrow-weed, in green, yellow and iron-red enamels with light underglaze-blue, the well similarly decorated with different stylised fish, all in iron-red, swimming amidst pond weed and floating blossoms, repeated around the exterior, all between underglaze-blue double-line borders, the base with the four character mark Zaichuan Zhile, 'Rejoicing in the stream' within double-circles; 8 1/8 in. (20.6 cm.) diam., Japanese wood box (2). Estimate HK$2,800,000 - HK$3,500,000 ($361,601 - $452,001). Price Realized HK$6,260,000 ($808,440)
Provenance: Peter Boode Esq., sold at Sotheby's London, 13 November 1972, lot 188
S. Wilkinson
Important Chinese Ceramics and Jades from the Jingguantang Collection, sold at Christie's Hong Kong, 5 November 1997, lot 875
The property of a Japanese collector.
Literature: The Tsui Museum of Art, Hong Kong, 1991, pl. 111
The Tsui Museum of Art, Chinese Ceramics, vol. IV, Hong Kong, 1995, pl. 127
Notes: Wucai decorated fish dishes first appeared during the Ming Dynasty, Jiajing period, a variation on the classic design found on large jars of this period. The related, more simplified prototype for the design on the present Kangxi dishes, can be found on a Jiajing marked dish in the Percival David Foundation, London, illustrated by S. Pierson, Designs as Signs: Decoration and Chinese Ceramics, London, 2001, p. 17, no. 7 where the fish motif is discussed in detail. A number of dishes of the same design decorated to the same exacting standard and inscribed with the four character mark Zaichuan Zhile can be found in several museum collections including two in the Palace Museum, Beijing, one illustrated in Porcelains in Polychrome and Contrasting Colours, The Complete Collection of Treasures of the Palace Museum, vol. 38, Hong Kong, 1999, p. 146, no. 134 and the other illustrated in Gu tao ci ziliao xuancui, vol. 2, Forbidden City Press, 2005, no. 69; another from the Shanghai Museum is illustrated in Zhongguo Taoci Quanji - Jingdezhen caihui ciqi, vol. 21, Japan, 1981, no. 70; compare also one in the Percival David Foundation, London, illustrated in Ming and Ming Style Polychrome Wares, Revised Edition, London, 2006, p. 61, no. A797. An identical pair of dishes originally sold at Christie's London, 12 December 1977, lot 206, is illustrated in Chinese Ceramics from the Gulexuan Collection, Germany, 2003, pp. 138-139, no. 106. Another pair of dishes of the same size and design was sold at Sotheby's Hong Kong, 11 April 2008, lot 2966.

Kangxi dishes of the same design are also found with apocryphal Jiajing reign marks, such as the example in the National Palace Museum, Taipei, illustrated in the exhibition Catalogue, Good Fortune, Long Life, Health, and Peace: A Special Exhibition of Porcelains with Auspicious Designs, Taipei, 1995, p. 148, no. 71.