Albrecht Dürer, Adam and Eve, 1504 − National Gallery of Scotland
EDINBURGH.- This summer the National Gallery of Scotland presents a unique display that examines the work of the 16th century German artist Albrecht Dürer and his enduring influence, spanning five centuries. "Dürer's Fame" showcases a selection of his magnificent prints from the Galleries' collection, together with contemporary and later copies of his work. These objects will be augmented by a selection of illicit imitations and surprising tributes, including a 21st century tattoo. The exhibition is on view from June 9th through October 11th, 2011.

Albrecht Dürer (1471-1528) was the most important artist of the Northern Renaissance and is one of the most celebrated artists of all time. He excelled as a painter and draughtsman, but it was his skill as a printmaker that spread his fame across Europe. The printmaking process allowed for multiple copies of his work to be produced which could easily be sold and distributed. This accessibility, combined with his technical brilliance and highly individual style, made him a much admired and imitated artist.

The display includes many of Dürer's famous prints, most of which have not been shown in Edinburgh since 1971, like his iconic "Melancholy", "Saint Jerome in his Study" and "Knight, Death and the Devil". To demonstrate the extent of his impact, 'Dürer's Fame' also displays famous examples by Italian and Netherlandish artists alongside the original works. This includes Marcantonio Raimondi's "The Circumcision of Christ (from The Life of the Virgin)" and Johan Wierix's "Melencolia" of 1602.

In addition this exhibition includes works by the Scottish artists John Runciman (1744-1768/69) and William Bell Scott (1811-1890), whose response to Dürer's art is less well known. , was inspired by Dürer's woodcut of the same subject. Whilst Scott's painting, of 1854, imagines Dürer seeking inspiration on the balcony of his house in Nuremberg, highlighting his romanticized reputation in the 19th century.

The display concludes by considering Dürer's continuing relevance in the 21st century. An example of work from an installation which filled a Nuremberg square with 7,000 plastic hares in 2003, and a poster of German handball star Pascal Hens sporting a tattoo based on Dürer's "Study of Praying Hands" will demonstrate the artist's enduring influence today.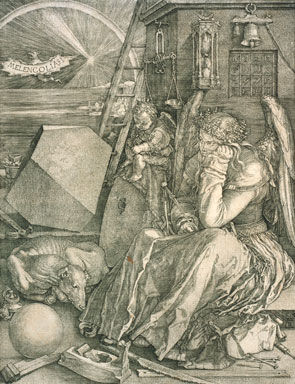 Albrecht Durer, Melencolia I, 1514. Engraving on paper: 23.90 x 16.80 cm. National Gallery of Scotland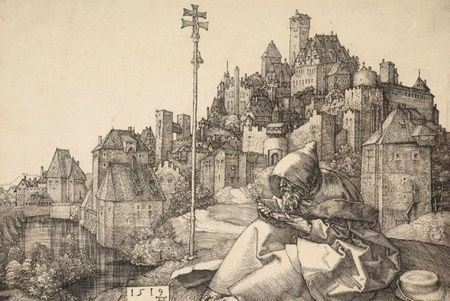 Albrecht Durer, Saint Anthony. Engraving on paper: 9.60 x 14.30 cm. National Gallery of Scotland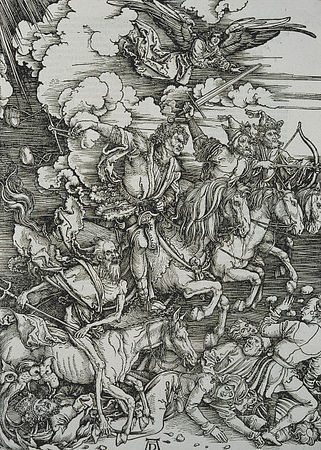 Albrecht Durer, 'The Four Horsemen of the Apocalypse' from 'The Apocalypse: Revelation of Saint John the Divine', about 1497, Woodcut on paper, 39.20 x 28.20 cm (to edge of block). National Gallery of Scotland