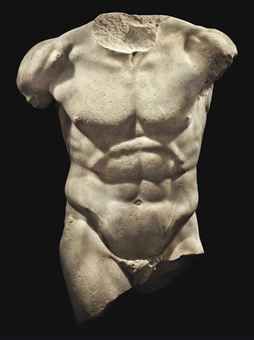 A Roman marble Hercules. Circa 1st-2nd century A.D. Photo: Christie's Images Ltd.
Over-lifesized, originally standing with his weight on his right leg and his left slightly advanced, with a slight hip thrust to the left, his right arm originally pulled back with the hand resting on the hip, the left arm originally lowered, with remnants of his club visible in the armpit, his torso bent forward, creating a crease through his abdomen, his burly musculature well defined, puntelli preserved on the reverse; 34½ in. (87.6 cm.) high. Estimate $500,000 - $800,000. Price Realized $602,500.
Provenance: Private Collection, California, 1970s.
Notes: This torso is a version of the so-called Copenhagen/Dresden Herakles in which the hero leans on his club tucked under his left armpit, the club sometimes covered by his lionskin, the right hand on his hip. The type is thought to have been created by a follower of Polykleitos around 360 B.C. For the Copenhagen/Dresden Herakles see nos. 667 and 668 in Boardman, "Herakles," in LIMC.
Christie's. Antiquities. 9 June 2011, New York, Rockefeller Plaza www.christies.com