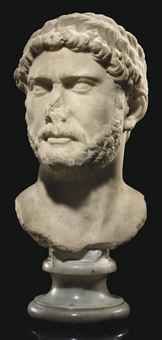 A Roman marble portrait bust of the emperor Hadrian. Circa 117-138 A.D. Photo: Christie's Images Ltd.
Lifesized, finely sculpted with his characteristic thick wavy hair combed forward in undulating rows, ending in corkscrew curls detailed by drillwork, with a closely-cropped beard of wavy locks, spiraling around his jaw line and forking slightly below his chin, the mustache with a gap at the philtrum, his thin upper lip pressed against his fleshy lower lip, the eyes articulated, with thick lower lids, the brow with two deep vertical creases between the eyes, and horizontal furrows along the forehead; 13 3/8 in. (34 cm.) high. Estimate $80,000 - $120,000. Price Realized $278,500
Provenance: Captain Spencer Churchill, Northwick Park, England.
Anonymous sale; Christie's, London, 10 December 1985, lot 230.
Property of a Philadelphia collector.
Literature: M. Wegner, Das römische Herrscherbild, II, 3, Hadrian, Berlin, 1956, no. 103.
Notes: Publius Aelius Hadrianus was born in Rome on January 24th, 76 A.D. His father Aelius Hadrianus Afer was a Roman Senator and a native of the Roman settlement of Italica in Spain, while his mother, Domitia Paulina was from Gades (modern Cadiz). When, at the age of nine, Hadrian lost his father, guardians were appointed, one of whom was another native of Italica, the general Marcus Ulpius Traianus, who was soon to become the Emperor Trajan. At the age of 18 the young Hadrian began his distinguished career of public, and later, military service. In 117 A.D., on his deathbed, Trajan officially adopted Hadrian as his son and heir.

Hadrian served as Emperor for twenty-one years, 117-138 A.D. Due to the length of his reign and his popularity throughout the Empire, a great quantity of portraits survive, more than for any other emperor save Augustus. Hadrian came to power at the age of 41 and remains that never-aging middle-aged man in all of his portraiture throughout his reign.

Hadrian was the first Roman emperor to wear a full beard. This has been variously explained by scholars, even in antiquity. In the Scriptores Historiae Augustae, written in the 4th century A.D., Hadrian's beard is explained as a cosmetic compensation for his complexion. More often, historically, Hadrian's beard is explained as a Greek-ism, promoting his respect for Greek culture and literature (see p. 238 in Kleiner, Roman Sculpture). However, more recently Opper in Hadrian, Empire and Conflict, suggests that the beard was less exceptional amongst members of Hadrian's "generation and background." In fact, Opper explains (p. 72, op. cit.), that beards had not only become quite fashionable among younger men, but "there is clear evidence that beards were sported by the military, especially on campaign." Therefore, Hadrian's beard may simply have been a public statement that Hadrian was "a military man of a younger generation." The Emperor set a trend that would last amongst Roman emperors through to the 4th century.