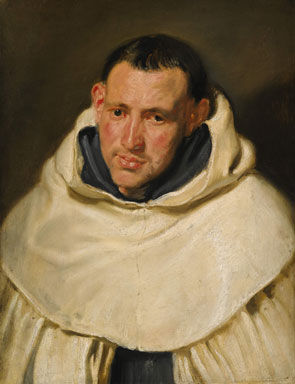 Sir Anthony Van Dyck, Portrait of a Carmelite Monk, Head and Shoulders, c.1617-20, oil on oak panel, 62.3cm x 48cm. Estimate: £600,000-800,000. Photo: Sotheby's
LONDON.- Sotheby's today announces that it will sell a newly discovered portrait by the great 17th Century Flemish painter Sir Anthony Van Dyck in its 6th July 2011 sale of Old Master and British Paintings in London. The intense and psychologically penetrating portrait of a young Carmelite monk is a hitherto unknown work, which Sotheby's has discovered to have been painted by the youthful Van Dyck during the years he worked in Rubens' studio. The painting is estimated to sell for £600,000-800,000.

Early last year Sotheby's Paris office did a routine valuation to appraise artwork, and noticed a painting of extraordinary quality which the family had owned for at least two centuries and which has always been known as the "Confesseur de Rubens". Sotheby's George Gordon, Co-Chairman, Old Master Paintings, Worldwide, observed that while Rubens' portraits are always formally composed, the current work, especially the way the young monk's head is turned to one side, creates an impression of spontaneity. In addition, the brushwork in the present picture, which is painted in oil on oak panel, is clearly legible throughout most of the painting and is more reminiscent of Anthony Van Dyck when he worked in Rubens' studio, than of his teacher. Specifically, the use of thick paint to denote highlights in the sitter's habit is a characteristic of Van Dyck's personal style at this date, and can be seen in a series of paintings the artist made of the Apostles.

Of the large number of scholars who have had the opportunity to study this picture at first hand, the consensus view is that it is by Van Dyck towards the end of the period during which he worked with Rubens in Rubens' studio, circa 1617-1620.

Commenting on the discovery, George Gordon, Sotheby's Co-Chairman, Old Master Paintings, Worldwide, said: "This is a very exciting discovery and a painting of really extraordinary quality and visceral power. Van Dyck probably painted this intense portrait in Rubens' house in Antwerp and the genius of the artist's touch and the expressive power of his brushwork cannot fail to make a forceful impression on the viewer."

* Estimates do not include buyer's premium.