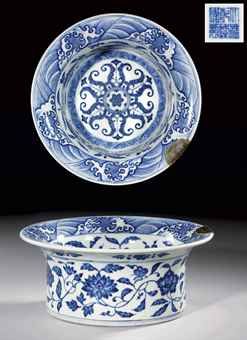 Rare bassin en porcelaine bleu et blanc. Chine, Dynastie Qing, Marque à six caractères en cachet et époque Qianlong, (1736-1795). Photo: Christie's Images Ltd. 2011
De forme circulaire, la panse ornée de rinceaux de lotus, le marli rehaussé de vagues tourmentées, le centre orné d'un motif de fleur stylisée, marque à six caractères en cachet de l'Empereur Qianlong en bleu sous couverte à la base ; restauration. Diamètre: 25,1 cm. (9 7/8 in.). Estimate €30,000 - €40,000($43,943 - $58,591). Price Realized €67,000 ($98,071)
Notes: This rare basin belongs to a group of blue and white porcelains, made for the Yongzheng and Qianlong emperors, which are both archaistic and reflect the influence of Near Eastern arts. This relatively small group revives the fine porcelains of the Yongle and Xuande reigns which initially took their forms from Near Eastern metalwork or glass. Although some of these forms were decorated in a semblance of the original Near Eastern decoration when they were made in blue and white porcelain, the current form is an exception.
It is perhaps not surprising that the Yongzheng and Qianlong Emperors should turn to the porcelains of the Yongle reign when looking for archaistic designs. These emperors were known for their sophisticated tastes, and for the high quality of the porcelain produced during their reigns. This particular form was one, which when decorated in the styles adopted in both the early 15th and the early 18th century, produced an object that showed to full advantage the high quality of the porcelain from which it was made, as well as the excellent blue with which it was decorated. The decoration on the form also gave a pleasing and interesting view from all angles. The 18th century porcelains, such as the current example, retained the turbulent wave band seen on the medium and smaller-sized basins of the Yongle period, but rendered it in a slightly more formal style. Floral scrolls continued to be applied to the sides of the vessels, but the mixed floral scrolls of the early 15th century were replaced by lotus scrolls.
It is interesting to note that in the relatively complex designs painted onto these Qing blue and white basins, the 18th century decorator has limited the extent to which he has suggested the 'heaped and piled' effect of the cobalt blue on Yongle porcelains. There is just enough to make the point that the piece is archaistic, but not so much as to spoil the finely painted design.

The current basin is not only a rare object, but also represents an interesting phenomenon in the history of Chinese ceramics, when the Qing emperors looked back in admiration at porcelains made in the early Ming, which had in turn looked to the Near East for inspiration.
Christie's. Art d'Asie, 7 June 2011, Paris www.christies.com