13 juin 2011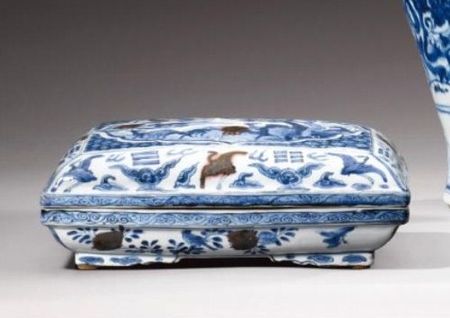 Boîte couverte en porcelaine bleu blanc et rouge de cuivre. Chine, dynastie Ming, époque Wanli (1573-1620). Photo Sotheby's
de forme rectangulaire reposant sur quatre pieds découpés, le couvercle décoré d'un cartouche polylobé abritant daims et grues dans un paysage planté de pins en réserve sur fond géométrique entouré d'une bande de grues, nuages stylisés et trigrammes, la boîte à décor d'oiseaux sur des branches fleuries chargées de pêches de longévité, les bords soulignés d'une frise d'entrelacs ; restaurations, petites égrenures. Quantity: 2 - 29 cm, 11 1/2 in. Estimate 10,000-15,000 EUR. Lot Sold: 15,000 EUR
Note: Although boxes of this form are well known from the Wanli period, the present covered box is most unusual for the added copper-red over a complete underglaze-blue design. No other similar box appears to be published, although this decorative technique was also applied on a Wanli mark and period bowl published in The Complete Collection of Treasures of the Palace Museum. Blue and White Porcelain with Underglaze-Red (II), Shanghai, 2000, pl. 221, where some the clothes worn by the children are painted in copper-red over the blue.
The decoration of 'pine and deer' on the cover of the present piece is also rare, although the same design can be found on a Wanli mark and period circular box, from the Qing Court collection and still in Beijing, illustrated ibid., pl. 182.
Sotheby's. Arts d'Asie. paris, 8 juin 2011 www.sothebys.com
Commentaires sur Boîte couverte en porcelaine bleu blanc et rouge de cuivre. Chine, dynastie Ming, époque Wanli (1573-1620).