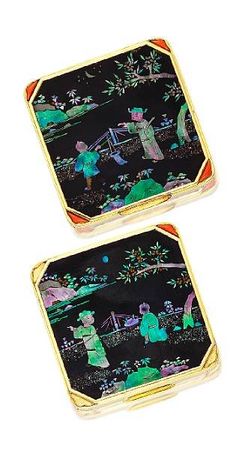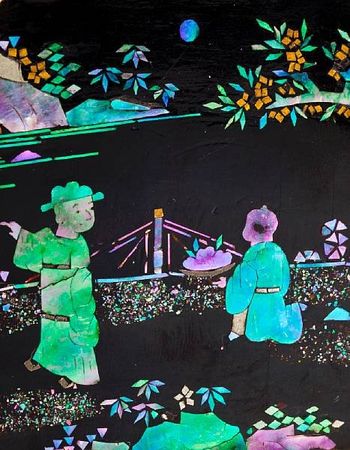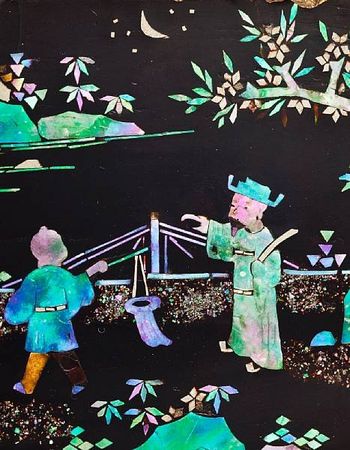 An art deco laque burgauté and coral box, Cartier, circa 1925. Photo Bonhams
designed on both sides as a landscape scene with Chinese scholars and attendants, accentuated by scalloped-shaped coral corners;
signed Cartier Paris Londres New York, no. 05637; mounted in eighteen karat gold and silver; gross weight approximately: 99.8 grams; dimensions: 3 x 3 x 5/8in. (some loss to mother-of-pearl and lacquer, some fissures, some coral deficient).
Sold
for US$24,400
:
Note
: Much of the jewelry and objects created in Paris during the art deco period drew inspiration from various cultures. Indian, Persian, Egyptian, Chinese and Japanese motifs served as the foundation for design in both jewelry and the decorative arts. One of the more unique characteristics that separated Cartier from the other French jewelry houses was that they also experimented with incorporating existing artifacts into their designs.
The laque burgauté panels that form the front and back of lot 18 illustrate this practice. These lacquered panels were imported from the Far East and were used only for a short period, predominantly from 1925 to 1930, in vanities, objects and clocks.
The term laque burgauté refers to the method using black lacquer and tinted mother-of-pearl, gold and silver foil inlay. It originated first in China and then was practiced in Japan. This technique involves using the natural resin from the poisonous lacquer tree, which is applied in layers over a design, and then polished to produce a strong water resistant lustrous surface.
This case's two laque burgauté panels depict companion day and night landscapes on opposite sides which make it rare, beautiful, and inherently versatile.
Bonhams. Fine Jewelry, 15 Jun 2011, New York, California, San Francisco and California, Los Angeles
www.bonhams.com