16 juin 2011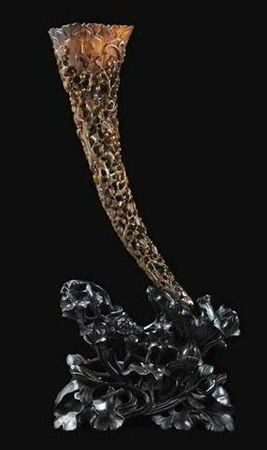 Exceptionnelle coupe libatoire en corne de rhinocéros de couleur miel en forme de fleur de lotus. Photo SVV MILLON & ASSOCIES & Internechères
La partie supérieure formant la coupe, la corne est entièrement sculptée et ajourée de loirs parmi les vignes. Les loirs, ou les écureuils, sont fréquemment représentés parmi les vignes dans les arts décoratifs des Ming et des Qing. En effet, les loirs ont la réputation de se multiplier rapidement ; le raisin forme de larges grappes au sein des vignes. Ainsi, ce motif exprimée de façon poétique le souhait d'une descendance mâle des plus abondantes. Chine. Socle en bois dure sculpté de lotus et grappes de raisins en harmonie avec la corne. H. 67 cm hors socle et D. 17 cm. Taille rarisime. Estimation : 350 000 / 500 000€
Provenance : France. Ancienne collection d'un ambassadeur français.
Collection privée, Genève, depuis 1961.
Le plus ancien exemple connu de corne de rhinocéros sculptée est une corne entière utilisée comme coupe libatoire. Elle ne présente aucun décor. Elle fut apportée par l'Empereur Shomu de Chine au Japon et sera dédié par sa veuve au Grand Bouddha. La corne est présente, parmi d'autres oeuvres chinoises, dans le Livre des Offrandes datant de 756 du temple Todaiji à Nara.
Les cornes décorées sont plus nombreuses. On trouve un grand nombre de cornes de rhinocéros sculptées au XVIIe et XVIIIe siècle, généralement utilisés pour les libations en faveur des ancêtres. La corne de rhinocéros a des vertus aphrodisiaques et est très apprécie dans la médecine traditionnelle chinoise.
Pour plus d'informations sur les cornes de rhinocéros ouvragées : Chapman Jan, The Art of Rhinoceros Horn Carving in China, Christie's Books Ltd, Londres, 1999, 288 p.
Une corne similaire est reproduite dans l'ouvrage ci-dessus p. 72, elle estconservée au Durham University Oriental Museum.
Un certificicat citès accompagne cette corne. Il sera remis à l'acquéreur. Quantité 3 : corne, socle, et certificat citès.
Exceptional libation cup in horn of rhinoceros
of color honey in the shape of flower of lotus. The top forming the cup, the horn is completely sculptured and openwork of dormice among vineyards. Dormice, or squirrels, are frequently represented among vineyards in the decorative arts of the Ming and the Qing. Indeed, dormice have the reputation to multiply quickly; the grape forms wide clusters within vineyards. Wooden base lasts sculptured by lotuses and bunches of grapes in accordance with the horn. H. 67 cm. Except base. D. 17 cm. Extremely rare size.
Origin: France. Former collection of a French ambassador.
Private collection, Geneva, since 1961.
The oldest example known for sculptured horn of rhinoceros is a whole horn used as cup; It presents no decoration. It was brought by Emperor Shomu of China in Japan and will be dedicated by his widow to the Big Buddha. The horn is present, among the other Chinese works, in the Book of the Offerings dating 756 of the temple Todaiji to Nara
The decorated horns are more numerous. We find a large number of horns of rhinoceros sculptured in the XVIIth and XVIIIth century, generally used for the libations in favour of the ancestors. The horn of rhinoceros has aphrodisiac virtues and is very appreciated in the Chinese traditional medicine.
For more information on the decorated horns of rhinoceros: Chapman Jan, The Art of Rhinoceros Horn Carving in Mocked, Of Christie Portfolios Ltd, London, on 1999, 288 p.
A similar horn is reproduced in the work above p. 72, it is preserved to the Durham University Oriental Museum.
A Cites certificate accompanies this horn. It will be given to the buyer. Quantity : 3. Horn, base, cites certificate.
SVV MILLON & ASSOCIES. LUNDI 20 JUIN à 14H00. Salle VV 5 rue Rossini, 75009 Paris. CONTACT: Fabrice SALVATORE. Tél. : 01.48.00.99.44 - Fax : 01.48.00.98.58 - Email : fsalvatore@millon-associes.com (source www.interencheres.com & www.millon-associes.com)
Commentaires sur Exceptionnelle coupe libatoire en corne de rhinocéros de couleur miel en forme de fleur de lotus.