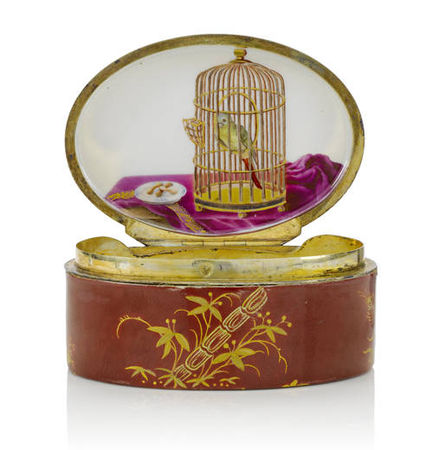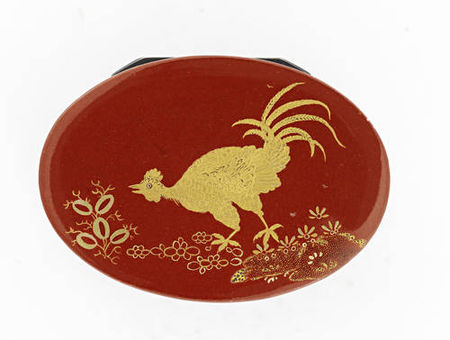 A Vienna silver-gilt-mounted oval snuff box, circa 1790. Photo Bonhams
Period of Conrad von Sorgenthal, decorated in imitation of red Japanese laquer takamakie with a gilt cockeral and sprays of bamboo and Japanese-inspired foliage, the inside cover with a colourful parrot in a golden cage, some peanuts on a blue and white dish before him, the silver mounts with T crowned with a B, Austro-Hungarian excise mark for Prague, 1810-24, 7.7cm wide (rubbing to the base). Estimate: £10,000 - 15,000, € 11,000 - 17,000, US$ 16,000 - 25,000
Literature: Beaucamp-Markowsky 1988, no. 56;

Exhibited: Amsterdam, Rijksmuseum, c. 1988-2003;
London, Gilbert Collection, Somerset House, 2003-2008;
Barnard Castle, Co. Durham, The Bowes Museum, 2008-2010

Notes: Vienna boxes of the Sorgenthal period are very rare. Under the directorship of Conrad von Sorgenthal, the Vienna factory embraced the neo-classical style so popular at the end of the 18th century. The factory produced cabinet cups and saucers decorated in imitation of chinoiserie lacquer; see the examples illustrated by Lehner-Jobst 2004, nos. 107-112, and the examples in the Marton Museum.

The fashion for this kind of Chinoiserie style may well derive in part from the large amount of Japanese and Chinese lacquer in the collection of Maria Theresia, Empress of Austria. She had a great love for the Exotic, and in particular, for lacquer. In 1743, she wrote "Nothing in the world, not even diamonds, mean anything to me, but what comes from India, especially the lacquer and even the tapestry, are the only things that make me happy" (Schwartz 2008, p. 188). On her death in 1780, Maria Theresia left a large quantity of lacquer boxes to her daughter, Marie Antoinette, that she received in 1781. The young Queen was in turn also fascinated by the exotic appeal of the very expensive and exclusive lacquer, and decided to dedicate a room at Versailles to the Asian lacquer-works, asking that panels be incorporated into furniture by the leading ebenistes at the court (ibid., p.194). These plans were soon abandoned, however, and the lacquer objects were transported to Saint Cloud in 1788 (Schwartz 2003 p. 205ff). Porcelain decorated in imitation of Asian lacquer was made from the 1790s at both the Sevres and Vienna porcelain manufactories.
Bonhams. The Helmut Joseph Collection of Important Snuff Boxes, 5 Jul 2011. London, New Bond Street
www.bonhams.com