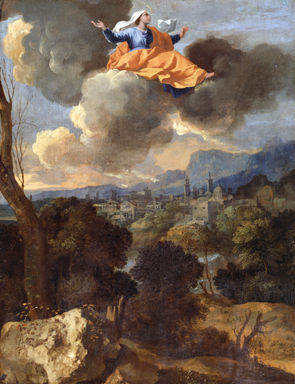 Nicolas Poussin, Venus and Mercury (c. 1627/1629) © By permission of the Trustees of Dulwich Picture Gallery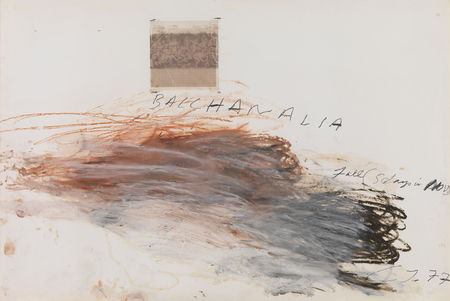 Cy Twombly, Bacchanalia-Fall (5 Days in November) Blatt 4, InvNr. UAB 457, 1977, collage, oil, chalk, gouache, on fabriano paper, graph paper, 101.2 x 150.5 cm, Bayerische Staatsgemäldesammlungen – Museum Brandhorst, München Leihgeber: Udo Brandhorst, © Cy Twombly
LONDON.-
Dulwich Picture Gallery
presents a revelatory exhibition of the work of Cy Twombly and Nicolas Poussin. Organised to celebrate the Bicentenary of the Gallery, this major show explores, for the first time, the unexpected yet numerous parallels and affinities between the two artists. The exhibition draws upon the world-class permanent collection of works at Dulwich Picture Gallery by Nicolas Poussin, alongside other works from major collections around the world by both Poussin and Twombly.
In 1624 and 1957, the two artists, aged around thirty, moved to Rome. Nicolas Poussin and Cy Twombly subsequently spent the majority of their lives in the Eternal City, and went on to become the pre-eminent painters of their day. Rather than recent exhibitions that have sought to compare and contrast old masters with contemporary artists through superficial visual appearances, this groundbreaking show will instead juxtapose works which may seem radically disparate in terms of style, yet ones that share deep and timeless interests. Both Poussin and Twombly were artists of prodigious talent who found in the classical heritage of Rome a life-long subject. Both spent their lives studying, revivifying and making newly relevant for their own eras antiquity, ancient history, classical mythology, Renaissance painting, poetry and the imaginary, idealised realm of Arcadia.
Curated by Dr. Nicholas Cullinan, Curator of International Modern Art at Tate Modern, the exhibition examines how Twombly and Poussin, although separated by three centuries, nonetheless engaged with the same sources and will explore the overlapping subjects that the two artists have shared. It will consist of around thirty carefully-chosen paintings, drawings and sculptures, structured thematically around six sections devoted to key shared themes, from both artists' early fascinations with Arcadia and the pastoral when they first moved to Rome, Venus and Eros, Anxiety and Theatricality, Apollo, Parnassus and Poetry, Pan and the Bacchanal, through to both painters' late versions on the theme of The Four Seasons.
Ian Dejardin, Director of Dulwich Picture Gallery explains that the exhibition "fits in with a philosophy I have pursued here – that exhibitions can conduct a dialogue with the permanent collection. In the past Howard Hodgkin, Lucian Freud and Paula Rego have all hung their paintings within the collection, so Poussin and Twombly seemed like a natural extension of those experiments".
The exhibition has received enthusiastic support and loans from major private and public collections around the world, including The National Gallery and Tate in London; The Royal Collection; The Duke of Devonshire; The Fitzwilliam Museum, Cambridge; Museo del Prado, Madrid; The Brandhorst Museum, Munich and The Art Institute of Chicago. The exhibition has been developed in close collaboration with Cy Twombly himself, and will include works that have never been exhibited before.
Cy Twombly, Quattro Stagioni: Inverno, 1993-5, Acrylic, oil and pencil on canvas, 3229 x 2300 x 67mm. Tate: Purchased with assistance from the American Fund for the Tate Gallery and Tate Members 2002. Image credit: ©Tate, London, 2010
Nicolas Poussin, Rinaldo and Armida (c. 1630) © By permission of the Trustees of Dulwich Picture Gallery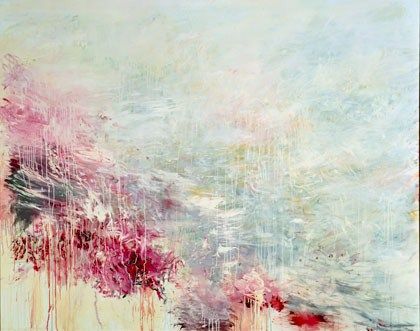 Cy Twombly, Hero and Leandro, 1985, 202 x 254cm, Private Collection, Courtesy Thomas Ammann Fine Art AG, Zurich, © Cy Twombly
Nicolas Poussin. © By permission of the Trustees of Dulwich Picture Gallery