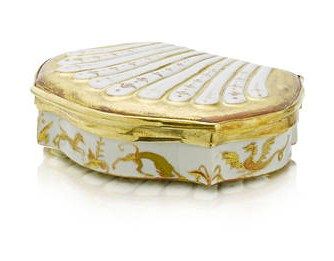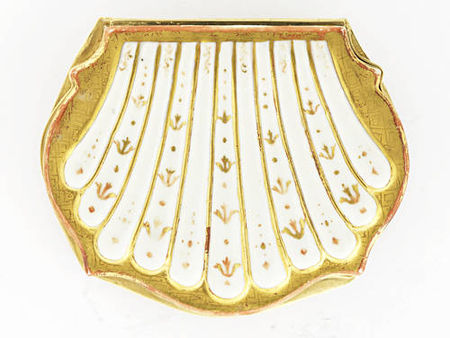 A very rare gold-mounted shell-shaped snuff box, probably Vezzi, circa 1725. Photo Bonhams
Decorated in gilding over a red ground, the cover and base moulded in relief with a stylised shell against a gilt ground tooled with a trellis pattern, the ribs decorated with gilt bellflower motifs and dots, the sides with exotic birds, animals, plants and a figure, the inside cover with a vignette of three chinoiserie figures, the inside of the box with a chinoiserie figure seated on a cushion, 8.1cm wide (some wear). Estimate: £12,000 - 18,000, € 14,000 - 21,000, US$ 20,000 - 30,000
Literature: Beaucamp-Markowsky 1985, no. 458;
Beaucamp-Markowsky 1988, no. 96

Exhibited: Amsterdam, Rijksmuseum, 1972-2003;
London, Gilbert Collection, Somerset House, 2003-2008;
Barnard Castle, Co. Durham, The Bowes Museum, 2008-2010

The technique of applying gilding over a base of red was most notably practiced by the Vezzi manufactory; see, for example, the rare plate in the Fitzwilliam Museum, Cambridge (EC.32-1945), and a bowl with a somewhat similar chinoiserie figure (published by Mottola Molfino 1976, nos. 89 and 87-88, respectively).
Bonhams. The Helmut Joseph Collection of Important Snuff Boxes, 5 Jul 2011. London, New Bond Street www.bonhams.com