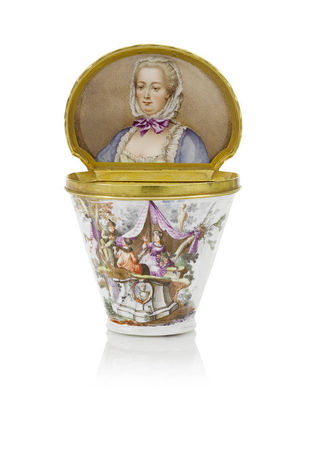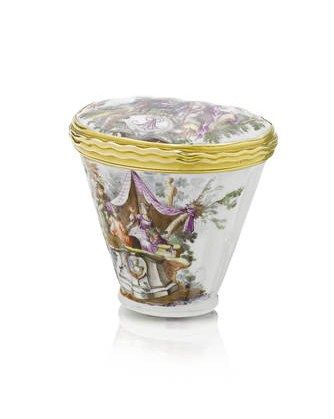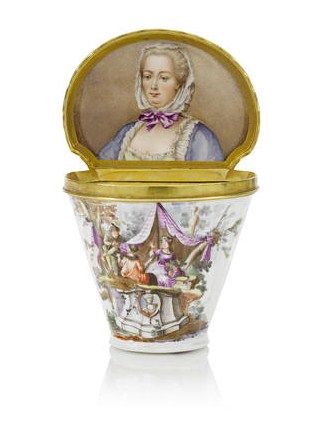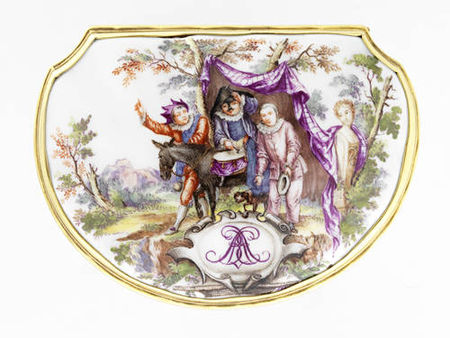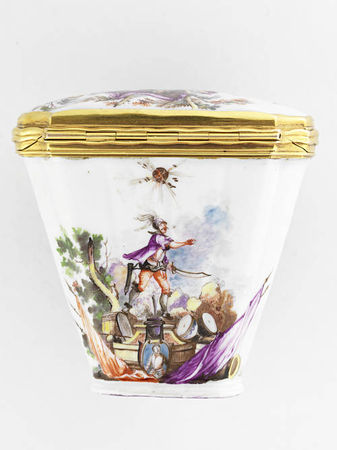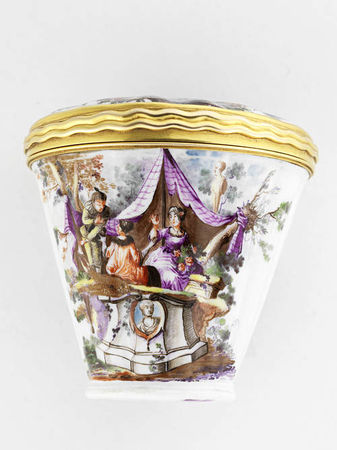 A documentary Meissen silver-gilt-mounted snuff box with portrait of the Electress Elisabeth Auguste of the Palatinate, circa 1746-47. Photo Bonhams
Of lobed tapering form, painted by Johann Jacob Wagner, the front with a scenes of Harlequin attending two ladies seated below drapery above a pedestal with an oval portrait, the back with a scene depicting a soldier standing on a military trophy enclosing a half-length portrait of a figure in armour, with a cannonball exploding overhead, the base with a harbour scene in purple monochrome, the cover with a procession of Italian Comedy figures below drapery with a herm to one side, and a cartouche enclosing the monogram 'EA', signed 'JW' at the edge of the rim, the inside cover with a bust portrait of Elisabeth Auguste von Palatinate-Sulzbach, the silver-gilt mounts 20th century, 6.8cm wide, 6.6cm high - Sold for £24,000
Provenance: Dr. Fritz Clemm Collection, Berlin, sold by Rudolph Lepke's Kunst-Auctions-Haus, Berlin, 3-5 December 1907, lot 68 (lacking mounts)
Literature: Beaucamp-Markowsky 1985, no. 72;
Beaucamp-Markowsky 1988, no. 22;
Jansen (ed.) 2001, no. 57
Exhibited: Amsterdam, Rijksmuseum, 1972-2003;
Berlin, Schloss Charlottenburg, Commedia dell'Arte Fest der Komödianten, 14 July-14 October 2001;
London, Gilbert Collection, Somerset House, 2003-2008;
Barnard Castle, Co. Durham, The Bowes Museum, 2008-2010

There are several mentions in Johann Jacob Wagner's records of the painter working on snuff box covers depicting the Electress of the Palatinate: in November and December of 1746, and February, June, July, November and December of 1747.

The scene on the cover is based on 'La Marche comique', an engraving of 1739 by S.F. Ravenet the Elder (1706-74), after a painting by J.B. Pater (1706-74), now in the Frick Collection, New York.

Elisabeth Auguste von Sulzbach (1721-94) was the daughter of the Count Palatine Joseph Charles von Sulzbach, and his wife, Elisabeth Auguste von Neuburg. She married her cousin, the Elector Palatine, Carl Theodor, in 1742, who subsequently became Elector of Bavaria in 1777. Their only child, Franz Ludwig, survived only one day. Their marriage was not happy, and in 1768, Carl Theodor gave his wife Schloss Oggersheim to the west of Mannheim, where she resided, at first only during the Summer months, with a retinue of over 100 people. During her residence, the Schloss was the venue for numerous fêtes, with musical and theatrical performances. In 1793, French revolutionary troops entered the Palatinate and the Electress retreated to Weinheim, where she died the following year. Schloss Oggersheim was occupied by French troops, who set fire to it destroying the palace completely.
Bonhams. The Helmut Joseph Collection of Important Snuff Boxes, 5 Jul 2011. London, New Bond Street www.bonhams.com