LONDON.- Tonight Sotheby's London Evening Sale of Treasures: Princely Taste was led by the sale of a magnificent pair of Italian carved giltwood settees created for one of the most sumptuous Rococo interiors in Italy - the Gilded Gallery of Palazzo Carrega Cataldi. Setting a record at auction for Italian seating furniture when they sold, to a round of applause, for £1,721,250/$2,763,639/¤1,923,495, the settees sold for over three times the pre-sale high estimate of £300,000 -£500,000*.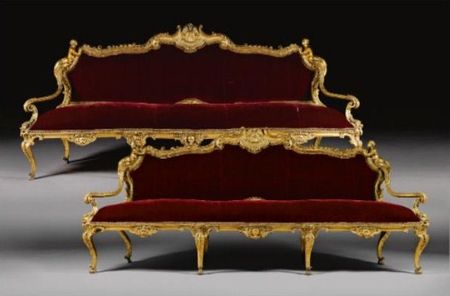 A pair of Italian carved giltwood settees from the Galleria Dorata Palazzo Carrega-Cataldi, Genoese, circa 1740-1744. Photo: Sotheby's
each with a shaped padded back within a reeded ribbon-tied frame, the cresting carved with a stylised scallopshell, guilloche and foliage, the top-rail carved with scrolls and bellflowers, with a mermaid on each side-rail with downscrolled arms, on stylised dolphin supports, the seat-rail centred by an espagnolette mask within a foliate cartouche flanked by lion masks, the side-rails carved with drapery swags, flowers and foliage, on cabriole legs terminating in scroll and paw feet; extended; gilding refreshed in parts; each approx: 123cm high, 282cm. wide, 62cm. deep; 4ft. ½ in., 9ft.3in., 2ft. ½ in. Estimate: £300,000-£500,000. Lot Sold: 1,721,250 GBP
NOTE: In considering the present pair of magnificent settees, one has to place them in the original context for which they were made, which was one of the most important, homogeneous and sumptuous rococo interiors ever conceived in Italy.
The decoration of the famous Gilded Gallery of Palazzo Carrega Cataldi with its exuberant gilded stuccoes typifying the froth and excess of the luxuriant rococo style was conceived, possibly together with the rest of the panelling including the mirrors and the consoles and the seat-furniture, by Lorenzo De Ferrari (1680-1744), between 1743 and 1744 in the characteristic Genoese rococo style (see the 1769 century chronicles by Ratti, mentioned by A.G.P. op. cit., 2). In particular, the aquatic theme typified by mermaids, scallopshells and dolphins, which is present elsewhere in the room and so typical of the Genoese decorative repertoire and the rococo style in general, is profusely present on these settees. Lorenzo De Ferrari intended with this room to rival the French interiors of the time but his exuberance has been tempered and resulted in a stiffer interpretation of the rococo style, echoing the earlier Régence style or rather anticipating the later neo-classical style of the late 18th century. Lorenzo De Ferrari was almost certainly assisted by others in his work, by perhaps Diego Carlone for the stucco work and other unknown craftsmen for the furniture.
A.G.P. (op. cit., page 376, 2), also suggests the name of Domenico Parodi (1668-1740) as the possible designer for some of the furniture in the gallery. The present settees originally stood below the four large mirrors on the two long walls and have been today replaced by simpler Genoese giltwood rococo examples. The mirrored doors and the consoles present today in the Galleria Dorata are copies based on the original ones.The doors are presently in the Metropolitan Museum of Art, New York, illustrated by A.G.P. op. cit., p.160, fig.189-190. The console tables (already ill. by Morazzoni, op. cit., tavv. XU and XUII) are in the Toledo Museum of Art, Ohio, U.S.A (see ill.). The location of the eighteen chairs, has now come to light, as they were originally also acquired by Stanford White at the same time as he acquired the present settees, at the end of the 19th century from Palazzo Carrega-Cataldi and were in the collection of William Collins Whitney. At the end of the 1930's they were in the Patino collection and sold recently from the collection of the late Yves Saint Laurent and Pierre Bergé, Christie's Paris, 25th February 2009, lot 710 (961,000 euros).
It is intriguing to learn from a description of the interior written by the English architect Sir Robert Smirke during his visit to Genoa in 1802, that the chairs and therefore presumably the present settees were covered in green silk (the manuscript is at the Royal Society of British Architects, London, and partly translated by A.G.P., op. cit., 2).
The Carrega-Cataldi Palace. The Palazzo Carrega-Cataldi has a distinguished history and belonged at one time to one of the wealthiest Genoese Renaissance families, the Pallavicino's.The Palazzo was built by Tobia Pallavicino overlooking the renowned beautiful Strada Nuova (today Via Garibaldi), the main thoroughfare in Genoa which was built under the direction of Giambattista Castello (1509-1569) during the years 1558 to 1561. It is worthwhile noting that the lay-out of this Renaissance Palazzo has been accurately illustrated by Rubens in his Genoese Palace series. On February 1704, the Palazzo was purchased by Filippo Carrega and it is to him and his son that the credit for the considerable renovations to the Palazzo is due, as the interior decoration of the new wing was undertaken by the Carrega family between 1727 and 1746, including the Galleria Dorata, for which the present settee were made. In 1830, the Carrega family sold the Palazzo to another noble family, the Cataldi family. In 1922, the entire building was taken over by the Genoese Chamber of Commerce and the Gilded Gallery which was seriously damaged during the bombardments of November 1942, was repaired and renovated during the following decades.
Stanford White (1853-1906): This American architect travelled extensively throughout Europe buying architectural elements for his rich patrons to furnish the houses he decorated. It was during one of these trips during the late 19th century that he acquired directly from Palazzo Carrega-Cataldi, the entire contents of the Galleria Dorata; the four settees, the four pairs of doors, the pair of console tables and he sold all these items except the two pairs of doors, which he kept for himself, to William Collins Whitney whose mansion at 871 5th Avenue he transformed into a palace from 1896-1902. The latter spent over $4,000,000 converting it into a palace and created on the second floor what was then, the largest private ballroom in New York where the furnishings of the Galleria Dorata were installed, see a photograph circa 1942 showing the settees and furniture in situ in the ballroom, where the settees had already at this time been lengthened probably by White, as this ballroom was so much larger than the Galleria Dorata.
William Collins Whitney (1841-1904): He was educated at Yale and Harvard Law School and moved to New York to practice corporate law. He was also a leading light in the Democratic Party and served under the Secretary of the Navy under President Cleveland. He was also a leader in high society and amassed a substantial fortune.
Harry Payne Whitney (1872-1930): He was the son of the above and inherited two Standard Oil Fortunes and followed his father into business.
Gertrude Vanderbilt Whitney (1875-1942): She was the daughter of the financier and art patron Cornelius Vanderbilt (1843-99) and in 1896, married Harry Payne Whitney. She was a renowned sculptress and patron of the arts.
Count Volpi di Misurata and Palazzo Volpi : Palazzo Volpi situated at 21 via del Quirinale in Rome, was built in the 17th century by the architect Alessandro Specchi, whose designs included the celebrated Spanish Steps in Rome. The late Count Volpi di Misurata was a diplomat, politician and Italy's leading industrialist and lived in great splendour in this and his other residences on the Grand Canal in Venice and a house on the Giudecca, the Ca'Leone and a Palladian summer house on the beach at Saubadia an hour outside Rome. His wife Countess Nathalie Volpi in 1951 set about renovating the Palace and was known for her sense of style. When the suite of seat furniture was sold in these Rooms in 1998, the collection largely from the Roman Palazzo had been in storage and unseen for twenty-five years.
LITERATURE: A chair and a settee (unextended) from the same suite are published by:
1. Alvar González-Palacios, II Mobile in Liguria,Genova, 1996, p. 219-220, plates 263 and 264, pages 186-190 and page 229.
2. Alvar González-Palacios, II Tempio del Gusto, La Toscana el" Italia Settentrionale, Milan, 1986, Vol. I, La galleria dorata dei Carrega, p. 375-376, Vol. II, fig. 835 and 836.
3. Orlando Grosso, Decorazione e mobilia di palazzi genovei nel Seicento-e nel Settecento, in Dedalo, Year 11, 1921, Vol. I, pag. 62 (not checked).
4. Giuseppe Morazzoni, II Mobile Genovese, Milano, 1949, refers to this group of seat furniture on page 101. As the author notes, the suite was already abroad by the time of publication.
A further highlight of the sale was a recently rediscovered masterpiece - an exquisitely carved chalcedony cover which is the lost partner of a magnificent cup in the collection of the Louvre. Expertly crafted by Giovanni Ambrogio Miseroni - the greatest of all Renaissance hardstone engravers – the exquisite cover sold for £1,497,150/$2,403,985/¤1,673,175 (est. £800,000-£1,200,000) following a bidding battle among three clients. The sale's outstanding selection of rare and important decorative art with links to some of the greatest collectors in European history achieved a within-estimate total of £10,832,600/$17,392,823/¤12,105,418 (pre-sale estimate £9.4-14.6 million). The sale was 76.9% sold by value.
Sotheby's Deputy Chairman, Europe, Mario Tavella said: "Tonight's sale was carefully curated following the tremendous reception that last year's inaugural Treasures sale received. Again, we were able to offer a number of works not only of museum quality, but that were fresh to the market, and the enthusiastic buying in the saleroom this evening demonstrates the hunger – across a very international market - for works of such rarity and remarkable provenance."
Attributed to Giovanni Ambrogio Miseroni (1551-1616), Italian, Milan , Late 16th Century Chalcedony cover carved with Venus and Cupid sleeping in a shell, with silver gilt mount in the form of Jupiter as a Swan. Photo: Sotheby's
Chalcedony (known as Calcedonio di Grigioni - chalcedony from Graubünden inᅠSwitzerland), the silver mount struck twice withpost 1893 French control marksᅠfor items of unknown origin. Chalcedony (agate) from Graubünden (Switzerland), the silver mount marked twice with French control marks of a swan (used for items traded after 1893), 9 by 20.5 by 14.1cm., 3½ by 8 1/8 by 5½in.overall weight: 983.8gr., silver gilt mount alone 659.4gr. Estimate: £800,000-£1,200,000. Lot Sold: 1,497,250 GBP
Introduction. This masterpiece chalcedony carving of Venus and Cupid sleeping in a shell is the most important work attributed to Giovanni Ambrogio Miseroni to have appeared at auction. This seminal example of the art of hardstone carving is likely to have been owned by Rudolph II, the Holy Roman Emperor and Queen Christina of Sweden, before being securely identified for the first time in the legendary collection of Cardinal Jules Mazarin. From Francois Lesçot's valuation of Mazarin's collection we know that the group of 100 colour hardstones belonging to the cardinal had a combined value of 47,790 livres, compared to his entire paintings collection which was valued at 36,560 livres. Of these 100 hardstones only three were valued over 2000 livres. These three star pieces are the jasper nef by Ottavio Miseroni with the monogram of Rudolf II, the byzantine sardonyx vase with 16th century mounts, both now in the Louvre (MR 143 and OA 8 respectively) and the chalcedony cup with the present lid carved with Venus and Cupid (the cup alone was bought back by the Louvre in 1968, OA 10305 figs. 2, 3 & 5). Once acquired by Louis XIV,the Venus and Cupid cup and cover must have stood out as one of the highlights of his great collection in Versailles. Its importance is evidenced by its valuation when it was sold by the Directoire in 1796. Of the 145 hardstone objects purchased by Jacques de Chapeaurouge, the Venus and Cupid cup and cover was the second most expensive item. The reappearance of this marvel of glyptic art presents a very special opportunity to acquire a work of royal magnificence with a superb provenance.
We are grateful to Diana Scarisbrick for her assistance in cataloguing this lot and to Dr. Victoria Avery for allowing us to quote from the translation of Dr. Rudolph Distelberger's essay on the Venus and Cupid cover, 'An unknown masterpiece from the Miseroni workshop', in the catalogue for the forthcoming exhibition Splendour & Power: Imperial Treasures from Vienna, which opens at the Fitzwilliam Museum, Cambridge on 16 August 2011 until 12 January 2012.
Giovanni Ambrogio Miseroni and the art of hardstone carving This chalcedony cameo of Venus and Cupid cradled together within a scallop shell can be attributed to Giovanni Ambrogio Miseroni (1551-1616), the greatest of all the hardstone engravers of the Renaissance period (see Rainer, op. cit., we are greatly indebted to this study). He belongs to the school of artists who emerged in the second half of the sixteenth century in Milan as masters of the art of cutting hardstone - jasper, agate, lapis lazuli, rock crystal – vases, jugs and dishes into exotic and unusual shapes decorated with motifs from nature and classical mythology.
Some of the most talented - Annibale Fontana (1540-1587), the Saracchi, Alessandro Masnago (1560-1620) - won international fame. However, even their great achievements were surpassed by members of the dynasty founded by Gasparo (1518-73) and Girolamo Miseroni (1522-1600), descendants of a long line of Milanese goldsmiths. As his eldest son, Giovanni Ambrogio succeeded Girolamo as head of Girolamo's workshop in 1600, while his brothers, Ottavio (1567-1624), Aurelio and Alessandro founded the school of hardstone cutting in Prague under the atronage of the Habsburg Emperor Rudolph II. All four, in Milan and in Prague, were engaged in supplying the Emperor and other art loving rulers such as the Electors of Saxony and Bavaria and the Grand Duke of Tuscany with these highly sought after vessels designed to express princely magnificence and power. They were prized because the stones, valued for their rarity, colour and texture were so resistant that they could only be cut with diamond dust, a process requiring patience, time and a high level of technical skill as well as artistry. In the hands of the best masters, like the Miseroni, the unyielding material was transformed into objets d'art, combining sculptural and pictorial qualities in the grand manner.
Here, the different tones of yellow, red and grey, provided by Nature have been utilised so as to create the nude figure of the goddess of Love and her little son, her garment, the shell, her blonde hair and cap and his attributes as well as the fluted shell itself. The patron, in this case most probably the Emperor Rudolph II, would have appreciated the huge difficulties which had to be overcome in order to complete this perfect interaction between nature and art. As Miseroni drilled the surface of the stone he could never be sure whether the vein of colour from which he was developing his form would abruptly crack, disappear or continue; and the larger the stone the greater the risk. It is a measure of Miseroni's genius that the figures, attributes and shell seem to emerge from a stone of this large size as if they had been waiting for him to release them from it.
We can but marvel, as Distelberger has commented, at 'the difficulties the master took upon himself when he decided use this stone for his carving. The stone has no distinct layers, and the colours seem to melt into each other like clouds. On the back of the shell, near the hinge, we can see how the stone cutter has restricted the space in which the group of figures lies. He succeeded in carving the whole of Venus' body from the light part of the stone. The thin strip of blonde hair, with a lock protruding between her left arm and the cloth, is particularly skilful. The drapery serves to veil the darker areas on the foot and ankle of Venus' right leg and her left arm. Cupid's back and head lie as if in shadow, and his unusual position near Venus' lower body is equally dictated by the nature of the stone. The triangular piece of drapery under her right elbow and the elongated pleats between the two figures are noticeably less detailed in comparison to the clearly delineated folds in front and the group is clearly intended to be viewed from a particular angle, i. e. at a slant from the front'.
The iconography and attribution of the Venus and Cupid cover While the scallop shell with polished ribs between the matt concave flutes radiating towards the indented edges imitates nature, so too do the figures, which demonstrate Miseroni's command of anatomy. Inspired by classical art, Venus's nude body is a model of feminine beauty and contrasts with the soft chubby limbs of the infant Cupid. The bond between the mother and her son is emphasised by the way she presses him close to her with one arm and stretches out the other to hold his hand. As befits the all powerful goddess of Love, Venus has finely chiselled regal features, enhanced by long wavy blonde locks, crowned by a small cap. She and Cupid are enclosed, as if in a bed, by her garment which is draped into decorative folds around her feet. In addition to the classical character of the scallop shell alluding to her maritime origin, and of Cupid's attributes, the bow and quiver, there is the silver gilt long necked swan perched over them which could be Jupiter, in that guise so as to seduce Leda, but is also a bird sacred to Venus.
The swan and the silver gilt curvilinear border have been attributed to the Augsburg silversmith Anton Schweinberger (d.1603) by Distelberger. He compares it to the maritime ornament created by Schweinberger for a ewer made of half a Seychelles nut (Kunsthistorisches Museum, inv. no. 6872). Schweinberger was employed from 1587 by Rudolph II whose courtly commissions, being independent of guild regulations bear neither the maker's mark nor the stamp of the city.
However, Daniel Alcouffe argued that the silver mounts on both the cup and cover are mid-17th century. The swan mount is not described in the 1661 inventory of the Mazarin collection and is only specifically identified in the 1729 inventory of Louis XIV.
As is well known, the study of Renaissance glyptics is handicapped by the absence of signatures and archival documentation, however, the attribution of this example to Giovanni Ambrogio Miseroni is fully supported by comparative examples. Closest in style, technique and material is another important Venus and Cupid group in the Kunsthistorisches Museum, Vienna (Inv.-Nr. KK 1730). There are many similarities: the anatomically correct reclining figures have been cut from the milky white layer of the stone, contrasting with the extraordinary reddish brown tint of the hair, and with the greyish blue garment which is spread out in full and elaborate folds, while the features of Venus are also classically beautiful and she holds her son close to her. The noble shape of the wine jar with acanthus leaf decoration which is placed beside them provides another classical element in the strong sculptural composition determined by the different colours of the stone, which is the same 'calcedonio di Grigioni' as the Venus and Cupid cover. In realising the potential of a single block of stone with such apparent ease the artist has proved his total mastery of his exacting medium. Secondly, there is the similarly shaped head of the kneeling figure of the Penitent Magdalena arms crossed in prayer, attributed to Ottavio Miseroni, the younger brother of Giovanni Ambrogio, and thirdly, an earlier work attributed to Giovanni Ambrogio, a lapis lazuli salver centred on a chalcedony cameo of Leda enthroned seduced by Jupiter in the guise of a swan, anticipating that surmounting the present Venus in the shell. These two last examples are also in the Kunsthistoriches Museum. All these comparisons are fully discussed by Distelberger (op. cit.).
Rudolph II and art in Prague around 1600. As the finest maker of the Milanese school Giovanni Ambrogio Miseroni was well known to Rudolph II, the greatest art patron of his time. In the 30 years that followed the establishment of Rudolph II's court in Prague in 1583, it became a magnet for many of the greatest artists in Europe including the painters Giuseppe Arcimboldo, Bartholomaus Spranger, Hans von Aachen and Roelandt Savery, the sculptor Adrien de Vries and goldsmiths Paulus van Vianen and Wenzel Jamnitzer. Rudolph's passion for the most luxurious objects was so great that two of the leading families of craftsmen from Italy, the Castrucci from Florence and Miseroni from Milan relocated to Prague. Giovanni Ambrogio was, therefore, well placed to supply Rudolph with objets d'art which might distract him during his frequent melancholy moods. These virtuoso creations appealed to the Emperor on account of the rare and exotic materials, their astral and talismanic powers and the artistry they inspired. However, the genre did not advance after his death in 1612 and during the Thirty Years War objects from the Imperial Kunstkammer were plundered. As Distelberger has observed 'The Swedes could have taken it, for instance, when they sacked Prague Castle in 1648, at the end of the Thirty Year's War. Like so many other precious objects taken from Prague at that time, the Venus shell could have found its way to Rome with Queen Christina of Sweden, when she moved there, and, through her, eventually to Cardinal Marazin'. Although there is no documentary evidence to confirm that the Venus and Cupid Shell cup and cover were possessed by the Habsburg Emperor, or Queen Christina, its subsequent history is well known.
From Cardinal Mazarin to Louis XIV. In 1661 the Venus and Cupid cup and cover was clearly described in the posthumous inventory of the gallery of the Roman born Cardinal Mazarin (fig. 6), who brought the taste for Italian art to Paris: 'Une grande tasse d'une seulle agathe d'Allmagne en coquilles, portée par un dauphin d'argent vermeil doré pose sur une coquille aussy d'argent vermeil doré, avecq son couvercle d'une autre grande coquille d'Allemagne, aussy en coquilles, sur laquelle est entaillé une Venus tout nue couchée sur un drap et un petit amour auprés entourée d'un bord d'argent vermeil doré.....'. (Alcouffe, op.cit. p.21). Chantelou told Lorenzo Bernini during his visit to Paris in 1665, the Cardinal cultivated the taste for these 'propretés de cabinets et de cristaux...... pour entretenir et divertir le Roi' (Chantelou, op. cit. p.159).
Louis XIV (fig. 1) had obviously been impressed as that same year he purchased the cup and cover, with the seventy five other important hardstone vases from the Cardinal's estate for display at Versailles. Following the example of the ancient Roman Emperors, the Medici and the Habsburgs he recognised that these hardstone vases, more effectively than any other art, would express the prestige of his reign. He explained this concept to his son, the dauphin: 'Il n'y a rien qui marque d'avantage la magnificence des grands Princes que leurs superbes palais et les meubles précieux dont ils sont ornez'. As he also grasped that to serve this political purpose the vases had to be displayed in quantity, so he went on acquiring them. At first placed in cabinets, from 1682 they were shown in the Cabinet des Médailles entered through the Salon d'Abondance with its ceiling painted by René- Antoine Houasse which depicts some of the most famous examples in the collection. (Castelluccio, op. cit. p.111). The effect of the display of so many superb objects, placed high on the cornice, in pentagonal niches at the corners, grouped on consoles between pilasters on the walls, on the chimney piece, and reflected many times by mirrors must have been as magnificent as the king intended. (idem. fig. 154) In 1683 the Abbé Bourdelot recorded his impression 'que je vis de sortes de pierres précieuses mises en oeuvre: des éliotropes, sardoines, onix, agates des cornalines,toutes orientales. Il y en a de grosses de figures heureuse, et d'autres bizarres, qu'on avait bien pratiquée pour les mettre en oeuvre , don't on avait tire des formes agréables. Quelquefois, la variété des pierres qui s'étaient trouvées dans le bloc y avait servy, comme dans l'agateonix ou les divers polis yet couleurs donnaient un oeil et des graces différents. Quelle diversité capable de satisfaire les esprits les plus curieux'. (idem. p.115).
Jacques de Chapeaurouge and the Directoire sales. Shortly after the revolution of 1789 valuations of all Crown property were made, including the hardstone vases. In 1796, deeply in debt, the Directoire decided to relinquish a quarter of this collection to a creditor, the Swiss Jacques de Chapeaurouge (1744-1805) (fig. 7) who was then active in Hamburg. Among the objects thus dispersed was the shell cup with Venus and Cupid lid which, marked no.376, disappeared until 1968. The cup, then without the cover, was offered for sale at the hôtel Drouot and acquired by the Louvre (figs. 2, 3 & 5) Alcouffe, op. cit. no. 91, pp.221-223). As for the cover, also marked 376, that has now reappeared from a Swiss private collection, looking just as splendid today as when it left the workshop of the celebrated Giovanni Ambrogio Miseroni around 1600.
The rediscovery of the Venus and Cupid cover adds a seminal work to the prized oeuvre of Giovanni Ambrogio Miseroni. To hold in your hand the crowning glory of one of the masterpieces of Renaissance hardstone carving, that has remained unidentified for centuries, is a moment to cherish and prolong.
LITERATURE: R. Distelberger, 'An unknown masterpiece from the Miseroni workshop', Splendour & Power: Imperial Treasures from Vienna, exhib. cat. P. Rainer (ed.), Cambridge, 2011, pp. 60-67
D. Alcouffe, Les Gemmes de la Couronne, Paris, 2001, pp.221-223
P. Michel, 'Mazarin, prince des collectionneurs : les collections et l'ameublement du cardinal Mazarin (1602 – 1661)', Histoire et Analyse, Paris, 1999, pp.482-484
D. Alcouffe, 'The collection of Cardinal Mazarin's Gems', The Burlington Magazine, vol. 116, no.858 (Sep., 1974), pp. 514-526, fig. 21
P. Verlet, 'Chapeaurouge et les collections royales françaises', Festschrift für Erich Meyer, Hamburg, 1957, pp.286-294
RELATED LITERATURE: P. Chantelou, Journal du Voyage du Cavalier Bernin en France, Paris, 2001
S. Castelluccio, Les Collections Royales d' Objets d' Art, Paris, 2002
Many remarkable prices were achieved in this evening's sale. Most notably:
• A magnificent pair of gilt-bronze mounted Chinese crackle glaze, celadon pot pourri vases circa 1745-49 raised £881,250/$1,414,935/¤984,796, (est. £800,000-£1,200,000). The vases featured in the private collections of master couturier Nicolay and most recently, that of Dimitri Mavrommatis.
A pair of gilt-bronze-mounted Chinese crackle glaze celadon pot-pourri vases, the mounts Louis XV, mid 18th century, the porcelain 18th century. Photo: Sotheby's.
each formed from two bowls with crackle glaze of light blue colour, the lid with a finial cast in the form of a stalk, the gilt-bronze pierced rim cast with acanthus below gadroons, centred by flowerheads and foliage, the scrolled handles cast with leaves, supported on a gilt-bronze base cast with rinceaux, flowers and rocailles; one stamped with the Crownᅠ'c' poinçon;ᅠrestorations to the porcelain, both lids with slightlyᅠdifferent crackle glazeᅠ(2) Total height: 40cm., diameter 41cm. (including handles); 1ft. 3¾in., 1ft. 4in. Estimate £800,000-£1,200,000. Lot Sold: 881,250 GBP
Comparative Literature: Lunsingh Scheurleer, Chinesisches und Japanisches Porzellan in Europäischen Fassungen, Würzburg, 1980, pages 267, 322-3
Pierre Verlet, 'Les Bronzes Dores Francais du XVIIIe siecle', Paris, 1987, page 127
F. J. B. Watson, The Wrightsman Collection, Vol. II, Greenwich, 1966, pages 436-7
F.J.B. Watson, Gillian Wilson, Mounted Oriental Porcelain in the J.Paul Getty Museum, Los Angeles, 1999, pages 66-71
Geoffrey de Bellaigue, The James A. de Rothschild Collection at Waddeson Manor: Furniture, Clocks, and Gilt Bronzes, Vol. II, London, 1974, pages 752-753
This magnificent and sumptuous pair of vases belong to a group of related pots-pourri which exist with the same gilt-bronze mounts, (some with different finials-see post) usually bearing the Crown 'c' poinçon mark (which was a tax mark in use between 1745-49 on any alloy containing copper), and which would date some of the related models to this period. Several mounted celadon vases appear in the inventory of the marchand-mercier Lazare Duvaux (who specialised in the sale of luxury goods), but their entries are too vague to be able to recognize any of them (see A. Pradere's note to lot 68, Sotheby's, Monaco, 14th December 1996). Nor is it possible to prove that any of these bronzes were made by the great bronziers of the time such as Thomas Germain, Caffieri or Saint-Germain.
There are a number of related pots-pourris known, (see following list) some of different form (globular instead of dome shaped) and various types of porcelain.
1. Formerly in the George Byng collection, Wrotham Park, Hertfordshire, sold Christie's, London, 10th December 1992, lot 213. A pair of pots-pourris (h. 42cm, diam. 38cm) struck with the Crown 'c' poinçon five times on one and four on the other.
2. Collection of Colonel and Madame Jacque Balsan, Christie's, London, 30th May 1968, lot 27, sold for 14.000 Gns.; then Galerie Aveline, Paris, 1984; sold Sotheby's, Paris, 9th April 2008, lot 98, for 1,426,973 EUR (see Fig.2)
3. Chester Beatty collection, then Partridge, London, (see L. Scheurleer, (op.cit.) p.322, fig. 301. A pair of pot-porris (h. 27cm).
4-5-6. L. Scheurleer, (op. cit.), p.323, fig. 304, a celadon pot-pourri (h. 30.7cm) and p.267, fig. 186, a polychrome enamelled vase and cover in the California Palace of the Legion of Honour, California. Also see The Wallace Collection, London for a pair of pot-pourris, illustrated by L. Scheurleer, (op. cit.), p.267, fig. 185.
7. A pair of Japanese lacquer bowls reputedly from the collection of Madame du Pompadour at the Château de Bellevue and now in the Louvre, illustrated by P. Verlet, (op. cit.), p.127, fig. 165, (Louvre cat. C.Dr. no 412).
8. A pot-pourri in the Wrightsman Collection in the Metropolitan Museum of Art, New York, F.J.B. Watson, (op. cit.), pp.436-7, no. 246
9. Christie's, London, 9th June 1994, lot 34. A single pot-pourri in red and turquoise flambé glaze from the collection of Sir Julius Wernher Bt., Luton Hoo, Bedfordshire ( 44.5cm) struck once with the crown 'c' poinçon.
10. F.J.B. Watson, Mounted Oriental Porcelain, Exhibition Catalogue, Washington, 1986, p.72-73, no. 22 , a pair of lidded jars in the Frick Collection, New York City (15.8.41; 15.8.42).
12. A single celadon pot-pourri, illustrated by F.J.B. Watson & G. Wilson, (op. cit.), pp.66-71, no. 13. It is of similar form to the present pair, with identical central pierced band, the finial is in the form of a spray of leaves and flowers. The Getty pot-porri's mounts have the crown 'c'.
13. A pair of pots-pourris (h. 37cm, diam., 38cm ) in grey-green porcelain with crackled glaze and the Crown 'c' poinçon struck in six places on one, and five places on the other. They have an identical rim mount on the vase and the base mount is very similar (see G. de Bellaigue, (op. cit.), pp.752-753, no. 196)
14. A pair of crackled glaze pots-pourris, with Crown 'c' poinçon, sold from the collection of the late A.C.J. Wall, Christie's, London, 26th November 1970, lot 12.
15. A pair of similar gilt-bronze mounted Chinese celadon pots-pourris vases, sold Sotheby's, Paris, The Léon Lévy Collection, 2nd October 2008, lot 21, for 1,016,750 EUR
It is not inconceivable that all the above mentioned vases have been mounted by the same Parisian bronziers at the end of the 1740's. The fact that certain vases do not bear the Crown 'c' (since all must have been marked) leads one to conclude that they must have been completed after 1749 after the repeal of the tax), but using certain earlier bronzes already marked made within the period of the tax.
• "The Empress Clock", a spectacular automaton singing bird vase clock, possibly made for the Empress Josephine circa 1805, sold for £825,250/$1,325,021/¤922,216 (est.£700,000-£1,000,000).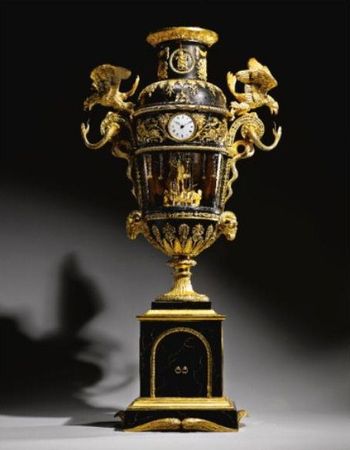 "The Empress Clock", An ormolu-mounted tôle peint automaton singing bird vase clock, attributed to DeBelle, Paris, circa 1805; Bronze, painted brass, steel, glass, stained peacock feathers; 82.5cm. 32½in. high. Paris. Estimate: .£700,000-£1,000,000. Photo: Sotheby's
• A rare purple, gilt-bronze-mounted Sèvres porcelain vase, circa 1768, from the bedroom of King Alfonso XII of Spain raised a strong total of £109,250/$175,412/¤122,087 (est. £50,000-£80,000). When the vase came to be offered for sale, Sotheby's discovered a letter hidden inside, revealing the vase was taken from the Spanish King's bedroom following his death, by his valet.
Royal Gilt-Bronze-Mounted Sèvres Fond Violet Porcelain Vase Ovoïde, the bronzes attributed to Jean-Claude Chambellan Duplessis, Louis XVI, c.1768. Photo: Sotheby's.
made of soft paste porcelain, of ovoid form, with vine leaves and grape garlands suspended between handles terminating in ram's heads, raised on a stepped plinth base; this vase is accompanied by a signed letter dated 1909 stating its provenance; 42cm. high; 1ft. 4¾in. Estimate: £50,000 - £80,000. Lot Sold: 109,250 GBP
Comparative Literature: - Deborah Gage, The Chatsworth Vases, a gift from Louis XV in 1768 to Henri Léonard Jean-Baptiste Bertin, Burlington Magazine, July 2010.
- Marcelle Brunet and Tamara Préaud, Sèvres, des origines à nos jours, Fribourg, 1978, page 171, pl. 140.
- Theodore Dell, Furniture in the Frick Collection, New York, 1992, page 310.
The extraordinary aspects of this vase are the unusual and brilliant purple or violet ground colour, its shape and rich gilt-bronze ornaments.
The colour: The Sèvres Factory excelled in the novelty of their designs and extraordinary challenges. To this day, Sèvres is celebrated for its quality and unequal ground colours together with its technical excellence allied to a particular flamboyance. The Sèvres vases always caught the public eye and received the most publicity and thus became the benchmark for establishing the latest style in fashion. 1762 saw the introduction of the first vases at Sèvres which were unequivocally classical, the vase ferré being one of the earliest. With the evolution of Neo-classicism, vase shapes were constantly simplified based upon Antique models.
The Vincennes factory appears to have produced an earlier purple colour copying Meissen, but this colour was very grey, such as the pair of pot-pourri vases in the Musée Céramique at Sèvres.
The colour of the vases under discussion is a different purple based upon a formula produced by the painter and chef de couleurs et chimie Jean-Jacques Bailly and mentioned in his Manuscrit de Bailly, 17...-1785, under the heading Violet No.1 du septembre 1767. This colour was very largely experimental, due to the enormous difficulty involved in its production, resulting from the fact that the formula contained alkaline. The drawback with alkaline is that because it contains oxide which liquifies when subjected to heat, it causes the colour to run or bleed, and becomes washed out when fired. Alternatively, the ground might turn black if applied too thickly. Furthermore, this ground had a tendency to craze. It would appear that this fond violet was so troublesome to produce that it soon became obsolete. This explains why, apart from the following examples, no other Sèvres wares boasting this amazing ground colour appear to have been produced or survived.
- there are two garnitures of three gilt-bronze mounted vases ordered by Louis XV in 1768 as gifts for the Controller General of Finance, Henry Leonard Jean-Baptiste Bertin (1720-1792) and the distinguished statesman and financier Jean-Baptiste Machault d'Arnouville (1701-1794), listed in the Sèvres sales inventories for December that year. This violet colour seems to have particularly pleased the King and the sales inventories clearly refer to the Bertin and Machault d'Arnouville garnitures of vases fonds violets as being specially commissioned by Louis XV - 'Livres pour Presenter'. The garniture presented to Bertin is now in the collection of the Duke of Devonshire at Chatsworth, Derbyshire. The Machault d'Arnouville garniture, which has mounts attributed to Jean-Claude Duplessis, was formerly with Maurice Segoura, Paris.
- another vase, a Louis XVI vase-oeuf, but of different design, with the same rare and exotic fond violet ground was sold, Sotheby's New York, 20 May 1989, lot 171.
- a pair of vases-oeuf fond violet, circa 1768, in a private collection and illustrated at Deborah Gage, Burlington Magazine, op. cit. page 461, fig. 18.
- a pair of cylindrically shaped vases, circa 1768, at the Musée National de Céramique, Sèvres.
- a garniture, comprising a pot-pourri and a pair of vases formerly in the collection of the Dukes of Rohan-Chabot, sold Sotheby's, The Rossi Collection, London, 12th March 1999, lot 1346.
The shape : Another highly distinctive feature is the very unusual and rare shape of the present vase, which is not traceable in the archives or amongst the models of the Sèvres factory.
The only other recorded example is a Sèvres vase ovoïde, dated 1767 in The Walters Art Gallery in Baltimore
The bronzes: Jean-Claude Chambellan Duplessis (1699-1774)
Apart from the deep and pulsating colour of the fond violet and the striking and eye-catching shape, the vase is further enhanced and offset by gilt-bronze mounts of exemplary quality. The exceptional aesthetic unity of the present porcelain and its mounts suggests that the bronzes were designed specifically for this vase and as such, can be attributed to Jean-Claude Chambellan Duplessis.
The multi-talented Duplessis was already an important sculptor, designer, goldsmith, and bronze worker in Italy, before he moved to Paris in about 1740. In France, he continued working as a goldsmith and gilt-bronze founder and was appointed orfèvre du roi in 1758.
From about 1748, Duplessis expanded his range of activities and served as artistic director of the Vincennes porcelain manufactory and its successor at Sèvres from 1748 to his death in 1774. He also supervised the work of the throwers and moulders, advised on ground colours, and supplied gilt bronze stands and mounts for the porcelain products. He created the wax models for giltbronze mounts for furniture and especially for porcelain objects, in which capacity he appears repeatedly in the day-book of the marchand-mercier Lazare Duvaux. Amongst Duvaux's clients, he collaborated most closely with work for the comte d'Argenson and the duc de Chaulnes.
A Royal vase.
The present vase is accompanied by a letter in Spanish: (see Fig. 4) 'Esta faseo lo recogiá del tocador de Su Majestad el Rey Don Alfonso XII su ayuda de cámara, Ceferino,cuando aquel murió. Guardado por mi ese recuerdo durante muchos años, he tenido la honra de entregárselo al Excelentísimo Señor Duque de Tamames, buen amigo de acquel Rey nunca bastante llorado. 19 de Marzo, 909, Antonio J. Espila, Hijo político de Ceferino' / 'This vase was taken from the boudoir of his majesty the King Alfonso XII by his valet, Ceferino, when the King died. Having kept this for many years as a souvenir I was honoured to give it to the Duke of Tamames, a dear friend of the late king never enough mourned for. Dated 19th March 1909, signed Antonio J. Espila, son in law of Ceferino.'
King Alfonso XII of Spain (1857-1885)
King Alfonso XII was king of Spain, reigning from 1874 to 1885, after a coup d'état restored the monarchy and ended the unstable First Spanish Republic (see Fig. 5). In 1878 he married his cousin, Princess Maria de las Mercedes, daughter of Antoine, Duke of Montpensier, but she died within six months of the marriage. In 1879, he remarried a much more distant relative, Maria Christina of Austria, daughter of Archduke Karl Ferdinand of Austria. Alfonso died of tuberculosis in November 1885, just short of his 28th birthday. During his short reign, peace was established both at home and abroad, finances were well regulated, and the various administrative services were placed on a solid basis.
It is not known how this vase initially found its way into the Royal Spanish collection. However, in view of the fond violet porcelain gifts by Louis XV for Bertin and Machault d'Arnouville, it is tempting to conjecture that the present vase might have been a Royal gift to the cousins ruling in Spain at that time.
• A pair of magnificent late Baroque Venetian marquetry tables, with exuberant inlay and engravings executed by Lucio and Antonio De Lucci, fetched £713,250/$1,145,194/¤797,056. (est. £600,000 - £1,000,000)
A pair of Italian ivory, stained horn and pewter-inlaid ebony, rosewood, walnut, fruitwood and marquetry console tables, the tops signed by Lucio de Lucci, the stained boxwood bases attributed to Andrea Brustolon (1662-1732), Venetian, circa 1686. Photo: Sotheby's.
each with a rectangular top inlaid with a central c-scroll cartouche depictingᅠcolonnaded buildings with balustrades and fruit tree filled urns, with two figures in the foreground and a landscape in the background, the other depicting a harbour scene with a galleon engaged in a sea battle with a building in the foregroundᅠwithin strapwork borders flanked by further cartouches to either side each depicting battle scenes with mounted soldiers centered to the top with a crowned strapwork cartouche laterᅠinset with an ivory coat-of-armsᅠfor the 5th Duke of Buccleuch,ᅠwith a further hunting scene below, the reserves inlaid with profusely scrolled foliage and decorated with birds, insects and putti, the front corners depictingᅠ figures in courtly dress, the rear corners depicting exotic figures seated on cushions, each with a banner inscribed LVCIO D' LVCCI FECE, with moulded edge above an elaborately carved pierced frieze, with scrolling acanthus and leaf-wrapped military trophies, the sides with ribbon-bound foliage, aboveᅠc-and s-scroll supports carved with acanthus leaves, headed by mask-decorated helmets with plume finials and decorated with flowerheads and fruit joined by similarly carved X-form stretchers issuing flowerheads and carved to the centre with entwined serpents, on volute scrolled feet carved with grotesque maskᅠ;one stand bearing an inventory number T.I/1 and T.I in red ink; the frieze supported with later metal brackets; each 90cm. high, 171.5cm. wide, 87cm. deep; 2ft. 11½in., 5ft. 7½in., 2ft. 9¾in. Estimate £600,000 - £1,000,000. Lot Sold: 713,250 GBP
Comparative Literature: - Andrew Hopkins, King of carving, Apollo, 23rd June 2009.
- Anna Maria Spiazzi, Andrea Brustolon 1662-1732 `Il Michelangelo del Legno', Palazzo Crepadona, Belluno, 28th March-12th July 2009.
- Giuseppe Morazzoni, Mobili Veneziani del'700, Milan-Rome, MCMXXVII, plates XIV-XXVI.
These magnificent tables tops with their exuberant inlay and engraving are amongst the most outstanding examples of a small group of related pieces executed by Lucio and Antonio De Lucci in Venice in the late 17th century. Furthermore, this is the first time that the bases can be attributed to Andrea Brustolon, the celebrated Venetian carver. In previous literature, it did not mention that the table bases were carved from boxwood which is a strong indication of the work of this sculptor, who sculpted in a similar vein.
The tops by Lucio and Antonio De Lucci:
Furniture by these craftsmen constitute the only known pieces of elaborate marquetry furniture dating from the second half of the 17th century emanating from Venice emphasing their rarity.
There is a paucity of information about the De Luccis, apart from the few items signed by or attributed to them that have come to light in the research by Alvar Gonzáles-Palacios, op. cit. There is in addition to the present pair of tables, a third, closely related table top recorded on which a very similar Turkish figure is holding an ivory scroll inscribed ANT. DE LUCCI FECE IN VENETIA 1686 (González-Palacios, fig. 597, erroneously shown as fig. 595). This table is important as it sets the date for all the other pieces by the De Luccis. As their works are extremely alike, there can be no doubt that Antonio and Luccio De Lucci were related and that they were active in the same workshop in Venice in the fourth quarter of the 17th century.
There existed a fourth top, possibly made en suite and identically inscribed, that was cut up in the eighteenth century to be employed as marquetry decoration on a German writing desk probably constructed in 1764 (Daniela di Castro, 'Una tarsia veneziana del Seicento per un bureau Tedesco del Settecento', DecArt, Riviste di arti decorative 1 (2004), pp. 20-25).
A fifth, unsigned top, inlaid with a view of Napoli Di Romania (presumably Nauplia, Greece), which on being compared with the abovementioned signed tops be safely attributed to either of the same makers (González-Palacios, op. cit., fig. 598).
Another table top with the view of Vienna has been recently recorded on the art market.
In the Davia Bargellini Museum of Bologna three console tables inlaid with mother of pearl are surely by the De Luccis . In fact a letter exists signed by Lucio De Lucci,in Venice and dated 10th August 1699 referring to these three tables ( A.G.P. Antologia delle Belle Arti, S. Tumidei, Intagli a Bologna, Intagli per Bologna, n 59-62, 2000,p.36-37 and 48).
The work of the De Luccis is not only recorded on table tops but also can be found on a group of chests of drawers, some of them certainly by their hand. Amongst those worthy of mention include a magnificent pair in the Galleria Benucci, Rome, which without a doubt originates from the same workshop and depict exotic figures in cartouches. Other artisans must have followed the style of the De Luccis as similar chests but more provincial in appearance have survived.
The marquetry by the De Luccis is characterized by boldly scrolled ribbons, exuberant floral patterns and highly ambitious pictorial scenes. The central panels on the present tables show perspective views of colonnaded buildings that are strongly reminiscent of Renaissance designs for marquetry, published by Hans Vredeman de Vries in Antwerp around 1560 (Simon Jervis, Printed furniture designs before 1650, Leeds 1974, figs. 122-141) and reflecting a contemporary South German tradition.
These panels are surrounded by vignettes of hunting scenes.The Turkish figures in the upper corners may refer to the defeat of the Turks at the Siege of Vienna in 1683. The grotesque figures depicted in the lower reserves of the marquetry tops are inspired by Jacques Callot's (d. 1635) celebrated series of engravings, Varie figure Gobbi di Iacopo Callot Fatto in firenz al'anno 1616-reproduced here in fig. 4 & 5. Callot's engravings were first depicted on pietra dura panels designed by Baccio del Bianco (1604-1656) in the Opificio delle Pietre Dure, Florence (for instance the panel illustrated in A.-M. Giusti, Pietre Dure, London, 1992, fig. 106, which is based upon Callot's engraving 'Le Joueur de flageolet').
Figures from these engravings also featured on a bureau-plat that was purchased in 1841, by the 5th Duke of Buccleuch from Edward Holmes Baldock (d.1843), no doubt the latter influenced by the same engravings after Callot, which inspired the figures on the offered tops.
The table bases attributed to Andrea Brustolon (1662-1732):
The tables are superlative examples of the exhuberant late baroque carving executed in Venice. There is no doubt that such elaborate and exquisite Venetian table tops of such outstanding quality required equally magnificent bases to support them and they surely must have been produced in the same city by a very skilled sculptor. A few considerations should be made which allow us to suggest for the first time an attribution to the celebrated sculptor Andrea Brustolon from Belluno, who produced his finest works in the lagoon.
The stands are made of stained boxwood which is a wood which was mastered on several occasions by Brustolon and one of his signatures(see the suite for Pietro Venier, post). The strong baroque design which distinguishes these tables is also strongly reminiscent of Roman models influenced by the designs of Filippo Passarini and J.P.Schor. From annotations to his drawings, we know that Brustolon visited Rome and that he was fascinated by the superb Roman carriages made for Cardinal Rinaldo d' Este after the elaborate drawings by Ciro Ferri. The Roman context must have surely influented his work when he went back to Veneto. Drawings of elaborate consoles by Brustolon are to be found in the Museo Civico di Belluno, see Spiazzi. et al. op. cit., page 225 which depict elaborately carved and curved feet with vegetal and fruit elements interspersed as on the present tables. The military trophies and scrolling acanthus inlaid on the table tops are skilfully repeated in the carving on the bases.
Brustolon was termed by the celebrated French writer Balzac as `the Michelangelo of Wood'. He was apprenticed at the age of fifteen to the famous baroque sculptor Filippo Parodi. His earliest recorded work is a pair of angels for the Frari in Venice in 1684.
Should this attribution prove to be correct, the date of the tops and bases would indicate that Brustolon was a young man in his early 20's, when he executed the bases as the carving although very fine and sculptural , is somewhat less detailed than the celebrated armchairs and furniture which made up the `fornimento Venier', the suite commissioned in 1690 by the nobleman Pietro Venier to display his celebrated collection of porcelain vases in his family Palace in Venice.
There are also examples of similar sculptural armchairs historically attributed to Brustolon in English Country Houses, see for example, the set of ornately carved armchairs by Brustolon in Burghley House, Lincolnshire.
Hugh Honour in 1963 in an article in Apollo, `Italian Sculptured Furniture of the Eighteenth Century, states that Brustolon `proved himself more than capable of satisfying his private patrons' desire for extended monumental decorative programmes.'' Also see for example Colle, op. cit., p. 302, for a Venetian bookcase although unattributed, with similar exhuberant carving, with military trophies and boldly scrolling acanthus leaves and flowers, now in the Biblioteca del Seminario, Padova, where Colle mentions the names of Pianta and Brustolon It is worthwhile noting that Colle op. cit., p. 302, reproduces the offered table with the arcaded building opposite the bookcase.
Walter Francis Montagu Douglas Scott, 5th Duke of Buccleuch, 7th Duke of Queensberry (1806 – 1884):
In 1819, Walter Francis Douglas Scott succeeded his father to the Dukedoms of Buccleuch and Queensberry, becoming one of the country's wealthiest landowners in the process. The Duke acquired some extraordinarily good furniture for his residences from the great London dealer and cabinet maker Edward James Baldock (1777-1845). It therefore must follow that it was most probably at this time that the consoles entered the 5th Duke's collection.
Baldock was held in high regard, so much so that he was a supplier of works to George IV, William IV and Queen Victoria until his death. He appears to have supplied the Duke predominately with furniture between 1830 and 1843, selling him the very best and there are pieces still in the Buccleuch collection, notably a bonheur du jour by Martin Carlin and at Bowhill where there is a card table by Bongen and a commode by Horrix both acquired by Baldock for him, see Reinier Baarsen, French Furniture in Amsterdam in 1771, Furniture History, XXIX, 1993, P. 114. There is also documentation of Baldock travelling to Italy and making purchases there, a pietra dure top, said to have come from the Borghese Palace was acquired from the abbé Celloti for William Beckford's Fonthill, see Geoffrey de Bellaigue, Edward Holmes Baldock, Connoisseur, August, 1975, p. 290.
It is very likely that the pair of consoles offered here come from that group of purchases made in Italy. The later inlaid ivory armorials bare all the hallmarks of Baldock, sensitively let in to the marquetry top, most probably replacing an earlier Italian armorial, a minor alteration which Baldock would have delighted in; inlaid and marquetry furniture being a hallmark of this great 19th century dealers stock in trade.
LITERATURE: - Alvar González-Palacios, Il gusto dei principi, Arte di corte del XVII e del XVIII secolo, Volume II, Milan 1993, pp. 338-339, figs. 595 (erroneously switched with fig. 597) and 596.
- Enrico Colle, Il Mobile Barocco in Italia, Milan 2000, ill.on pp. 302 , where the table with the arcade is illustrated and p. 322, where both tops only are illustrated.
• One of the most important 17th Century cabinets - a rare and impressive Roman gilt- bronze-pietre-dure-and marble-mounted ebony and ebonised cabinet, offered at auction for the first time, sold for £668,450/$1,073,263/¤746,992 (est. £250,000-£500,000).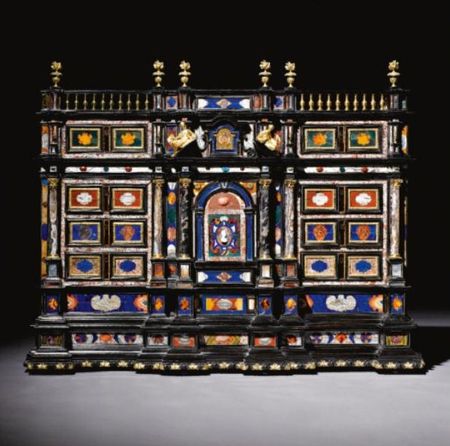 An Italian gilt-bronze-pietre dure-and marble-mounted ebony and ebonised cabinet, Roman, mid 17th century. Estimate: £- £500,000. Photo: Sotheby's.
• The only surviving pair of Jaquet-Droz & Leschot singing bird snuff boxes still together sold for the above-estimate total of £735,650/$1,181,160/¤822,088 (est. £250,000-£450,000). Wound by a golden key, they were priced at as much as £1,800 apiece when they were ordered by the London retail jewellers David Duval & Co in 1801 for the Chinese market.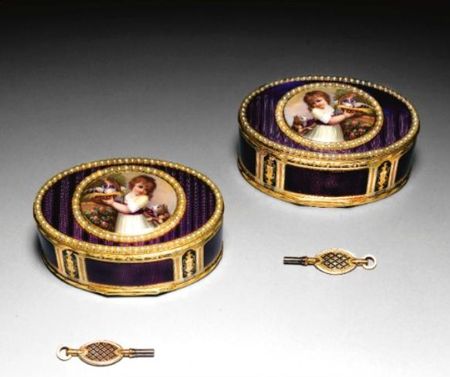 A pair of gold and purple enamel singing bird boxes, made for the Chinese market, the movements Jaquet-Droz & Leschot, the cases Guidon, Rémond, Gide & Co., Geneva, 1800-1801; gold, enamel, pearls, humming bird feathers, ivory beak, gilt-metal, width 8.5cm, 3 3/8 in. Estimate: £250,000-£450,000. Photo: Sotheby's
Sale statistics:
• Sold by lot: 60.6%
• Sold by value: 76.9%
• Of the 33 lots offered, 20 sold

*Estimates do not include buyer's premium