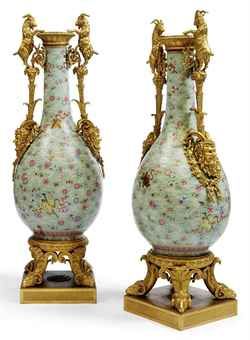 A pair of Empire ormolu-mounted Chinese porcelain baluster vases, the porcelain Jiaqing period (1796-1821), the mounts, circa 1815, the neck and handle mounts, circa 1820. Photo: Christie's Images Ltd., 2011
Each of bottle shape, stoutly potted with rounded sides, densely decorated with the Eight Daoist Emblems, anbaxian, tied with long fluttering ribbons, amongst 'ball' flowers, butterflies, cloud scrolls and bats in flight, with a lappet band rising above the short slightly-splayed foot, all set against a celadon ground, surmounted by a flared collar cast with stylized leaves and beaded rim, the flanking handles modelled with goats standing on fruiting and acanthus-wrapped conrnucopiae issuing from bearded satyr masks draped with fruiting vine garlands, the stand cast with flower-filled entrelacs above acanthus scroll feet terminating in rams' heads, on a square panelled plinth base, each vase with one vine garland replaced, with paper label inscribed 'Prov Duke of Buccleuch and Queensberry K.T. P.C. G.C.V.O' and with depository label 'THE PANTECHNICON TURNHAM GREEN, W4 4JH' inscribed '10.10.80' and numbered '103' and '104' respectively; 48½ in. (121 cm.) high (2). Estimate £200,000 - £300,000 ($320,400 - $480,600). Price Realized £2,841,250 ($4,534,635)
Provenance: Almost certainly acquired by either Elizabeth Montagu, 3rd Duchess of Buccleuch and Queensberry (1743 - 1827), or by her grandson, Walter Francis, 5th Duke of Buccleuch and 7th Duke of Queensberry (1806-1884) for Montagu House, London, or Montagu House (later know as Buccleuch House), Richmond, or Dalkeith Palace, Midlothian, Scotland, and subsequently moved to Drumlanrig, Dumfriesshire, Scotland [illustrated at Drumlanrig in September 1960], thence by descent to Walter Montagu Douglas Scott, 8th Duke of Buccleuch and 10th Duke of Queensberry (1894-1973), sold, Christie's London, 5 July 1973, lot 19.
Sold anonymously, Bonhams London, 18 September 1980, lot 43.
Literature: M. Girouard, 'Drumlanrig Castle, Dumfriesshire', II, Country Life, vol CXXVIII, pp. 434-437, illustrated p. 435, pl. 3.
THE MOUNTS

This pair of vases is related to a pair of Louis XVI Sèvres porcelain vases with ormolu handles in the form of goats modeled by Thomire and subsequently supplied by Robert Fogg to George IV in October 1812 (F.J.B. Watson, 'George IV as an Art Collector', Apollo, June 1966, p. 419, plate II). Although Fogg would not have had a monopoly on using these mounts, it is interesting that the present example is mounted with similar handles undoubtedly inspired by the Thomire 'goat handle' example, though possibly from the hand of another craftsman, yet most probably also supplied by Robert Fogg.

THE PORCELAIN

The current vases are not only notable for their impressive size and skillfully rendered decoration, they also act as a fascinating example of the Chinese taste for auspicious imagery and Daoist symbolism. An ancient indigenous Chinese religion, Daoism stretches back more than two thousand years. Notwithstanding the Manchu emperors' preference for Tibetan Buddhism, Daoism continued to thrive throughout the Qing dynasty (1644-1911). As a popular form of decoration on Qing porcelain, the Eight Daoist Emblems were first adopted as a decorative subject on porcelains during the Yongzheng period (1723-35). The emblems represent the attributes of the Eight Daoist Immortals, including Li Tieguai's iron crutch and gourd, Zhong Liquan's fan, Zhang Guolao's bamboo drum with two rods, Lu Dongbin's sword and flywhisk, He Xiangu's lotus or sieve, Han Xiangzi's flute, Cao Guojiu's castanets, and Lan Caihe's basket containing flowers or peaches. In the famous story of the Eight Daoist Immortals crossing the sea, each immortal used their respective items to demonstrate their powers. As popular figures in Daoism, the immortals are believed to embody the moral and physical ideal that mortals aspire to achieve, and are venerated for their spiritual powers. Moreover they are conceived as mediators between mortals and the Dao, which means 'the Way'. Often depicted with the God of Longevity, Shoulao, the immortals and their emblems are all associated with the theme of longevity. For further information on the legends and history behind each of the Eight Daoist Immortals, refer to Stephen Little, Taoism and the Arts of China, Chicago, 2000, pp. 313-335.
The auspicious and religious connotations of the Eight Daoist Emblems are heightened by the depiction of the surrounding 'ball' flowers, clouds and bats. The colourful 'ball' flowers, piqiujin, are traditionally used to express the notion of celebration and happiness. The word for cloud in the Chinese language is yun, a homophone for 'fortune', and the word for bat is fu, a homophone for 'blessings' and 'happiness'. The decorations on the vases thus combine to convey a multitude of auspicious blessings and wishes.
Chtristie's. The Exceptional Sale 2011, 7 July 2011, London, King Street www.christies.com