Godfried Schalcken (Made 1643-1706 The Hague), Young Girl Eating Sweets, 1680–85. Oil on panel, 7 3/8 x 6 1/8 inches (18.6 x 15.5 cm). The Rose-marie and Eijk van Otterloo Collection.
SAN FRANCISCO, CA.- One of the world's best private collections of 17th-century Dutch and Flemish paintings, including masterworks by Rembrandt, Frans Hals, Gerrit Dou, Jan Steen and others, is on view at the Legion of Honor from July 9 through October 2, 2011. Organized by the Peabody Essex Museum in Salem, Massachusetts, where it debuted earlier this year, Dutch and Flemish Masterworks from the Rose-Marie and Eijk van Otterloo Collection presents paintings exceptional for their quality, superb condition and impeccable provenance.
Premier examples by the most talented artists of the Dutch Golden Age, many of these works are distinguished by a glowing quality of light reflecting Holland's proximity to the sea and the swiftly changing weather patterns that sweep across the flat countryside. As exemplars of an unsurpassed period of artistic, cultural, scientific and commercial accomplishment, the paintings in the Van Otterloo collection provide a rich overview of one of the high points of Western European art.
The paintings in the Van Otterloo collection—over 70 portraits, still lifes, landscapes, history paintings, maritime scenes, city profiles and genre scenes—depict life in the 1600s as the Dutch Republic increased in maritime strength and came to dominate international trade. Elsewhere in Europe, the nobility and the Catholic Church were the principal patrons of the arts. But interestingly, in the Dutch Republic the merchant, middle and working classes that profited from expanded trade—often even tradesmen such as the butcher, baker and blacksmith—also provided a booming market for paintings.
In the Netherlands, the grand history and religious subjects favored in much of Europe fell out of fashion; Dutch artists began to create portraits not only of individuals, but also of the cities, buildings, landscape and society of this prospering nation. "I think it is this universality of artistic interest that appeals so much to modern audiences," observes Dr. Lynn Federle Orr, the curator in charge of European art for the Fine Arts Museums of San Francisco.
"In the paintings of the Dutch Golden Age, we sense the achievements of a cohesive society, the benefits of honest labor, the warmth of a spare but comfortable home, the quiet beauty of a productive landscape. And occasionally we see ourselves (and our foibles) in the delightful antics depicted in Dutch genre scenes." Flemish artists also added to the evolution of Dutch style. Lured by religious freedom and a better economic climate, in the late 1500s and early 1600s many artists fled northward from Flemish cities such as Antwerp, Brussels and Bruges to escape the on-going war with Spain. The Flemish artists brought with them a particularly Flemish stylistic voice as seen in their more elegant inflection. While chronicling all aspects of life and society, together Dutch and Flemish artists created a rich and variegated artistic legacy of unprecedented breadth and quality. The Van Otterloo paintings provide all of these experiences for the modern museum visitor.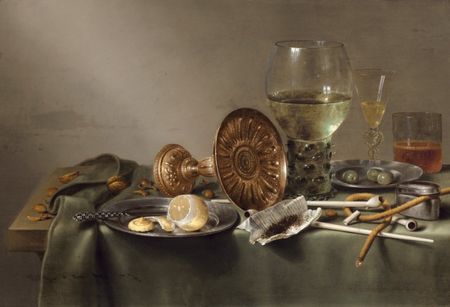 Wilem Claesz. Heda (1594-1680), Still Live with Glasses and Tobacco, 1633. The Rose-Marie and Eijk van Otterloo Collection. Image courtesy Peabody Essex Museum
Exhibition Themes
Great works of art transcend categorization, but in the 17th century painters usually focused on one particular subject matter. However, they could investigate any one of a new wide range of themes, such as landscape and still life that previously had only been valued as elements within religious subjects. To provide structure for the vast array of Dutch and Flemish art in the Golden Age, this exhibition is organized to reflect the principal themes that artists explored in this period.
Dawn of the Golden Age
17th-century artists benefited from a widening of interest in the natural world, evident both among themselves and among their patrons. As the world expanded through exploration and scientific investigation, new specialized subjects intrigued the viewer. The Dutch, who after repelling decades of military incursions had gained a temporary truce with Spain, particularly cherished images of their once-contested countryside. As elsewhere in Europe, the depiction of landscape evolved gradually, moving from a relatively schematic and shallow pictorial construction to a fully illusionistic suggestion of depth and atmosphere.
Dutch artists emphasized the quintessential elements of their topography: a low horizon line seen across flat fields and rolling dunes and qualified by changing weather conditions. Often the Dutch countryside was populated with small figures and engaging details of daily life. The realities of climate and atmosphere always played a determining role in Dutch landscape painting. For example, well into the 17th century, Northern Europe endured an extremely cold period known as the "Little Ice Age." Inspired by the winter landscapes of Flemish artists who had fled to Amsterdam, Hendrick Avercamp created a career devoted to winterscapes and elevated the frosty subject to new heights in works such as his Winter Landscape Near a Village.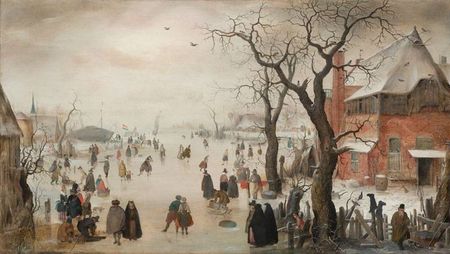 Hendrick Avercamp (1584-1634), Winter Landscape Near A Village, c. 1610-15. The Rose-marie and Eijk van Otterloo Collection. Image courtesy Museum of Fine Arts, Boston
Cityscapes and Architectural Paintings
Dutch cities also became the subject for the specialized artist's interest. The prosperous and clean urban environment found advocates, none more accomplished than Jan van der Heyden. His View of the Westerkerk, Amsterdam captures the quiet elegance of a street in Amsterdam. Depictions of city streets and canals were matched by images of the interiors of buildings, particularly church interiors. Protestant churches in the Netherlands, often former Catholic churches requisitioned for Protestant use, were largely devoid of religious imagery. But the evocative play of light across stark architectural elements could also suggest the presence of the Divine, such as Pieter Saenredam's Interior of the St. Bavokerk, Haarlem. When displayed in the home such paintings became an expression of personal piety.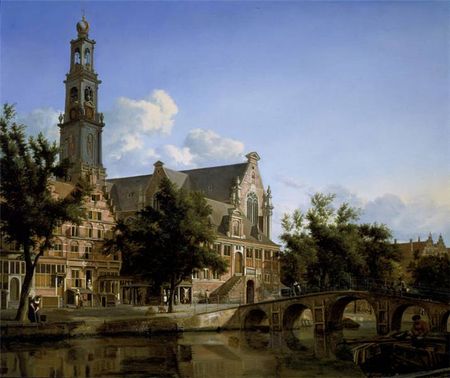 Jan van der Heyden (1637-1712), View of the Westerkerk, Amsterdam, c. 1667-70. The Rose-marie and Eijk van Otterloo Collection.
Prosperous Dutch Burghers
Successful merchants, powerful politicians, influential scholars and other prominent individuals often commissioned portraits of themselves, their spouses and sometimes their children. Rembrandt's Portrait of Aeltje Uylenburgh, the unquestionable jewel of the Van Otterloo collection, is one of the finest portraits by Rembrandt in private hands. Although the artist painted it when he was only twenty-six, Rembrandt sensitively rendered the effects of age and tenderly captured his subject's soft cheeks, bright eyes and crisp linen cap.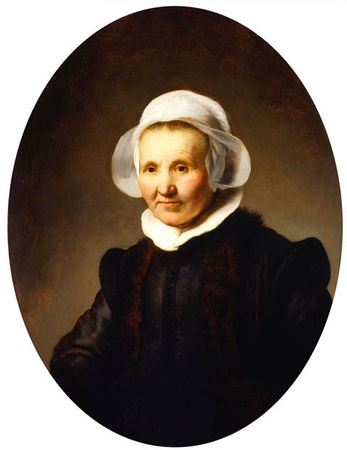 Rembrandt van Rijn (1606-1669), Portrait of Aeltje Uylenburgh, 1632. The Rose-marie and Eijk van Otterloo Collection. Image courtesy Museum of Fine Arts, Boston
The Art of Daily Life
The daily lives of the rich and poor became a new subject for painting during the Dutch Golden Age. These sometimes humorous genre scenes also contain allegorical symbolism. The importance of frugality and modesty, and the fleeting nature of life, were especially popular themes in a society grappling with how to express its newfound prosperity while maintaining pious and humble lives. In Sleeping Man Having His Pockets Picked by Nicolaes Maes, one of Rembrandt's most gifted pupils, a woman deftly picks the pockets of a sleeping man while coyly inviting the viewer's silence. A beautiful and perhaps cautionary still life of glasses, jars, pipes and tobacco alludes to the sources for the man's drowsy vulnerability.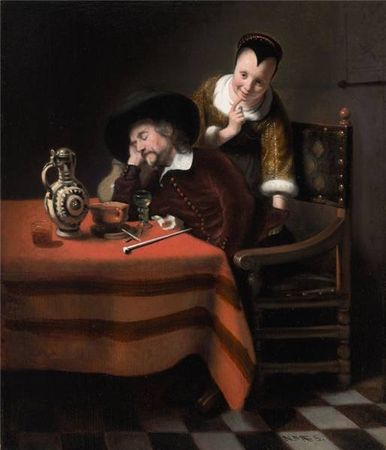 Nicolaes Maes (1634-1693), Sleeping man having his pockets picked, c. 1665. The Rose-marie and Eijk van Otterloo Collection. Image courtesy Museum of Fine Arts, Boston
Allegories of Myth and Morality
Intrigued by new translations of ancient Greek myths, many Dutch artists incorporated classical imagery in their work. In Aelbert Cuyp's monumental canvas Orpheus Charming the Animals, one of the glories of the Van Otterloo collection, Orpheus plays the violin for an enchanted menagerie of animals from Europe and around the globe. Cuyp's ambitious paintings not only highlight his skills as a landscape and animal painter, but also the era's lively exchange of artistic, literary and scientific ideas. Cuyp, who never left Europe and would not have seen many of these animals firsthand, drew upon prints and stuffed specimens in aristocratic "cabinets of curiosities" to depict them.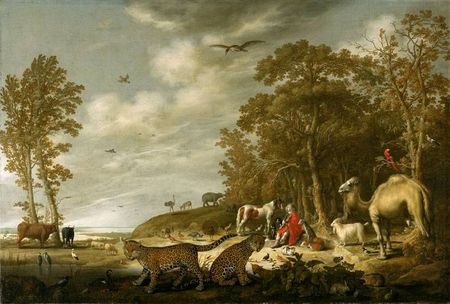 Aelbert Cuyp (1620-1691), Orpheus Charming the Animals, c. 1640. The Rose-marie and Eijk van Otterloo Collection.
Land and Water
The Dutch Republic dramatically expanded its influence and financial prospects through voyages around the globe, becoming the dominant international maritime power in the 17th century. Accordingly, Dutch artists were the first to paint the sea in its own right—a reflection of the importance of water to the nation's psyche. Precise depictions of ships and atmospheric rendering of the weather often characterize maritime views. The fertile landscape was similarly a favorite new subject. Cloud-filled skies billowing over a narrow stretch of earth or sea emphasize the flat horizons for which the Netherlands is known.
Still Life: A Tabletop World
The carefully balanced compositions in Dutch still lifes are often visual odes to prosperity and pleasure, while moralistic symbolism lurks among the beautifully rendered objects. As the nation emerged as a powerful mercantile force, Dutch artists filled their canvases with the staples and luxuries of the trades they dominated—Dutch cheese, French wine, Baltic grain, South American tobacco and Asian porcelain and pepper.
When painting seemingly informal assemblages, Dutch artists played with balance and depth to enhance the drama and intimacy of the scene. In Jan Davidsz. de Heem's Glass Vase with Flowers on a Stone Ledge, the artist suggested light in seemingly magical ways, spotlighting the intensely colored flowers against a deep black background. The vase contains flowers that bloomed at different times of the year, enhancing their delicate beauty by combining faithful representation with impossibility.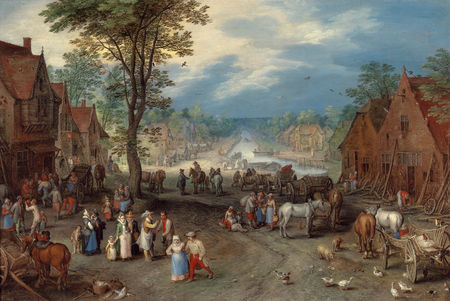 Jan Brueghel the Elder (Brussels 1568–1625 Antwerp), Village Scene with a Canal, 1609. Oil on copper, 8 5/8 x 13 3/8 inches (22 x 34 cm). The Rose-Marie and Eijk van Otterloo Collection. Image courtesy Peabody Essex Mus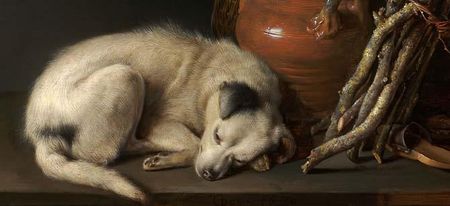 Gerrit Dou (1613–1675), Sleeping Dog (detail), 1650. Oil on panel, 6 ½ x 8 ½ inches. The Rose-Marie and Eijk van Otterloo Collection. Image courtesy Museum of Fine Arts, Boston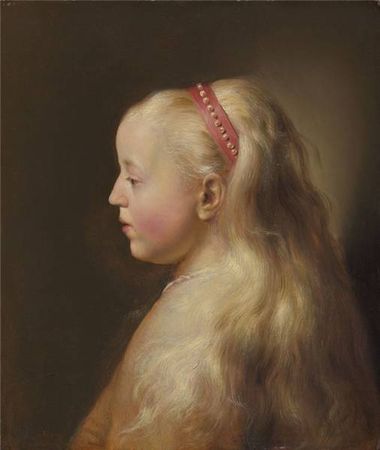 Jan Lievens (1607-1674), Young Girl in Profile, 1631-2. The Rose-Marie and Eijk van Otterloo Collection. Image courtesy National Gallery of Art, Washington.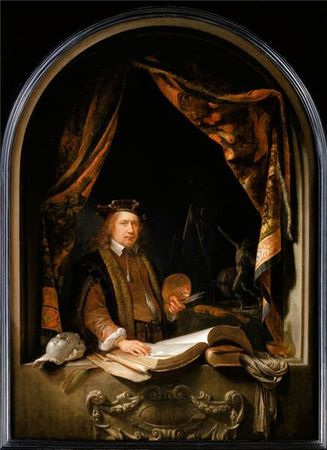 Eric Dou (1613-1675), Self-portrait, c, 1655. The Rose-Marie and Eijk van Otterloo Collection.
Frans Hals (1582/83-1666), Portrait of a Preacher, c. 1660. The Rose-Marie and Eijk van Otterloo Collection.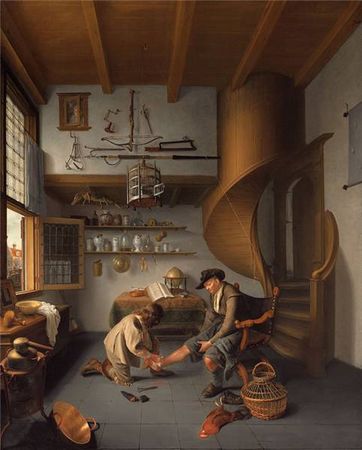 Isaack Koedijck (1617/18-1668), Barber-Surgeon Tending a Peasant's Foot, c. 1649-50. The Rose-Marie and Eijk van Otterloo Collection. Photo: WALTER SILVER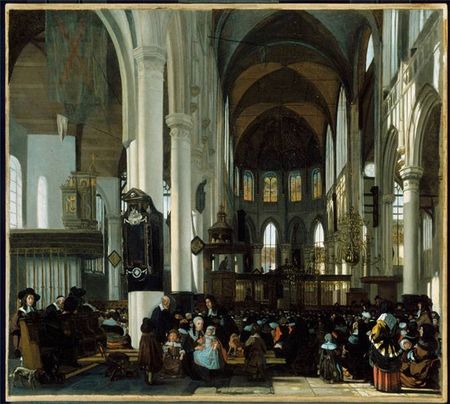 Emanuel de Witte (1616/18-1691/92), Interior of the Oude Kerk in Amsterdam, c. 1660-65. The Rose-Marie and Eijk van Otterloo Collection. Photo: WALTER SILVER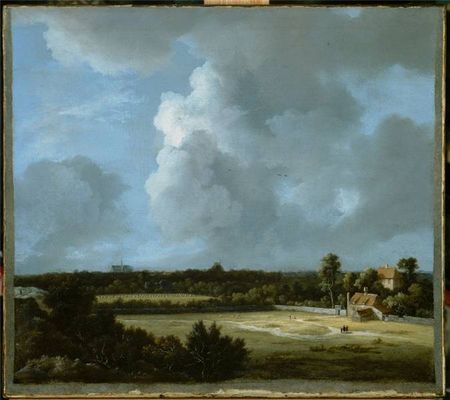 View of Haarlem, c. 1670-75. The Rose-Marie and Eijk van Otterloo Collection