Ensemble de plaquettes precieuses. © Galerie Delalande
PARIS - Du 1er septembre au 27 novembre 2011, le Louvre des Antiquaires propose une exposition intitulée " Mémoires d'Opiums ". Elle revient sur l'utilisation de l'opium fumé et sur tous les rituels qui l'accompagne. Vous plongerez au cœur de la Chine du XIXème siècle pour découvrir des pièces uniques tirées des plus belles collections internationales.
Le Louvre des Antiquaires consacre une exposition pour faire la lumière sur ce qu'on appelle aujourd'hui, une drogue : l'Opium. Originaire d'Asie Mineure, l'opium provient du pavot, cette graine était utilisé dans la cuisine et sa tête était utilisées a des fins médicales, efficace pour traiter de nombreuse maladie ainsi que pour soulager la douleur. Depuis le VIIème siècle, le pavot est cultivé et consommé en Chine, or c'est au XVIIème siècle, que le pavot se révèle avoir d'autre fonction. Le tabac ayant été interdit par le dernier Empereur Ming en 1637, " l'opium à fumer " voit le jour. La pratique nait, d'abord, dans la haute société chinoise, puis elle se banalise. Dès 1830, les fumeries se multiplient dans le pays. Puis, le danger de l'opium se fait resssentir, jusqu'à presqu'anéantir une partie de la société. Face au ravages qu'il fait, l'opium est immédiatement interdit au cours du XIXème siècle. Progressivement les fumerie disparaissent.
L'opium ne tarde pas a traverser l'Asie pour arriver en Europe puis la France. Très vite, il acquiert un véritable succès auprès de l'élite intellectuelle, suscitant une " fascination sur l'imaginaire occidental ".
" Mémoires d'Opiums " se penchera sur les rites et les pratiques liés à l'opium fumé en Chine, que vous découvrirez à travers le décor reconstitué d'une fumerie d'opium. Des objets rares utilisés pour l'extraction, la préparation, la conservation et la consommation de cette drogue destructrice. L'exposition, sans vous faire fumer, vous fera voyager à travers le temps et l'Orient.
Lampe et pipe à opium. © Galerie Delalande
PARIS.- Starting in September, Le Louvre des Antiquaires will offer an exhibition devoted to the rites and practices of opium smoking in China in the 19th century: «Opium Memories». In the recreated décor of an opium smoking den, Dominique and Eric Delalande have brought unique pieces for the first time coming from the most beautiful international collections.
From 1 September to 27 November 2011, «Opium Memories» looks back at the history and rituals of this poppy-derived drug. The exhibition will show a set of rare objects used to extract, prepare, store, and consume opium. Sculpted screens, embroidered suits of high-level dignitaries, pipes covered with lacquer or adorned with tortoiseshell, seal skin, or silver, retainers made of sculpted ivory, wrought metal plates, and cylindrical cloisonné boxes bring back memories of the hidden world of opium dens... from centuries past.
From poppy to opium…
Originally from Asia Minor, the poppy has been grown and consumed in China since the 7th century. Its seeds are used for food preparations and its heads for medicinal decoctions. It was used primarily to soothe pain and treat a number of ailments and epidemics.
It wasn't until the 17th century that the poppy started to be smoked in China. The prohibition against tobacco by the last Ming Emperor in 1637 led to the first opium consumption. Having adopted the habit of inhaling smoke, smokers ultimately replaced tobacco with the opium poppy, from which the sap is extracted to obtain «chandoo», a semi-liquid purified opium intended solely for smoking. The practice first entered the habits of the Chinese elite, and then quickly spread from there. Around 1830, smoking dens started popping up everywhere in the country.
In the 19th century, the spread of opium resulted in the most extreme ravages affecting all classes of society. In 1906, China instituted a policy of forbidding opium, which proved very effective and led to the elimination of legal smoking dens.
In Europe, travellers returning from China and Indochina imported the use of opium, and the phenomenon soon spread to France. Opium seduced an intellectual elite, which helped spur a fascination over the Western imagination. As a result, at the turn of the 20th century, opium became the symbol of new sensory experiences and a token of membership in a cultural elite.
In 1821, Thomas De Quincey, whose works have just been published by Pléiade, wrote «Confessions of an English Opium Eater» later translated by Musset and then Baudelaire, which inspired Berlioz's Symphonie Fantastique (1830).
Other known artists and writers revealed that they were regular consumers: Mallarmé, Verlaine, or Théophile Gautier who, in 1838, launched into a detailed description in the short story «The Opium Pipe». A century later, Cocteau made his contribution with his «Diary of a Detoxification».
Rituals and paraphernalia of «smoke eaters»
Between aesthetic exploration and spiritual quest, the ritual had to be precise if an optimum effect were to be achieved, and the accessories had to be given extra special attention, because of all narcotics opium is probably the one requiring the most sophisticated paraphernalia.
Special staging was a must for initiation. Opium was smoked lying down on a more or less ornate mat or bed where vertical panels surrounded the bed of woven wood or bamboo.
Depending on the case, the opium and paraphernalia were placed directly on the «Kang Table», a small four-legged table, or on a tray where the pipe and various small implements needed by the smoker were placed:
• for preparation : lamp, needle, wick trimmer, opium dispenser and box, laudanum pot for the opium mixed with alcohol, bowl holder…
• for consumption : pipe, bowl, lollipop, plate…
• for cleaning : brushes and scrapers…
• occasionally for salvaging : a poker for scraping the barrel of the pipe and recovering a kind of carbon deposit called dross, opium ashtray, dross boxes…
All these objects of a bygone art draw the interest of a small number of collectors, more motivated by the high artistic quality rather than by the object of the «trip». Some choose to highlight comparisons of different types of the same object, most often a unique collection of pipes consisting of different materials. Others opt for another approach in which the largest number of objects belonging to the opium smoker's paraphernalia is gathered together.
By recreating the atmosphere of a smoke den, «Opium Memories» offers an exotic voyage to the heart of the Celestial Empire and unveils the mysteries surrounding the blue curls of opium smoke. These objects have come down through the centuries and continents, and now bear witness to Chinese artisanal virtuosity in the 19th century.
Dominique Delalande founded his gallery in 1978 at Le Louvre des Antiquaires. A former director of a shipping company, he was first a collector of marine objects and meerschaum pipes.
Joined by his son Eric in 2005, their internationally renowned gallery has been specializing in marine and science objects, tobacco and opium objects, collectors' canes, and erotic objects for more than 30 years.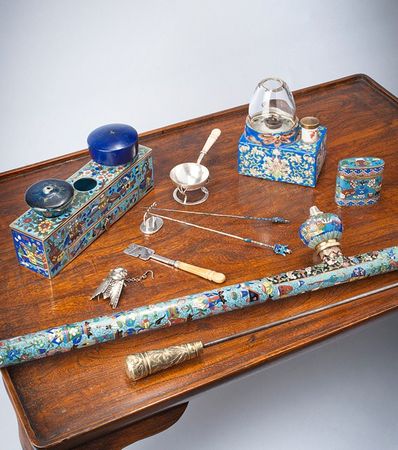 Kang table garnie d'un ensemble en argent. © Galerie Delalande.