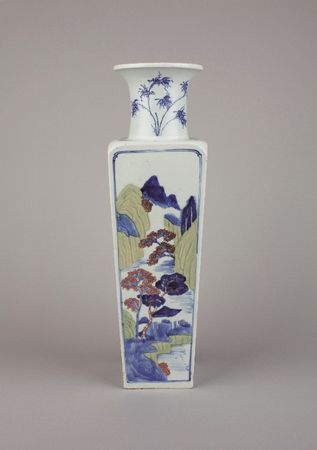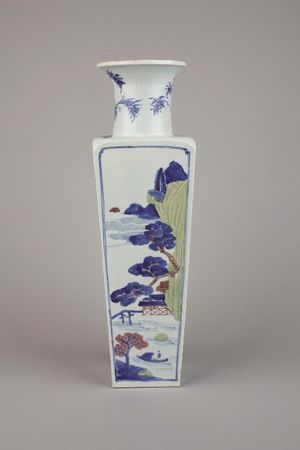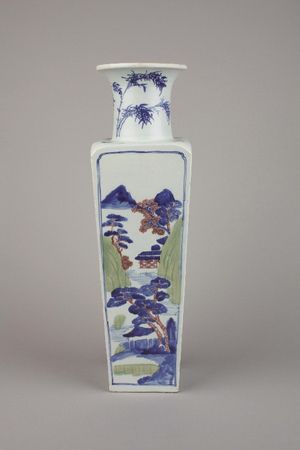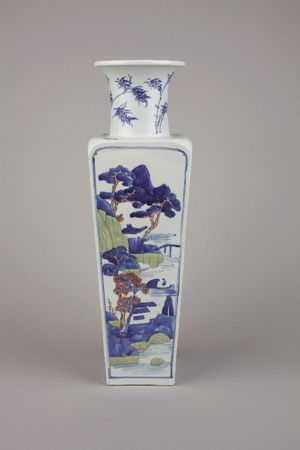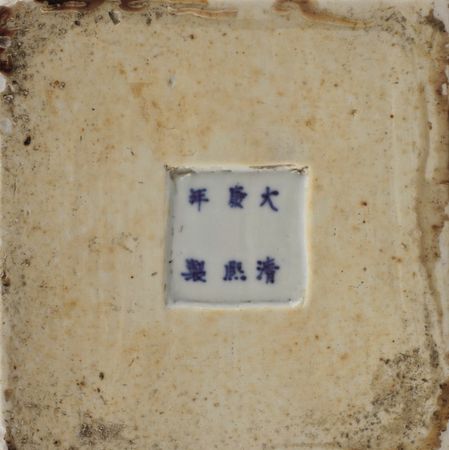 A Chinese Imperial porcelain blue and white, underglaze copper-red and celadon vase. Six-character mark of Kangxi in underglaze blue and of the period, 1662-1722. Courtesy Marchant
of club form slightly tapering towards the foot, painted on each facet with a mountainous river landscape with houses, viewing pavilions, pine, wuti and incised celadon rockwork, two panels with fishermen, one beneath the moon, each panel within underglaze blue double lines, the flat shoulder with four sprays of prunus, lotus, bamboo and daisy with tall branches of bamboo, repeated on the cylindrical flaring tall neck. 21 1/8th inches, 53.7 cm high. The unglazed base with recessed glazed centre, bearing a six-character mark of Kangxi in underglaze blue and of the period, 1662-1722. - Price on request
Formerly in a private American collection.
No other vase of this type appears to be recorded.
A similar blue and white vase, painted with a night visit to the Red Cliff and inscribed with part of the poem, together with a similar Kangxi mark and identical sprays of bamboo on the neck, is illustrated by Wang Qingzheng in Kangxi Porcelain Wares from the Shanghai Museum Collection, no. 31, pp. 42-43, another from the Wang Xin Lou collection is illustrated by Julian Thompson and Dr. Robert D. Jacobsen, in Imperial Perfection, The Palace Porcelain of Three Chinese Emperors, no. 2, pp. 30-31.
Marchant 120 Kensington Church Street, London, United Kingdom W8 4BH. www.marchantiques.com