© Tefaf Maastricht
MAASTRICHT (PAYS-BAS) [13.03.09] - La célèbre foire d'antiquaires de Maastricht ouvre officiellement ses portes vendredi 13 mars. Mais dès jeudi, collectionneurs et VIP ont pu arpenter les vastes allées. Notre envoyée spéciale Marie Maertens était parmi eux et décrit une ambiance toujours luxueuse mais plutôt sage.
En cette période incertaine, la question est sur toutes les lèvres. Comment va se dérouler l'une des plus importantes foires d'antiquaires du monde ?
La Tefaf avait tout fait pour rassurer les acheteurs, notamment en les entourant, dès l'entrée, de senteurs de milliers de roses reboutées sur des murs entiers. Midi sonne, la foire ouvre ses portes. Le climat est plus attentiste que d'habitude et les marchands guettent avec impatience leurs habitués. Les collectionneurs privés et les acheteurs institutionnels marchent tranquillement, s'interrogent et comparent les prix. Puis, on reconnaît les trustees des musées américains… Les ventes débutent, les traits se détendent. Peu à peu, le champagne coule à flot et les élégantes, rivalisant de tenues, de bijoux et de sacs Kelly, se jaugent, c'est bon signe… La Tefaf semble être demeurée une bulle où le luxe et l'argent peuvent encore s'afficher.

Pourtant, l'accrochage général témoigne de la frilosité ambiante. Dans la section art moderne et contemporain, qui prend une place grandissante, les exposants affichent « les grands noms ». Même si la Tefaf est loin d'être un lieu d'avant-garde, les découvertes se font encore plus rares et les valeurs sûres plus présentes. On dénombre six huiles de René Magritte, disséminées chez Odermatt-Vedovi, Van de Weghe, Landau, Keitelman, Ben Brown et la galerie Trigano. Ces deux dernières ont profité de l'ouverture à dix-huit nouveaux exposants pour inaugurer leur première venue. Certaines galeries exposent de petites monographies. Krugier se consacrait en partie à Picasso, en exposant les meilleures feuilles du Carnet Dinard, datant de 1928, en partie à de beaux Joan Miró et Jean Arp. La galerie Thomas a tenu le pari de réunir une dizaine de toiles de Chaïm Soutine, s'échelonnant de 1918 à 1939. Mais certains stands semblent essayer de reproduire la formule qui marcha l'année dernière. Ainsi, chez Haunch of Venison, s'admirent une vidéo de Bill Viola, plusieurs Damien Hirst, des Richard Prince, comme en 2008… L'art contemporain est aussi l'endroit où l'on pourra décerner la palme de la croûte à la galerie Marlborough, qui a osé exposer deux artistes que la crise aurait du faire oublier : Zhang Qikai et Joan Genoves.

Trois heures après l'ouverture, Franck Prazan, avait déjà cédé son huile de Soulages, datée de 1958, tout en soulignant que la vraie difficulté serait de retrouver une œuvre de telle qualité. « Les collectionneurs qui détiennent ce genre de pièce sont moins vendeurs aujourd'hui qu'ils ne l'ont jamais été. » Jacques de la Béraudière était aussi heureusement surpris par les bonnes affaires qu'il venait de réaliser, arguant avec une pointe de facétie que : « seule la qualité se vend bien à notre époque »…
Une huile du Douanier Rousseau côtoie une toile transparente (surexposant deux sujets) de Picabia et une sculpture de Rodin, L'Ombre, qui est l'un des trois éléments de la Porte de l'Enfer, dont il n'a été tiré, sous cette forme, que quatre bronzes.

Du côté des peintures anciennes, le chef-d'œuvre de la foire est à découvrir chez Eric Coatalem, qui a réussi « après avoir fait la danse du ventre… » à obtenir le mandat de vente d'un tableau de Zurbarán chez un collectionneur privé belge. Comme toute danse mérite salaire…, le galeriste demande 12 millions d'euros pour cette œuvre. Exécutée vers 1628 pour le couvent de la Merci, elle fit partie d'une commande de 15 toiles, dont certaines se trouvent aujourd'hui au musée du Prado ou dans la collection du Duc de Westminster. Un autre tableau majeur représente Le Christ embrassant la croix. Il est signé El Greco et proposé par la galerie espagnole Caylus.

A l'étage, la toute nouvelle session consacrée au design se révèle très soignée, notamment sur les stands des marchands Bel Etage, François Laffanour et Philipp Denys. Ce dernier a vendu durant la première heure son sofa en chêne sablé, signé d'Axel Einar Hjort et aurait pu le céder plusieurs fois. La Tefaf 2009 s'est imposé, durant ces premières heures, comme un marché sain et équilibré. Pour le vent de folie ou peut-être davantage de prise de risque, il faudra revenir en 2010 ! Maertens Marie www.artclair.com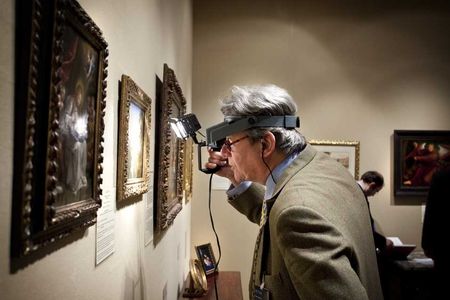 Vetting TEFAF 2009. Photo Loraine Bodewes
MAASTRICHT.- TEFAF Maastricht is unique. The world's best dealers bring their finest pieces to this most influential of art and antiques fairs and this attracts collectors and museum curators from around the globe who cannot risk staying away. They might miss a great Old Master painting recently discovered through the expertise of an exhibitor, an Impressionist masterpiece that has just emerged onto the market after decades in a private collection, a stunningly beautiful piece of furniture with an extraordinary history or key works from the early history of photography.

The record number of 239 exhibitors at the 22nd edition of TEFAF Maastricht, held in the MECC (Maastricht Exhibition and Congress Centre) from 13-22 March 2009, are displaying a huge range of Old Master paintings, drawings, Impressionist pictures, modern and contemporary art, furniture, silver, ceramics, jewellery, and other works of art. What unites them is quality. All the works of art on display at TEFAF are thoroughly vetted and the Fair now has 25 specialist committees made up of 155 international experts to ensure quality, condition and authenticity.

'Everything shown at TEFAF has been checked by a distinguished group of specialists from around the world,' says Anthony Meyer, director of Galerie Meyer-Oceanic Art from Paris, which specializes in works from Melanesia, Polynesia, Micronesia and Australia. 'What sells in today's market is quality, quality, quality and more quality backed up by good provenance and TEFAF provides both of these. A purchase at TEFAF is safe and in the current financial climate buying art at the highest level is much better than investing in stocks and bonds.'

The care that Meyer takes in selecting his tribal art exhibits, which this year include a rare wooden yipwon amulet from New Guinea, is typical of the dealers who come to TEFAF. 'I bring what I consider to be the best,' he says. 'I have pieces here that have not been on show anywhere else which I have had for almost a year and put aside especially for TEFAF. It is worth doing this because TEFAF attracts the best buyers. This year I am making an extra effort by inviting along 20 high level French collectors some of whom have not been to TEFAF before. So we are bringing in new blood.'

Vincent van Gogh - Among the highlights at TEFAF 2009 is a hauntingly beautiful picture painted by Vincent Van Gogh during the final year of his life when he gained temporary peace of mind by committing himself to a mental hospital. The Park of the Hospital Saint-Paul is being offered for a price in the region of €25 million by the London and New York-based dealers Dickinson. The painting depicting the unkempt garden of the asylum of Saint-Paule-de-Mausole has been in a private collection in Switzerland since 1963 and has only been publicly exhibited three times since then.

Old Master Paintings - TEFAF Maastricht has long been famed for the quality of its Old Master paintings and the 2009 Fair is no exception. Bernheimer-Colnaghi of Munich and London is exhibiting a masterpiece by Lucas Cranach the Elder. David and Bathsheba, which is dated 1534, is an important and unusually grand treatment of theme by the artist and is priced at over € 5 million. Moretti from Florence has brought a rare portable altarpiece Madonna with Child enthroned between two angels painted by the Florentine artist Maestro di Tobia who was active c1340-1370. Artistically significant and in good condition, this magnificent piece, priced at €1.2 million, has been in a private collection in England for almost half a century.

Modern Art - The modern art section at TEFAF has grown in importance over the past decade and this year will feature a powerful exhibition entitled Disasters by new exhibitors Daniella Luxembourg & Amalia Dayan based in London. The show features art from the 20th and 21st centuries that has been inspired by disasters, whether natural or man-made, and includes important works by Pablo Picasso, Andy Warhol, Pino Pascali and Damien Hirst. Galerie Thomas of Munich has nine paintings by Chaim Soutine including the recently rediscovered Butcher Boy, painted c1919 and priced at US$12.5 million.

Antiques and works of art - Examples of great Asian art at TEFAF include a collection of eleven 18th century Chinese jades brought to the Fair by Littleton & Hennessy of London. The most spectacular of these, on sale for US$4 million, is a white jade table screen from the Qianlong period (1736-1795) which is a masterpiece of the new pictorial style preferred by the Emperor, combining superb composition with exceptional craftsmanship. Ben Janssens Oriental Art of London has a Chinese carved lacquered pictorial panel from the same era, which may have been made for a special occasion such as the Emperor's birthday and is being offered for a six-figure sum.

Many of the works of art exhibited at TEFAF have extraordinary histories and few are more remarkable than a carved Louis XVI giltwood bed, the design attributed to Claude-Nicolas Ledoux, exhibited by Pelham of Paris. This is believed to have been owned by Marie-Madeleine Guimard, the principal ballerina of the Paris Opera, who was also famous for her off-stage love affairs. The bed was made for the house that Ledoux designed for her. The price is in the region of €1 million. The Antiques & Works of Art section also includes an important musical automata commissioned by Napoleon and made by J.G. Kaufmann of Dresden in 1811. This technical masterpiece is being offered by the German dealer Otto von Mitzlaff.

Illuminated manuscripts, rare books & maps - As China increasingly takes its place at the centre of world affairs in the 21st century it seems appropriate that one of the highlights of the Illuminated Manuscripts, Rare Books & Maps section shows that that is how the Chinese saw themselves 400 years ago. A previously unknown example of the rare first issue of Ricci's third world map dating from 1602, showing China in the middle, is being offered by Bernard J. Shapero Rare Books of London for just under €1 million.

New disciplines: photography and 20th century design - TEFAF is constantly evolving to reinforce its success over the past two decades and the 2009 edition of the fair includes both photography and an entire new section called TEFAF Design. A new exhibitor specialising in the former is Hans P. Kraus, Jr. Fine Photographs of New York who has brought Bicknell's Album, the result of one of the greatest collaborations in the history of photography between the portrait painter David Hill and the engineer Robert Adamson who selected images for art collector Henry Bicknell. TEFAF Design has eight of the world's best dealers in modern design and applied arts and can be found on the second floor next to the Antiques & Works of Art section. Its highlights include a suite of eleven chairs designed for the New York apartment of Nelson A. Rockefeller in 1938 exhibited by L'Arc en Seine of Paris and priced at €100,000 each. The Fair with its new section is larger than ever before with 30,100 square metres of exhibition space – the equivalent of six football pitches.

Putting on a great show is part of the inimitable TEFAF style and this year the Fair has an amazing new design by Paul Gallis in the entrance hall with the background colours gradually but constantly changing throughout the day. The event is famous for its flowers and the organizers have brought in 84,000 roses, 51,000 tulips and 5,100 ranunculus to decorate the Fair.

AXA Art is the principal sponsor of TEFAF 2009 - AXA Art is the world's leading art insurance specialist providing customized coverage to protect art and collectibles for a broad range of clients, from first time buyers to the world's most respected collectors, artists, museums, galleries, international loans and public exhibitions. AXA Art is the principal sponsor of TEFAF 2009. www.axa-art.com.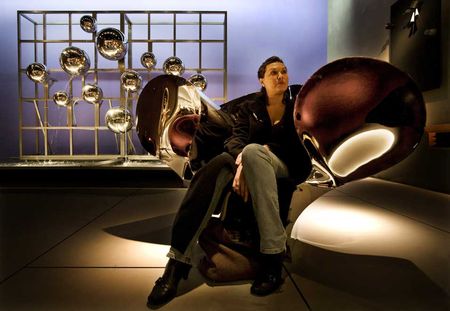 TEFAF Design. Photo: Bastiaan van Musscher