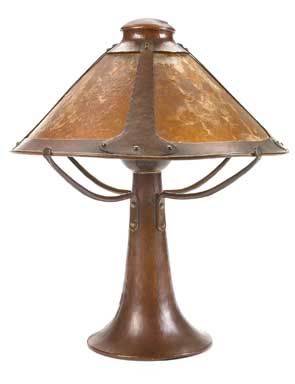 A Dirk van Erp hammered copper and mica lamp, circa 1910, single socket base, with impressed windmill over a closed box enclosing the words DIRK VAN EARP below the ghost of D'Arcy Gaw. height 11½in (29.2cm); diameter 13 3/8in (34cm). Est. $15,000 - 20,000. © Bonhams & Butterfields
LOS ANGELES.- Bonhams & Butterfields will hold its spring auction of 20th Century Decorative Arts on April 6, 2009. The 225 lot sale offers a diverse group of high quality and reasonably priced works spanning a century of design by well-known designers of the 20th Century. The auction will feature strong examples of Arts & Crafts, Art Nouveau, Art Deco, Mid-Century Modern, works by Contemporary Studio artists and early California and Western design items.

Leading the Western offerings are works by Dirk Van Erp, Luckhaus Studio, Lloyd Wright and Tony Duquette. Among the highlights is a hammered copper and mica lamp, circa 1910 by Dirk van Erp (est. $15,000-20,000); a selection of early California architectural pottery and photographs, circa 1930 by Luckhaus Studio featuring architectural commissions by Richard Neutra and R.M. Schindler (estimates vary); an important collection of furniture designed for the 'Bird of Paradise' house, Palos Verdes, California by Lloyd Wright (estimates vary) and a painted canvas, wood and mixed media model of a galleon, circa 1950, by Tony Duquette (est. $1,000-1,500). Used by Mr. William P. Roth and his wife during lavish parties at the Filoli House, Woodside, California, the sailing ship model was filled with carnations and suspended from the ceiling.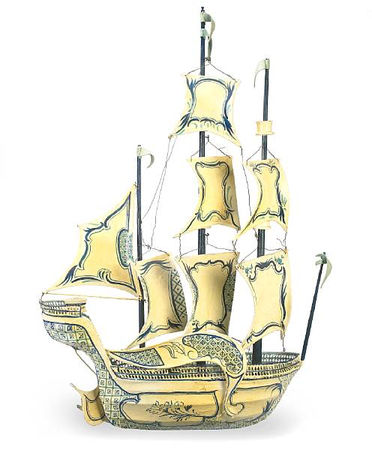 Tony Duquette painted canvas, wood and mixed media model of a galleon circa 1950. height 4ft 8in (142.3cm); approximate length 37in (94cm). Estimate: $1,000 - 1,500 © Bonhams & Butterfields
According to Frank Maraschiello, Director, 20th Century Decorative Arts "The April sale explores the development of the design movement in the western United States and captures the pioneering spirit of the region at the beginning of the 20th century through the groundbreaking movements of the 1930s to studio works from the present day."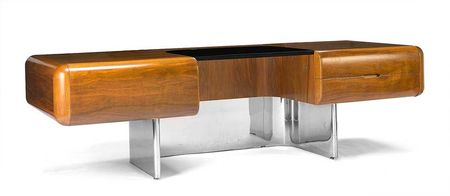 A Stow & Davis walnut and stainless steel desk, designed by M.F. Harty, 1970s with smoked glass inset writing surface, bears Stow & Davis metal plaque inside drawer. height 28in (71.1cm); length 7ft 10½in (240cm); depth 37in (94cm). Est. $4,000 - 6,000. © Bonhams & Butterfields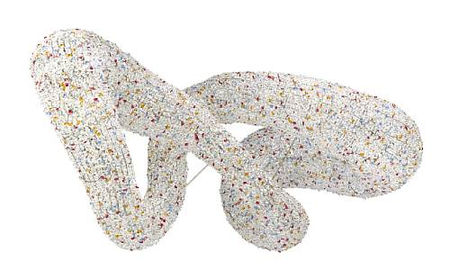 Yves Béhar (Swiss, born 1967) Third Voyage, manufactured by Swarovski and Asfour, Crystal Palace, 2007. light sculpture,
Swarovski/Asfour crystals, with aluminium frame. dimensions approximately 30in x 7ft x 36 (76.2cm x 213.5cm x 77cm); Estimate: $10,000 - 15,000. © Bonhams & Butterfields
Auction highlights will also include exquisite pieces by modern and contemporary designers. Among the works offered is a bronze side table by Walter Lamb (est. $1,200-1,800); an executive walnut desk designed for Disney Studios, Burbank, California by K.E.M. Weber (est. $2,000-4,000); a stainless steel desk, circa 1970 by Stow & Davis (est. $3,000-5,000) and Third Voyage, a Swarovski and Asfour crystal sculpture by award winning designer Yves Béhar (est. $10,000-15,000).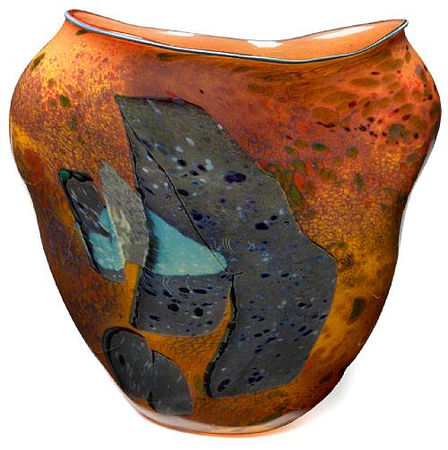 William Morris (American, born 1957) Stone Vessel, 1985. blown glass with shards, inscribed William Morris 1985. height 15in (38.2cm); width 16in (40.7cm). Estimate: $10,000 - 15,000. © Bonhams & Butterfields
Glen Lukens (American, 1887-1967) Low Bowl. hand built earthenware with turquoise glaze, signed GLEN LUKENS. diameter 6 7/8in (17.5cm).Estimate: $2,000 - 3,000. © Bonhams & Butterfields
The sale will also feature a group of studio, glass and ceramic works of art by renowned craftsmen Antonio Prieto, Glen Lukens, William Morris, Dale Chihuly, Stephen Rolf Powell and Danny Perkins. Notable highlights include Stone Vessel, 1985 by William Morris (est. $10,000-15,000); Low Bowl by Glen Lukens (est. $2,000-3,000) and Cobalt Blue and Copper Ruby four-piece Seaform with turquoise lip wraps, 1985 by Dale Chihuly (est. $15,000-20,000).
Auction: April 6, 2009 at 12:00pm. Preview: April 3-5, 2009, Los Angeles.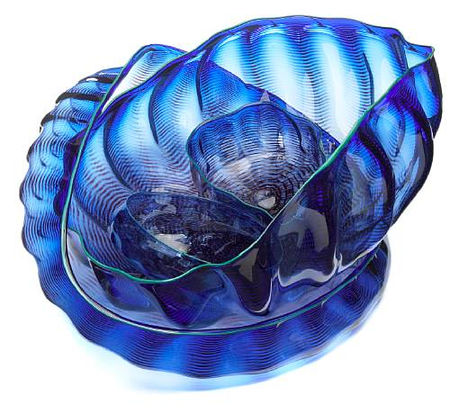 Dale Chihuly (American, born 1941) Cobalt Blue and Copper Ruby four-piece Seaform with turquoise lip wraps, 1985. blown glass,
largest piece signed Chihuly 1985. dimensions of largest 7in x 21½in x 18in (17.8cm x 54.6cm x 45.7cm. Estimate: $15,000 - 20,000. © Bonhams & Butterfields