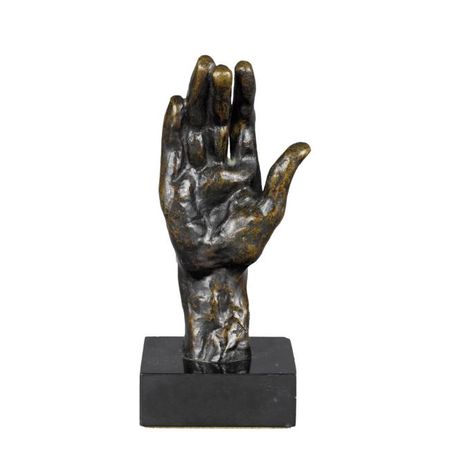 Auguste Rodin (1840 – 1917). Main gauche no. 31, petit modèle
Conçu en plâtre avant 1901, fondu par la Fonderie Georges Rudier entre 1953 et 1962, cette épreuve en bronze réalisée en 1962. signé A. Rodin (à l'intérieur du poignet) ; porte la marque du fondeur G. Rudier Fondeur Paris (à l'arrière à droite); bronze; h. : 10,9 cm ; 4 1/4 in. (hors socle). Est. 10,000—15,000 EUR. Lot Sold 12,500 EUR
Cette œuvre sera incluse dans le Catalogue critique de l'œuvre sculpté d'Auguste Rodin actuellement en préparation par la Galerie Brame & Lorenceau sous la direction de Jérôme Le Blay, sous le numéro 2009-2413B.
PROVENANCE: Musée Rodin, Paris
Georges Optat, Paris (acquis du précédent en juin 1963)
Collection particulière, France
NOTE: signed 'A. Rodin' (on the inside of the wrist) ; bears the foundry mark 'G. Rudier Fondeur Paris' (on the back on the right), bronze. Conceived in plaster before 1901, cast in bronze by Georges Rudier Foundry between 1953 and 1962, this example cast in bronze in 1962.
Sotheby's. Impressionist & Modern Art. 28 May 09. Paris www.sothebys.com