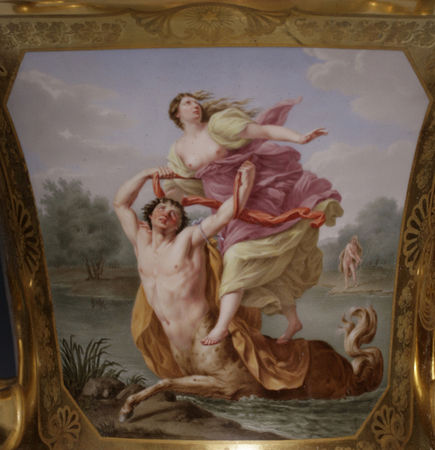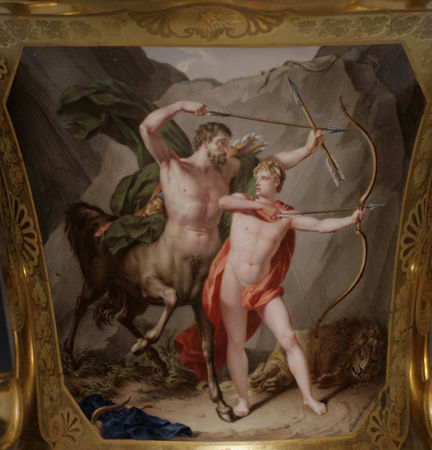 Pomp-Kratervase - Mr John Claudius (b. Vienna 1775) Vienna, 1826
Signed and dated (bottom right of the display of Chiron and Achilles): "Mr. Claudius (1) 826" porcelain, wall with Goldfond, floral and ornamental gold etchings, both in 8-square Reserves fine painted with colorful representations "The Kentaur Chiron taught Achilles Archery" and "Nessos fled with the wife of Hercules, Dejanira, two lateral handling, on a round base with square plinth mounted eingepresster connecting plate of the imperial Manufactory of Vienna, Bossierbuchstabe W (Dandl Johann 1800 - 1837), White Point Rotary 95th. Price on application
A very similar representation of the "Rape of the Dejanira" is on a painted Weixlbaumer Anbietplatte "D'après l'original peint par Quido Reni" displayed, which probably also this scene served as a model (See: Wilhelm Mrazek and Waltraud Neuwirth, Vienna porcelain 1718 - 1864, Wien oJ, table 90, fig 679).

The presentation "and Deianeira Kentaur Nessos" is named after a painting by Guido Reni (Bologna 1775-1642) and painted the "Education of Achilles" after a painting by Baron Jean-Baptist Regnauld (Paris 1754-1829). Both paintings hang in the Louvre in Paris.

Mr Johann Claudius came from a family porcelain painter and was also acting as a miniature painter. Since 1793, he was a pupil of the Vienna Academy, and soon was one of the best painters of the factory. To 1806, he painted mainly smaller pieces, Dejeuner, Oliobecher, Wermutkrügeln, vases, cans, caps, coffee mugs, etc. Since 1806 special plates, serving since 1816 and especially pictures on porcelain plates after paintings by old masters such as Titian or C. Maratta. Kaiser Franz used with preference to work Mr gift purposes. To 1838 he belonged to the Vienna manufactory.
Kunsthandel Stephan Andréewitch. Spiegelgasse 23, 1010 Wien - Austria. Tel : +43 (1) 505 99 73 - Fax number : +43 (1) 505 99 73-10 - Email address : info@andreewitch.at - Website : http://www.andreewitch.at
Les deux tableaux du Louvre :
Guido RENI (Bologne, 1575 - Bologne, 1642) Déjanire enlevée par le centaure Nessus, 1617 - 1621. H. : 2,39 m. ; L. : 1,93 m. Collection de Louis XIV (acquis en 1662). Département des Peintures. INV. 537. Musée du Louvre © Musée du Louvre/A. Dequier - M. Bard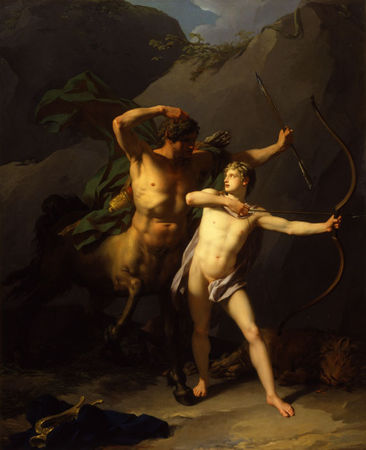 Baron Jean-Baptiste REGNAULT (Paris, 1754 - Paris, 1829) L'Éducation d'Achille par le centaure Chiron, 1782. H. : 2,61 m. ; L. : 2,15 m. Collection de l'Académie. Département des Peintures. INV. 7382. Musée du Louvre © R.M.N./R.G. Ojeda