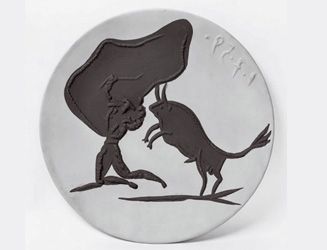 BILBAO.- From prehistoric times to the Roman age, the bull had pride of place in Mediterranean culture and art, and the image of this magnificent beast appears in myths, ritual ceremonies, games and fiestas. The Renaissance also favoured the iconography of the bull, particularly in connection with the myths of the Minotaur and the Rape of Europa. From the 16th century, art also reflected contemporary interest in representations of the bullfight. Some of the greatest creative artists of the 18th, 19th and 20th centuries also focused on modern bull-related pastimes and games, which still bore an echo of the ancient cult of that extraordinary life force, combined with an unflinching look on death.

This exhibition was sparked by the centenary commemoration of Bilbao's bullfight appreciation society, the Cocherito de Bilbao, and the original idea was to show the complex approach art has taken to the figure of the bull. Allied to the beast's religious importance in primitive civilizations was its remarkable ability to generate myths and scenes of animal worship, of ceremonial games and sacrifices in ancient Mediterranean civilizations. From then on until the Middle Ages, bull hunting parties, the participation of bulls in the Roman circus and nuptial fecundity rituals cemented a relationship with man that eventually acquired a more playful nature that slowly evolved into the codified bullfight we know today.

Produced by the Bilbao Fine Arts Museum, Taurus: From myth to ritual was conceived as the first major exhibition to explore the cultural transcendence of the bull in the history of art. To that end, the show includes more than 200 works, between paintings, sculptures, works on paper and the applied arts, and also features valuable archaeological pieces like the Iranian terracotta dated around 1200 BC, two Greek amphorae from the 6th and 5th centuries BC, lent by the British Museum in London, and a 1st century-BC fresco from Pompeii loaned by the Archaeological Museum of Naples. Among the paintings in the exhibition are works by Goya, Zuloaga, Gutiérrez Solana, Picasso, Miró, Equipo Crónica and Barceló, together with the complete series of bullfighting prints by Carnicero, Goya and Picasso, among many others. The exhibition is divided into two major sections: "Myth and myths of the bull" and "The ritual of the fiesta", the latter in turn ordered in six subsections tracing the development of the bullfight: from the origins, the venues and the leading characters, to the fight itself, the moments of tragedy and glory lived in the face of death and even images from after the bullfight.
In the image: Pablo Picasso (Malaga, Spain, 1881 - Mougins, France, 1973) Tauromachie nº 2 (Passe de cape), 1959, Red clay decorated with black engobe. Pompidou Centre, Paris. Musée national d'art moderne, Centre de création industrielle. Deposit in the Museé d'art moderne Céret, France © Sucesión Pablo Picasso. VEGAP, Madrid, 2010