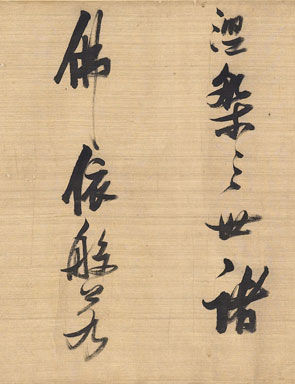 Zhang Ruitu, Sutra in Cursive Script Calligraphy. Handscroll, ink on silk, 31 x 541 cm. Dated 1622. Estimate: HK$6,000,000 – 8,000,000, US$774,200 – 1,032,300.
HONG KONG.- Christie's Hong Kong will hold its Spring sales of Fine Chinese Classical Paintings and Calligraphy and Fine Chinese Modern Paintings on 31 May at the Hong Kong Convention and Exhibition Centre. These sales will showcase over 400 rare and exceptional works from the Chinese masters throughout history, valued in excess of HK$330 million (US$42 million). The forthcoming sales will comprise a number of important private collections from all over the world. Coming from Hong Kong, Taiwan, Brazil, USA, and other countries, these collections testify the widely travelled lives of the modern Chinese artists. The collectors were friends, students, or families and descendants of the artists, hence directly acquired or inherited the paintings from them. Many of these works have not been exhibited in public and are being brought to auction for the first time. The Fine Chinese Classical Paintings and Calligraphy sale will feature important works by artists including Ming Dynasty calligraphers and painters such as Wang Duo, Zhang Ruitu, Ni Yuanlu, Xiao Yuncong and Liu Jue; the Fine Chinese Modern Paintings sale will present a body of magnificent works by renowned 19th and 20th Century masters such as Wu Guanzhong, Qi Baishi, Xu Beihong, Fu Baoshi, Zhang Daqian and Li Keran. Showcasing a wide range of works by artists of different styles and schools, these sales cater to a variety of diverse palettes of today's discerning collectors.

Fine Chinese Classical Paintings and Calligraphy
Tuesday, 31 May 2011, 10am
Chinese calligraphy is a unique and abstract symbol art form that reflects the moral character, knowledge, self-cultivation, discipline and spirits of the calligraphers. The Ming Dynasty (1368-1644) during its last 30 years was soon to undergo a new political regime that brought with it new ideas and ideologies which would eventually leave a legacy in the development of fine art. Christie's Hong Kong 2011 Spring Sale of Fine Chinese Classical Paintings and Calligraphy presents a wide range of works from the most important calligraphers from this tumultuous period. Through their magnificent calligraphic works, we get a glimpse of the artists' characters and the society they lived in.

Notable highlights include exceptional cursive script, running script, and running cursive script calligraphy pieces by renowned calligraphers of the Ming dynasty, such as Wang Duo (1592-1652), Zhang Ruitu (1570-1641) and Ni Yuanlu (1593-1644).

WANG DUO (1592-1652)
Wang Duo, born in Mengjin, Henan Province, was a late-Ming government official and a renowned painter and calligrapher. He was skilled at various calligraphy scripts, with strong, vigorous strokes radiating the essence of the "old school" style, while also reflecting his individual characteristics. He is best known for his rendition of the cursive script, the form considered most expressive in Chinese calligraphy. This season the Fine Chinese Classical Paintings and Calligraphy sale is offering Wang Duo's Poems in Cursive Script Calligraphy (Estimate: HK$15,000,000-20,000,000/US$1,935,500-2,581,000), an exquisite satin handscroll. Over three metres in length, the scroll is a piece of performance, where Wang's powerful and carefree brushstrokes express themselves fearlessly and effectively to its viewers. This handscroll will be among the most sought-after pieces in this season.

In another hanging scroll, Calligraphy in Running Script (Estimate: HK$2,000,000-3,000,000/US$258,100-387,100), Wang's traditional but uniquely personal strokes, composition and use of ink present the calligrapher's success in his passionate journey of exploration in the art of calligraphy.

ZHANG RUITU (1570-1641)
Zhang Ruitu was a famous calligrapher, painter and poet of the Ming Dynasty. He received his jinshi (advanced scholar) qualification in 1607, eventually becoming Grand Secretary in 1626. Zhang's calligraphy greatly influenced the development of calligraphic art in China as well as in Japan. In his handscroll Sutra in Cursive Script Calligraphy (Estimate: HK$6,000,000-8,000,000/US$774,200- 1,032,300), he vented his ambition and frustration through the art of calligraphy and his script exuded the grandeur typically seen during the height of calligraphic art development.

His hanging scroll Five-character Poem in Cursive Script Calligraphy (Estimate: HK$600,000- 800,000/US$77,500-103,300), reflects the distinct personality of this renowned calligrapher through his free and extraordinary style with a remarkably strong rhythm.

Ni Yuanlu (1593-1644)
Ni Yuanlu was an important calligrapher who witnessed the last days of the Ming rule. Born in Shangyu, Zhejiang, Ni was a diligent student and had aspired to serve in politics. After three failed attempts at the imperial examinations, Ni was finally admitted to the Hanlin Academy in 1622, where elite scholars performed secretarial and literary tasks for the imperial court. Fiercely loyal, Ni felt responsible for his inability to salvage his nation in the wake of the Manchu invasion. He was among the group of court officials who chose to end their lives as a final display of loyalty to the Ming Dynasty in 1644 at the age of fifty-two.

In Ni Yuanlu's hanging scroll, Five-character Poem in Running-Cursive Script Calligraphy (Estimate: HK$1,500,000-2,000,000/US$193,600-258,100), Ni's calligraphy displays powerful and bold brushstrokes through an unrestrained and effortless use of wet and dry brush; leaving a lasting impression accentuated by the ample space between lines. Ni's calligraphy came to symbolize a strong sense of virtue, pride and his intellectual power, a visual reminder of his life and his ultimate sacrifice for his nation.

Gao Kegong (1248-1310)
During the Yuan Dynasty, painters turned increasingly to express their spirit and soul in art. Scholars became leading artists in the field of painting, as they emphasized the expressive \ qualities inherent in brush and ink as a means to portraying their personalities, thoughts, and emotions. Such paintings were characterized by simplicity, transcendence and elegance. Gao Kegong was one of the most important and famous landscape painters of the Yuan Dynasty. He served in very senior positions in the imperial court and was highly respected by the common people. His paintings rarely have been seenor available ever since the late Yuan Dynasty.

This sale presents a particularly significant work attributed to Gao Kegong: Cloudy Mountains (Estimate: HK$20,000,000-30,000,000/US$2,581,000 – 3,871,000), which demonstrates skilled drawing technique, meticulous details and an elegant artistic style though vigorous brushstrokes and delicate lines. Even though the work was not signed by the artist, later important artists Wen Zhengming and Wang Shen both inscribed in the painting, proclaiming their belief in the painting's authenticity. The painting's significance is also testified in its inclusion in the renowned imperial collection catalogue "shi qu bao ji" in Qing Dynasty.

This masterpiece is a typical literati painting of the Yuan dynasty. The artist's meticulous and masterful strokes depict the rich texture of the mountains and rocks, they in turn contrast with the misty clouds, river and trees, all full of spirit and vitality.

Fine Chinese Modern Paintings
Tuesday, 31 May 2011, 2pm
The sale of Fine Modern Chinese Paintings offers a fine spectrum of works, dating from the late 19th century through the 20th century. The artists featured in the sale include Wu Guanzhong, Li Keran, Fu Baoshi, Zhang Daqian, Qi Baishi, and Xu Beihong, each of whom made significant contributions to modern Chinese art history.

Important Chinese Paintings - Formerly the Property of the Dr. K. S. Lo Collection

Dr. K. S. Lo was born in 1910 in Guangdong, China. He began his Vitasoy business in the winter of 1937 in Shanghai, then 27 years old, and the company grew to become one of the most recognized brands in Hong Kong and Asia. Dr. K. S. Lo had a great passion for Chinese arts and culture, and donated 605 pieces of tea ware and important ceramic pieces to the Museum of Tea Ware in Hong Kong. These paintings represent only a small part of his collecting interests and demonstrate the depth and breadth of his passions in arts and culture.

WU GUANZHONG (1919– 2010)
Wu's artistic career is closely intertwined with important events of his era. The May Fourth movement in 1919 instigated a re-evaluation of traditional Chinese values and in the field of fine art. It was the beginning of an era in which Chinese artists could travel to Europe with relative ease, enabling Wu's predecessors such as Xu Beihong and Lin Fengmian, the latter Wu's future mentor, to study in France. Wu would eventually follow the same path and unearth new dynamics from the West, creating art with a long lasting, universal appeal. His creations, "to Sinicize oil painting and to modernize Chinese painting", remain to manifest his love for his country, grounding his work firmly in the root of Chinese culture like a "kite with an unbroken string".

A total of 18 Wu Guanzhong paintings formerly belonged to the Dr. K. S. Lo Collection will be offered in this sale. They are among the best examples of Wu Guanzhong's landscape paintings in the 1980s. Wu's appreciation of the beautiful and expansive landscapes in China is depicted in Jade Pond (Estimate: HK$3,000,000 - 4,000,000/US$387,100-516,100), a spectacular painting that captures Wu's ingenious interpretation of the inner landscape of his heart and mind. Wu pours life onto paper and gives motion to ink—everything fades into a cacophony of color and yet in that chaos exposes his long years of training, restraint, control, planning and creativity.

In Pine Trees on Mount E'mei (Estimate: HK$1,500,000 - 2,000,000/US$193,500-258,100), Wu endeavoured to assimilate modernist aesthetics in his art, incorporating western-style formal beauty with eastern spirituality, all the while sustaining the differentiation between his mode of painting and that of his western counterparts.

ZHANG DAQIAN (1899-1983)
Excelling in painting, calligraphy, seal-carving, and poetry, Zhang Daqian is no doubt one of the greatest Chinese artists in the 20th century. Zhang spent his early years learning and imitating from ancient predecessors, which helped him to acquire a solid foundation in traditional landscape painting. Later in life he travelled extensively, combining gongbi and xieyi, whilst innovating his unique, signature splashed ink and colour technique, which created a whole new artistic style and vocabulary of his own.

One of the highlights this season is Contemplating upon an Autumn Landscape (Estimate: HK$8,000,000-10,000,000). Zhang Daqian reached a new height in artistic development in the 1960s by mastering the semi-automatic splashed ink and colour technique. In this painting, blue and green form the foundation colours to depict a misty lake wuting, the artificial lake in the artist's residence in Brazil; while red and gold roam profusely on the upper part of the painting, giving the foliage light and colour on an autumn mountain. The transition of colours is smooth and natural via the splashing of colour, reflecting both the artist's emotions and the mood of nature in an abstract manner. This unique and expressive painting belonged to Zhang Daqian's family, and for a long time was hung in the family residence in Pebble Beach, California, USA. It witnessed many loving memories shared between the artist and his family and was treasured by the artist for it constantly reminded him of the landscape of Brazil.

Lotus (Estimate: HK$6,000,000-8,000,000), formerly belonged to the Dr. K. S. Lo Collection, is a testimony to Zhang's strength, passion, and experience, from which one can appreciate his life and his artistic transformation throughout a career spanning over 65 years. Painted in 1981 using splashed colour technique, Lotus shows two exquisite, vividly bright red lotuses; their shapes are accentuated by fine, sumptuous gold outlines. The dark lotus leaves at the back are abstract in form and appearance. Layered by different intensities of splashed ink, such a dark-toned background is softened and becomes surprisingly mellow and harmonious with the subject.

Clear Autumn in Wu Gorge (Estimate: HK$3,000,000-4,000,000/US$387,100-516,100), also formerly belonged to the same collection, is an excellent example of Zhang's early landscape painting. The work was created at a period when Zhang initiated his creative "revival" of ancient art in the 1930s. In this painting, he attributed his inspiration to Wang Jinqing (also known as Wang Shen, 1037-ca.1093), who is celebrated for his renowned blue and green landscape painting. Zhang Daqian's depiction of Wu Gorge enlivens it onto his paper; and through the majestic atmosphere he portrayed, viewers can journey the landscape via his fine and elegant brushstrokes.

RARE AND IMPORTANT PAINTINGS FROM THE KATSUIZUMI COLLECTION
QI BAISHI (1863– 1957)
Known for painting birds and flowers, insects and grasses, figures and landscapes, Qi Baishi was recognized not only for his meticulous detailing and contemplative mood, but more importantly for his unique style that is fresh and spontaneous.

The 10 exquisite paintings by Qi Baishi come from the collection of Sotokichi Katsuizumi (1889–1985). An economist, author and pacifist, Mr. Katsuizumi worked for the Yokohamo Specie Bank in Beijing from 1925 to 1932. He had a passionate interest in Chinese paintings, in particular those by Qi Baishi. During his time in Beijing, he befriended the artist through his colleague, Mr. Tanso Ito, and acquired a large number of his works. Many of the paintings were purchased directly from Qi Baishi or his wife.

Monkey Contemplating Peach (Estimate: HK$1,500,000-2,000,000/US$193,500-258,100) is imbued with blessings and symbols of longevity to the receiver, Mr. Katsuizumi. Peaches have long been symbols of longevity and are considered sacred in China, for its wood was used as a charm against evil in ancient times. The monkey is an important symbol, for its name hou is a pun for a high-ranking noble, and is also symbolic of longevity. The peach and monkey are often paired with the peach of immortality, such as this present painting. Qi positions the monkey upon a rock, a natural symbol of longevity and permanence due to its reliability and hardness. Compositionally Qi makes use of the playful gaze of the monkey who stares in wonder and amusement while hoping to gain the peach, thus de shou¸ attaining longevity.

Qi Baishi's paintings emphasize his interchange with daily life and the nature, from which he drew his inspiration. Taking Grandson to School (Estimate: HK$1,500,000-2,000,000/US$193,500-258,100) is another highlight in the collection in which Qi depicts a humorous everyday scene of a grandson unwilling to attend school, vividly reminding viewers of their own childhoods. In a few simple strokes, Qi Baishi transformed his paintings into a masterpiece of rustic simplicity that expresses the essence of his spirit.

Apart from the Katsuizumi Collection, Christie's HK will present many other superb works of Qi Baishi this season. One such example is Rabbit (Estimate: HKD$700,000- 900,000/US$90,300 -116,100). Simple in form, but not in technique or idea, the beautiful portrayal of a black rabbit is the result of Qi's skill in working from direct observation of nature. Qi Baishi's paintings are warm and uncomplicated; with harmony and simplicity that reflect the sincerity of the artist and the subject matter.

LI KERAN (1907– 1989)
Li Keran is a patriotic artist; his paintings are testimony and historical records for his beloved homeland. A Million Strong Across the Yangtze (Estimate: HK$5,000,000-7,000,000/US$645,200-903,200) was created by Li in 1964 and was inspired by Mao Zedong's poem, which Li proudly inscribed on the painting. At that time, paintings inspired by Mao's words were common, for his poems were permeated with optimism and were admired by literati at the time. Furthermore, as the 1950's and 60's were politically sensitive times, it was not always guaranteed that artists could safely use lines from Mao in their paintings for fear of political persecution. Even with these restrictions, this disguise provided an asylum for artists' creativity during the time of political turmoil, maintaining a space to innovate artistically and balance to their emotions. [I don't quite understand this last sentence.-B)

Starting from 1942, Li Keran started to express his emotions and spirits by painting idyllic scenes with buffalo and boys. Buffalo, Boys and Crickets (Estimate: HK$500,000-700,000/US$64,500-90,300) depicts a tranquil scene of a buffalo crouching casually, whilst several buffalo boys are enjoying cricket fighting. The painting belonged to the Collection of Madam Fang Zhaoling. Madam Fang was an artist herself and learned to paint from renowned artists such as Zhang Daqian and Zhao Shao'ang. As early as 1951 Madam Fang co-exhibited with Zhao Shao'ang in Japan; and in 1953 Fang became a student of Zhang Daqian. The forthcoming sale will feature 15 paintings from this collection, including but not limited to paintings by Li Keran, Qi Baishi and Guan Liang.

FU BAOSHI (1904-1965)
Fu Baoshi, considered one of the leading figures of Chinese Modern Painting, often used traditional poems and tales as inspiration for his paintings. One of the most important highlights this season is Fu Baoshi's The Poet Qu Yuan and Fisherman (Estimate: HK$4,000,000-5,000,000/US$516,100-645,200), which vividly portrays the scene of the famous Southern Chu poet conversing with the fisherman.

The inscription, a fragment of the Songs of Chu (楚辞) entitled yu fu (The Fisherman 渔父), was composed by the poet himself. It differs from Fu's numerous other portraits of Qu Yuan, in which the poet is usually shown standing alone in a vast and expansive landscape, as this painting presents a rare two-figure composition and portrays an interaction that gives extraordinary liveliness to the historical character. The meticulously rendered details display Qu Yuan's neatly combed hair and clothes, his face an embodiment of intellect and high morals as he stood against the corruption of the society in which he lived; the fisherman's face is tanned and rough, signs of the hard labour of his occupation. Fu Baoshi's figure paintings manifest the best of the skills he inherited from Chinese classical art, especially from the Six Dynasties that the artist so admired, and through which he developed his unique personal style in the genre.

XU BEIHONG (1895-1953)
Himalayan Forest (Estimate: HK$4,000,000 -6,000,000/US$516,100-774,200) was presented in the Kuala Lumpur anti-war fundraising exhibition held in February 1941. According to Xu Beihong's Chronology, Xu visited Sandurphu in India in April 1940 to admire Mount Everest and a painting named Himalayan Forest was created on 1 June 1940. This matches perfectly with the inscription on this painting. Himalayan Forest demonstrates Xu's commitment of reforming Chinese paintings through the infusion of Western painting techniques. The fir and pine wood in the foreground is realistically depicted, using both outlining method and freehand brushstrokes for the form and tonal effects of the ink for the chiaroscuro. The forest and mountain in the background is rendered through splashes of ink wash in different shades. The overall luminous effect is further enhanced by leaving the upper part of the background unpainted or liubai, a characteristic of classical Chinese paintings. Landscape is a rare painting subject for Xu Beihong and this painting of a wide and luminous view of Himalayan Forest is totally fresh to the market.

Xu Beihong was also a master at the portrayal of animals, which won him great reputation. One of the highlights in the sale is Xu's Cat (Estimate: HK$2,000,000 - 3,000,000/US$258,100-387,100), which once belonged to Alice Boney(1901-1988), a renowned New York Chinese antique collector and dealer of the 1950s (her collector's seal was impressed on the mounting of the work). In this painting, Xu's delicate and steady strokes bring out the tenderness and the alertness of the cat. Precise in perspective and proportion and detailed in depiction, the overall effect is a harmonious blend of Western realism and an ethereal quality seen in Chinese paintings.
Gao Kegong (1248-1310, attributed to), Cloudy Mountains. Handscroll, ink on silk, 27.3 x 107 cm. (10 ¾ x 42 1/8 in.). Estimate: HK$20,000,000 – 30,000,000, US$2,581,000 – 3,871,000.