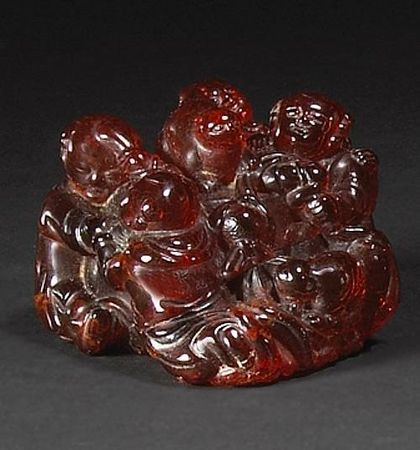 A carved amber group of playful children. 18th Century. Photo Bonhams
Depicting five little boys teasing a cat that sits on a drum while another cat nestles to one side, the amber of dark honey brown hue with some incised details and deep fissure lines. 3 1/3in (8.5cm) long - Estimate: US$6,000 - 9,000
Property from the Melikian Collection, Phoenix, Arizona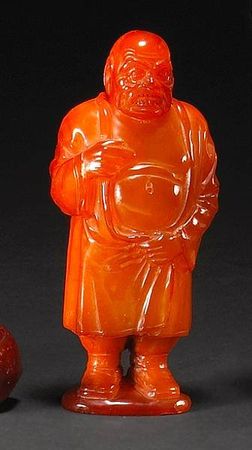 A carved amber figure of a Chinese gentleman. Photo Bonhams
With his chest and belly exposed, his face with a grimace, his long queue extending down his back. 4 3/8in (11cm) high - Estimate: US$5,000 - 7,000
Property from the Melikian Collection, Phoenix, Arizona
A carved amber pendant of peaches. 18th Century. Photo Bonhams
Deeply undercut, with birds among fruiting branches, the amber of a warm honey color. 2 1/2in (6.4 cm) long - Estimate: US$3,000 - 5,000
Property from the Melikian Collection, Phoenix, Arizona
A carved amber archer's ring. Photo Bonhams
Of a rich honey color, the translucent amber suffused with a complex crackle. 1in (2.5cm) high - Estimate: US$3,000 - 5,000
Property from the Melikian Collection, Phoenix, Arizona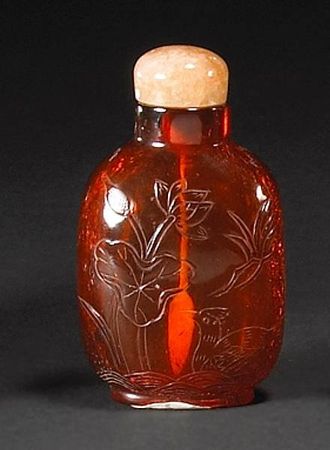 An amber snuff bottle.
Photo Bonhams
Of compressed ovoid form, with a flat mouth and oval foot rim, the body carved in low relief with a cat and butterfly on one side and a lotus and duck on the other. 2 1/4in (5.8 cm) high - Estimate: US$1,500 - 2,500
Property from the Melikian Collection, Phoenix, Arizona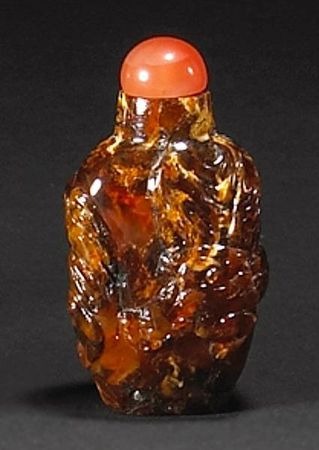 A Baltic amber snuff bottle.
Photo Bonhams
The body of triangular form, with a flat mouth and flat base, carved with a chilong dragon amidst a rocky landscape. 2 in (5cm) high - Estimate: US$1,500 - 2,500
Property from the Melikian Collection, Phoenix, Arizona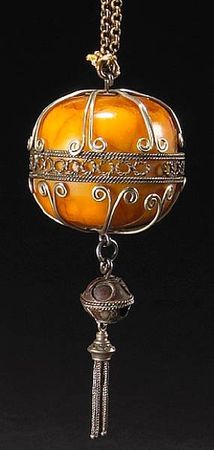 A carved amber specimen mounted as a necklace. Photo Bonhams
Of compressed globular form, the amber with tones of brown and yellow, the top and bottom drilled to anchor the silver mount. 5 3/4in (14.7cm) circumference of amber - Estimate: US$1,200 - 1,500
Property from the Melikian Collection, Phoenix, Arizona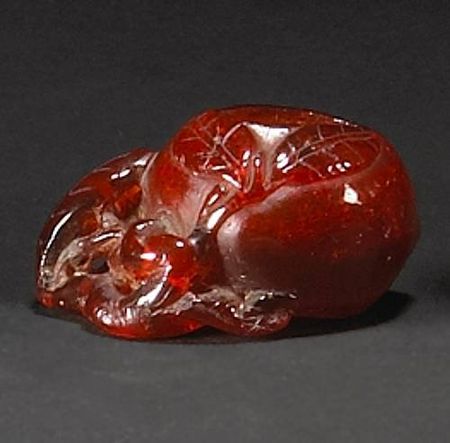 A carved amber peach form water coupe. Photo Bonhams
The mouth of the coupe opening upwards, with a leafy branch extending out to the base. 1 7/8in (4.8 cm) long - Estimate: US$1,000 - 1,500
Property from the Melikian Collection, Phoenix, Arizona
Bonhams. Fine Asian Art, 21 Jun 2011, San Francisco www.bonhams.com