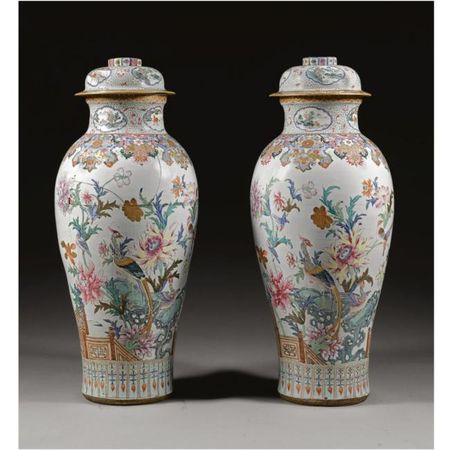 A pair of 'famille-rose' 'soldier' vases and covers. Qing dynasty, Qianlong period. photo Sotheby's
each baluster body brightly enamelled with pairs of birds perched amidst rockwork issuing flowers, all between lotus-lappets at the base and an elaborate lambrequin collar, the waisted neck with quatrefoil landscape panels reserved on a prunus and cracked-ice ground, the domed cover similarly decorated with panels within lotus and ruyi bands - 122 cm. Est. 40,000—60,000 GBP Lot Sold 163,250 GBP
Property of a titled Spanish family.
NOTE: A high level of craftsmanship was vital to produce such large vases, not only in the potting itself but also in managing the firing of the wood-fuelled kiln. These vases are notable for their finely composed and detailed designs that successfully occupy and enhance the elegant form. A vase of this size and related form and design, but with a lotus scroll band at the foot and flowering branches decorating the neck and cover which is surmounted by a Buddhist lion, from the Mrs. Dick Fitzgerald Collection, was sold in these rooms, 11th May 1965, lot 65. Compare also a similarly composed and enamelled vase depicting flowering peony branches issuing from rockwork, from the Sir Phillip Sassoon Collection, illustrated in George C. Williamson, The Book of Famille-Rose, London, 1927, pl. LV11 (right).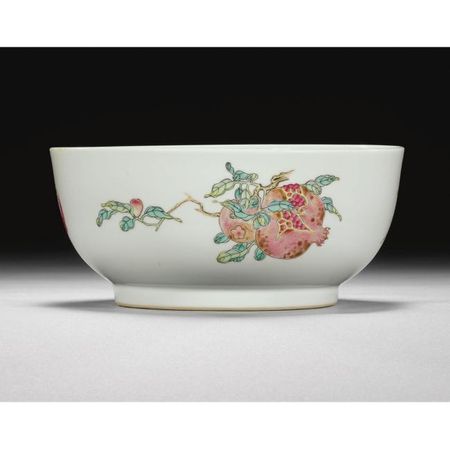 A fine 'famille-rose' 'sanduo' bowl. Qianlong mark and period. photo Sotheby's
the deep rounded sides rising from a short tapering foot to a slightly everted rim, finely enamelled around the exterior with leafy fruiting sprays of peach, lychee and pomegranate 15.5cm., 6 1/8 in. Est. 30,000—50,000 GBP Lot Sold 82,850 GBP
PROVENANCE: S Marchant & Son, London (according to label).
NOTE: A Qianlong bowl of this pattern was included in the exhibition Ch'ing Porcelain from the Wah Kwong Collections, The Chinese University of Hong Kong, 1973, cat. no. 106; another was included in the Oriental Ceramic Society of Hong Kong exhibition Ch'ing Polychrome Porcelain, Fung Ping Shan Museum, 1977, cat. no. 86; and a third is illustrated in Gordon Lang, The Powell-Cotton Collection of Chinese Ceramics, Birchington, 1988, col. pl. 16. See also a closely related bowl sold twice in our Hong Kong rooms, 18th May 1988, lot 285, and again 27th April 2003, lot 197.
The three fruit painted on this bowl endow it with auspicious meaning; the lychee represents the wish for a son to continue the family name, the pomegranate the wish for many sons, while the peaches symbolise longevity.
Sotheby's. Fine Chinese Ceramics & Works of Art. 12 May 10. London www.sothebys.com