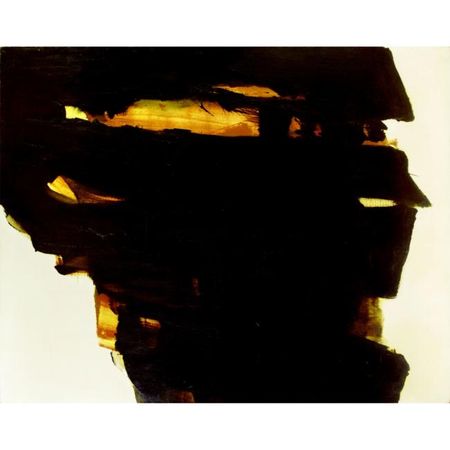 Pierre Soulages (N. 1919), Peinture 159 x 202 cm, 17 septembre 1963. photo Sotheby's
huile sur toile, signé et daté; signé et daté au dos, 159 x 202 cm; 62 5/8 x 79 1/2 in. Est. 350,000—450,000 EUR Lot Sold 348,750 EUR
Exécuté le 17 septembre 1963.
PROVENANCE: Kootz Gallery, New York (1963)
Galerie de France, Paris (1970)
M. Schweig, Saint-Louis
Marie-Claude Tubiana, Paris
Roger Pailhas, Marseille
Vente: Paris, Drouot-Montaigne, 10 mars 1994
Collection particulière, Paris
EXHIBITED: New York, Kootz Gallery, Soulages, 1964
New York, Kootz Gallery, Soulages at Kootz, 1965
Houston, Museum of Fine Arts, Pierre Soulages: Retrospective Exhibition, 1966
Paris, Musée National d'Art Moderne, Soulages, 1967 ; no.57
New York, Knoedler and Co; Pittsburgh, Museum of Art, Carnegie Institute; Buffalo, Albright-Knox Art Gallery, Soulages paintings since 1963, 1968
Aix en Provence, Ecole des Beaux-Arts, Présence contemporaine, 1981
LITERATURE AND REFERENCES: James Johnson Sweeney, Soulages, Neuchâtel,1972
Pierre Encrevé, Soulages, L'oeuvre complet, Peintures, vol. II 1959-1978, p. 135, no. 514, illustré en couleurs
NOTE: signed and dated; oil on canvas. Executed on September the 17th, 1963.
A 44 ans, Pierre Soulages présente, en 1964 à New York, sa 7ème exposition personnelle à la galerie de Samuel Kootz, son célèbre marchand américain. Cette exposition présente une évolution notoire dans sa manière de peindre. La surface des tableaux moins empâtée et la peinture plus fluide, laissent apparaître de grandes nappes de couleur brun-ocre, lisses et denses, envahissant la surface de la toile. Les réserves de blanc, présentes dans cette œuvre, sont des repères importants dans les compositions des tableaux de cette période. Elles fixent la lumière qui se réfléchit et contrastent subtilement avec les transparences de brun. Ces dernières donnent à la composition un mouvement extraordinaire, renforcé par les dimensions exceptionnelles du tableau. Présenté en outre dans les grandes expositions rétrospectives de son œuvre à Houston au Museum of Fine Arts dès 1966, et à Paris au Musée National d'Art Moderne, l'année suivante, Peinture 159 x 202 cm, 17 septembre 1963 apparaît assurément comme un tableau, chef d'œuvre, caractéristique dans l'oeuvre de Pierre Soulage à cette période.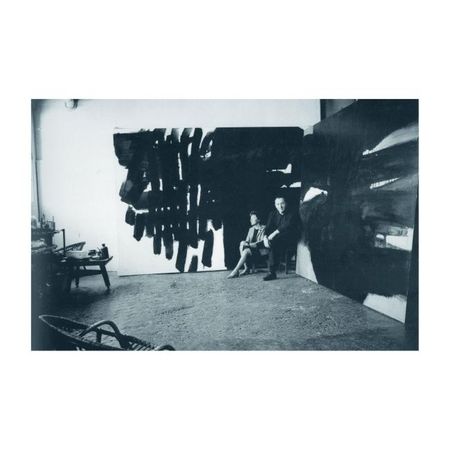 Colette et Pierre Soulages dans l'atelier de la rue Galande à Paris, 1964. © D.R.
Sotheby's. Contemporary Art. 03 Jun 10. Paris www.sothebys.com