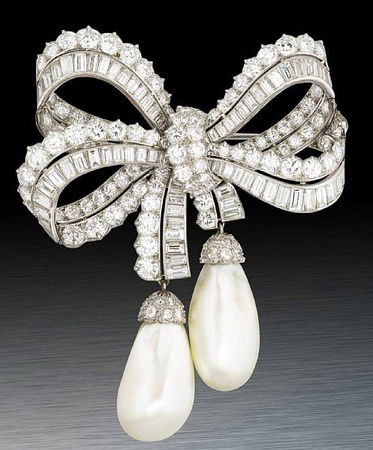 A rare diamond and pearl bow brooch, by Cartier, circa 1960. photo Bonhams
The looped ribbons set throughout with brilliant and baguette-cut diamonds, suspending two large baroque pearl drops, each with a brilliant and single-cut diamond cap, diamonds approximately 14.00 carats total, signed Cartier London, length at longest point 7.2cm., fitted maker's case - Sold for £300,000
Note: Accompanied by an AnchorCert certificate stating that both pearls were found to be natural and of saltwater origin. Certificate number 1/18398, dated 8th September 2009.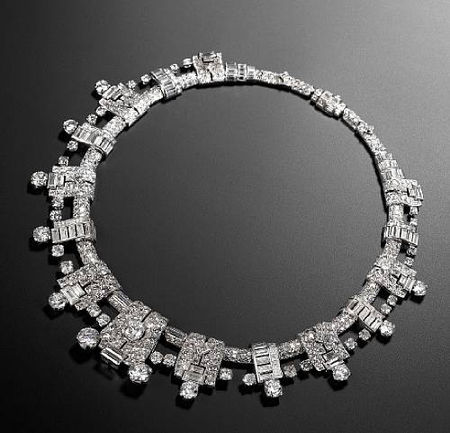 An impressive art deco diamond necklace, by Cartier, circa 1936. photo Bonhams
The highly articulated collar composed of pierced geometric plaques, graduating in size from the centre and pavé-set throughout with old brilliant, brilliant, single, square and baguette-cut diamonds, diamonds approximately 37.65 carats total, signed Cartier Paris, maker's mark, French assay marks, length 37.5cm.- Sold for £264,000
Note: The 1930s was a decade of tremendous creativity and technical innovation for Cartier. The return in dress to a more waisted silhouette made the long sautoirs of the 1920s look outmoded so Cartier created short collar necklaces to complement the latest fashions. The deceptively simple design of this necklace, which also follows the 1930s move towards a pure "white" look, is belied by the combination of differently cut stones, in a number of different settings, in fluid "vertical scroll" motifs. Many necklaces of this period also integrated detachable clip brooches and some could also be worn as "halo" head ornaments, another of Cartier's innovations.

See Rudoe, Judy, 'Cartier 1900-1939', British Museum Press, 1997, page 258-9 for a similar necklace
An art deco diamond choker/bracelet/bandeau combination, by Cartier, circa 1925. photo Bonhams
Designed as a row of openwork buckle-shaped links, set throughout with old brilliant, brilliant and single-cut diamonds, diamonds approximately 11.90 carats total, signed Cartier Londres, fitted Cartier case - Sold for £42,000
A diamond bracelet, by Cartier, circa 1935. photo Bonhams
The articulated bracelet designed as a series of seven oval openwork links of polished finish, spaced by arched connecting links, each channel-set with a slightly graduated row of brilliant-cut diamonds, to a concealed clasp, diamonds approximately 7.70 carats total, signed Cartier Paris and numbered, French assay mark, length 19.5cm.- Sold for £31,200
A pair of sapphire and diamond pendent earclips, by Cartier, circa 1960. photo Bonhams
Each half-moon shaped diamond issuing a spray of tapered baguette-cut diamonds, suspending an articulated tassel of pear-shaped sapphires and marquise-cut diamonds, diamonds approximately 7.60 carats total, signed Cartier and numbered, length 3.5cm., cased by Cartier, New York, Caracas, London, Paris - Sold for £19,200
Property of Lita Milan:

Hollywood actress Lita Milan, star of twelve feature films and over forty television movies, modestly describes her hugely successful Hollywood career as accidental.

She was born in Israel and educated in New York and France and from a young age studied dance and drama. During one of her school vacations, she was hired by a dance company and spent the summer dancing and presenting in one of Nat King Cole's Las Vegas shows.

On a trip to Los Angeles to visit relatives, Lita Milan was signed by legendary Hollywood agent, Paul Kohner who also managed the careers of Marlene Dietrich, Greta Garbo, Billy Wilder, Henry Fonda, David Niven, Ingmar Bergman and Lana Turner. Her success in "The Violent Man" with Barbara Stanwyck, Glenn Ford and Edward G. Robinson, propelled her to stardom and she was contracted by Columbia Studios. Leading roles followed and she starred in "The Ride Back" opposite Anthony Quinn, "Never Love a Stranger" opposite Steve McQueen and "The Left Handed Gun" opposite Paul Newman.

In the early 1960s, Milan abruptly abandoned her career to run off with Ramfis Trujillo, son of Dominican Republic dictator Rafael Leónidas Trujillo Molina. After Trujillo's death in a car accident, Milan settled in Spain in order to raise her two children. She subsequently had a long relationship with one of Spain's most famous bull fighters and today lives just outside Madrid where she plays a dynamic role in intellectual and artistic society.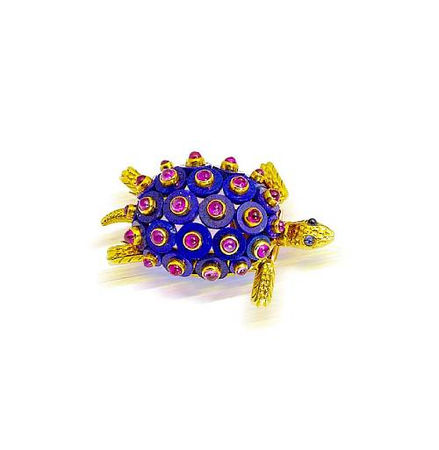 A lapis lazuli, ruby and sapphire tortoise brooch, by Cartier, circa 1965. photo Bonhams
The shell formed of polished lapis lazuli discs, each with applied cabochon ruby highlight, the head with cabochon sapphire eyes, the legs and tail with textured detail, signed Cartier Paris, numbered, maker's mark, French assay marks, length 3.8cm., maker's case - Sold for £6,600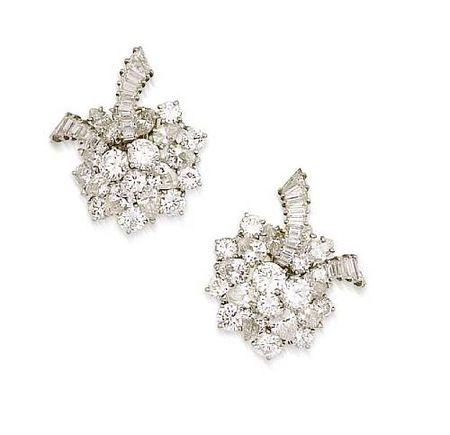 A pair of diamond earclips. photo Bonhams
Designed as a triple tiered cluster of brilliant, marquise and pear-shaped diamonds set at varying levels, with graduated tapering baguette-cut diamond highlights, diamonds approximately 10.50 carats total, French assay marks, length 3.0cm., Cartier case - Sold for £6,000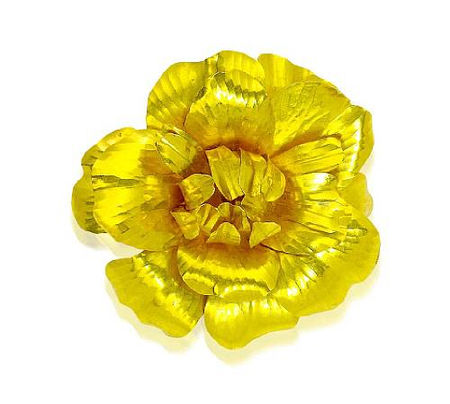 A gold flower brooch, by Cartier, 1963. photo Bonhams
The single bloom formed of delicate 18 carat gold unfurling petals, signed Cartier, maker's mark, numbered, French assay mark, London import mark, diameter 5.8cm.- Sold for £5,040
Bonhams. Fine Jewellery, New Bond Street, 9 Dec 2010 www.bonhams.com