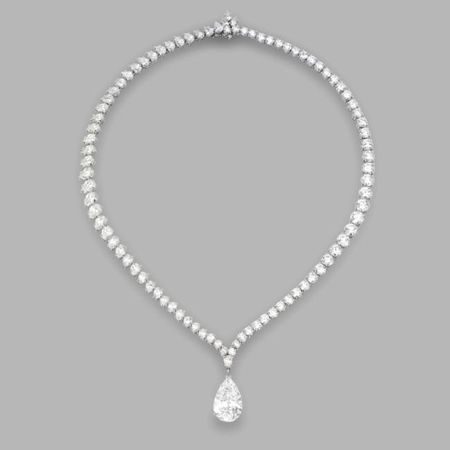 A Highly Important Platinum and Diamond Pendant-Necklace, Harry Winston. photo courtesy Sotheby's
The pear-shaped diamond weighing 10.02 carats, completed by a necklace set with pear-shaped and round diamonds weighing a total of approximately 30.00 carats, length 16 inches, signed HW for Harry Winston, numbered 65522 and 64108. With signed pouch.- Estimate 1,000,000—1,500,000 USD. Lot Sold 1,286,500 USD
Accompanied by GIA report no. 16183096 stating that the diamond is D color, Internally Flawless. Together with a letter from the GIA stating that the diamond has been determined to be type IIa.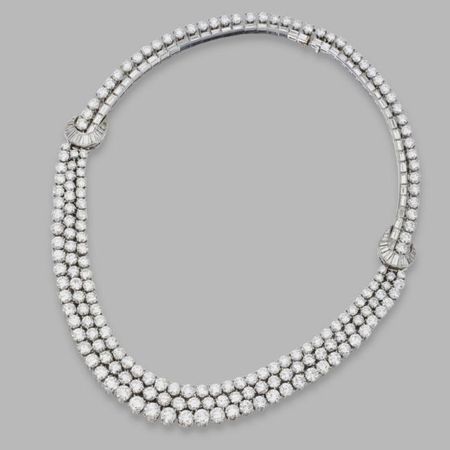 Platinum and Diamond Necklace, Harry Winston, 1951. photo courtesy Sotheby's
Set with round diamonds weighing approximately 45.00 carats, and baguette diamonds weighing approximately 5.00 carats, length 15 inches, unsigned. Estimate 100,000—150,000 USD. Lot Sold 188,500 USD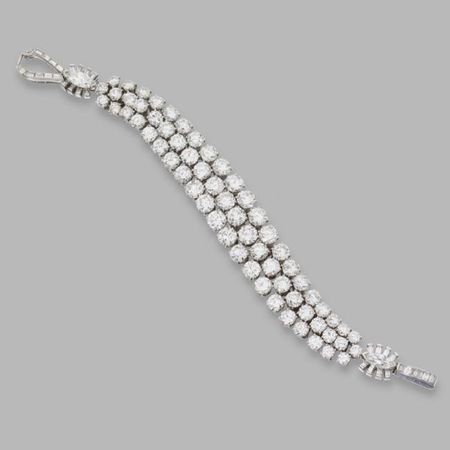 Platinum and Diamond Bracelet, Harry Winston, 1949. photo courtesy Sotheby's
The highly flexible band set with round diamonds weighing 33.88 carats, accented by baguette and marquise-shaped diamonds weighing 3.49 carats, length 7 inches, numbered 4327, unsigned. Estimate 75,000—100,000 USD. Lot Sold 140,500 USD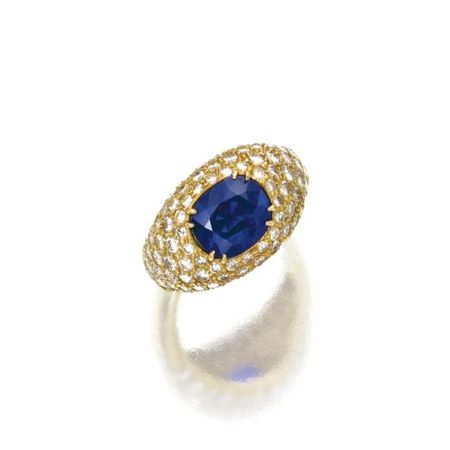 18 Karat Gold, Sapphire and Diamond Ring, Harry Winston. photo courtesy Sotheby's
Of bombé design set in the center with a cushion-shaped sapphire weighing 5.20 carats, framed by round diamonds weighing approximately 3.45 carats, size 8½, signed Winston. Estimate 50,000—70,000 USD. Lot Sold 134,500 USD
Accompanied by AGTA report numbered 93008112, stating that the sapphire is of Kashmir origin, no indications of heating.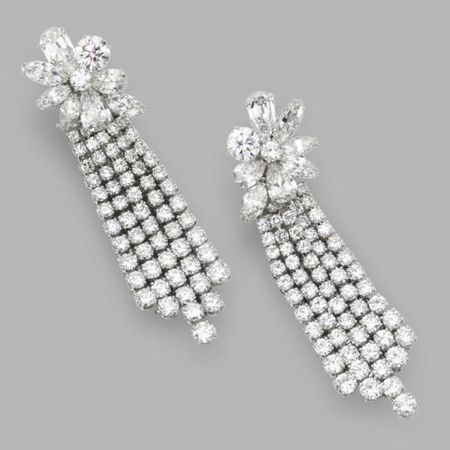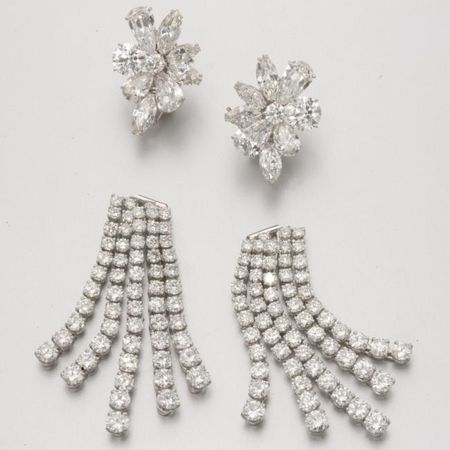 Pair of Platinum and Diamond Earclips and diamond fringe pendants, Harry Winston. photo courtesy Sotheby's
The tops designed as clusters set with round, pear-shaped and marquise-shaped diamonds weighing 12.40 carats, dating 1952, the pendants set with round diamonds weighing approximately 15.50 carats, dating 1962, pendants detachable, tops and pendants unsigned. Estimate 40,000—60,000 USD. Lot Sold 71,500 USD
Platinum and Diamond Straightline Necklace, Harry Winston. photo courtesy Sotheby's
Set with round diamonds weighing 8.29 carats, length 14¾ inches, signed HW for Harry Winston. With signed box. Estimate 5,000—7,000 USD. Lot Sold 18,750 USD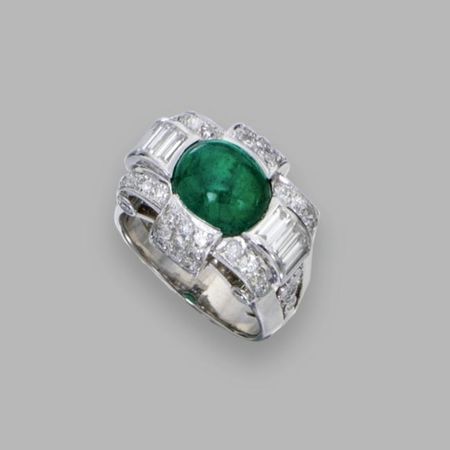 Platinum, Emerald and Diamond Ring, Harry Winston. photo courtesy Sotheby's
Set in the center with a cabochon emerald weighing approximately 2.50 carats, framed by round, single-cut and baguette diamonds weighing approximately 1.60 carats, size 4¾, signed HW for Harry Winston. With signed box. Estimate 5,000—7,000 USD. Lot Sold 7,500 USD
Sotheby's. Important Jewels. 28 Sep 10. New York www.sothebys.com