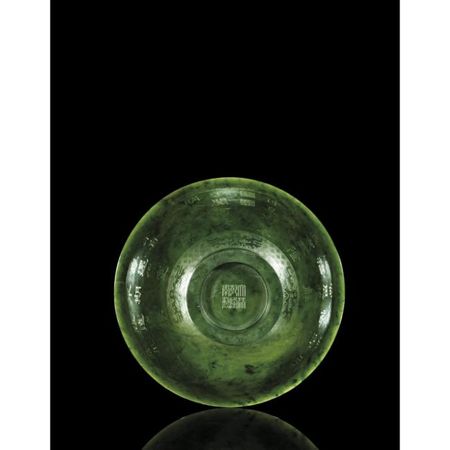 A fine and rare khotan-green jade bowl with an imperial poem. Carved Seal Mark and Period of Qianlong, dated to the wuyin year (1758). photo courtesy Sotheby's
supported on a straight foot curving to a rounded body with an everted lip, incised on the exterior with an Imperial poem Yong Yu Chawan ('In Praise of a Jade Tea Bowl'), dated to the wuyin year of the Qianlong reign corresponding to 1758, followed by two seals, all between two keyfret borders with taotie masks, the base incised with a six-character reign mark, the stone of a deep fern-green tone with natural veining; 13.1 cm., 5 1/8 in. Estimate 2,000,000—3,000,000 HKD. Lot Sold 7,220,000 HKD
NOTE: The poem can be translated as follows:
Song on a Jade Tea Bowl" , dated to 24 June-1 July 1759
Yuzhi shiji (The Anthlogy of Qianlong Imperial Poems), Erji (Second Collection) (Siku quanshu ed.), 78:17a-17b
Why should Khotan ever
have to buy toilette cases or rings?
For, though the tribute it submits is meager,
what We return is always most generous.
We never had planned that Our protection
should reach this frontier land,
Since for stones to carve and polish
We rely on other mountains.
It's a deep-green sky for a star chart,
showing auspicious signs,
And has a place between wine vessel and cutting board,
prolonging the delight in Our brilliant court.
To waft the fragrance of filtering snow
it's so exactly right that,
Thirst so slacked, I want to feed and clothe the land
and shower blessings all over it.
1.The kingdom of Khotan was located along the southern edge of the Taklamakan Desert in the Tarim basin (present day Xinjiang).
2.Khotan sent in unworked jade to the Qing court as tribute; the Qing, in return, sent back gifts of luxury goods.
3. line 5: Describes the inside of the bowl as it resembles the canopy of the night sky in which auspicious stars shine.
4.last line: The "land" is Khotan. The emperor is so pleased with the bowl that he wants to reward Khotan. Tuijie ke is a contraction of tuishi jieyi (offer one's own food to another and take off one's own clothes to clothe him— i. e., do everything possible to help) and jieke (slack thirst).

The present bowl is exceptional for its rich spinach-green colouration. Jade of this deep saturated tone was highly-favoured by the Qing court. A closely related bowl, but with the four-character Qianlong nianzhi reign mark inscribed in clerical script, in the Palace Museum, Beijing, is illustrated in Zhongguo yiqi quanji, vol. 6, Shijiazhuang, 1993, pls 41-42.

This elegant jade bowl is a rare example of a small group of jade vessels made during the Qianlong period which all appear to have a distinctively deep and thick foot. This type of foot rim was possibly inspired by a bowl presented to the emperor from Turkestan in 1756, probably the product of carvers in Hetian, as explained in The National Palace Museum Monthly of Chinese Art, no. 1, 1983, p. 89. See two vessels carved with poems written by the emperor belonging to this special group; a celadon jade bowl with a poem dated to 1765, published in Chinese Jades throughout the Ages. Connoisseurship of Chinese Jades, vol. 11, Hong Kong, 1996, pl. 17; and a white jade bowl with a poem dated to 1775, illustrated ibid., pl. 19.

Another white jade bowl of this type and dimensions, inscribed with Qianlong's poem dated to 1765 but recorded for the year 1766 in the anthology of Imperial Qianlong poems, Qing Gaozong yu zhi shiwen quanji: Yu zhi san ji, juan 53, p. 2, under the heading Yong Hetian yu wan ('In Praise of a Hetian Bowl'), from the collection of Elizabeth Parke Firestone, was sold at Christie's New York, 22nd March 1991, lot 532, and again in these rooms, 26th October 2003, lot 33. The same poem can be found on a jade bowl of similar form and size in the National Palace Museum, Taipei, included in the museum's exhibition Empty Vessels, Replenished Minds: The Culture, Practice and Art of Tea, Taipei, 2002, cat. no. 165.
Sotheby's. An Important Private Collection of Qing Historical Works of Art, 07 Oct 10, Hong Kong www.sothebys.com