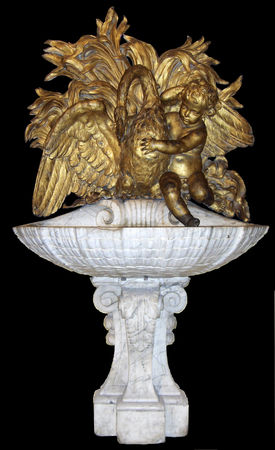 Fontaine à débordement en marbre blanc veiné. France, époque Régence © BRAFA 2010
H 206 x L 120 x P 57 cm - Prix sur demande.
Le bassin en forme de coquille repose sur un pied à triples volutes à décor de feuilles d'acanthes.
La partie supérieure en plomb doré, dans sa dorure d'origine, représente un chérubin tenant un cygne par le col, sur un fond de roseaux et de feuillages.
Fountain with overflow basin. Veined white marble. France, Regency period
H 206 x W 120 x D 57 cm
The basin in the shape of a shell rests on a foot with triple scrolls and decoration of acanthus leaves
The gilt lead upper part, in its original gilding, represents a cherub holding a swan by the neck, against a background of reeds and foliage
Située au cœur du Carré Rive Gauche, l'un des quartiers les plus célèbres de la capitale française, la galerie François Hayem présente des meubles, des objets d'art et des tableaux du XVIIe au XIXe siècle, sélectionnés selon un critère de qualité et d'authenticité. Il est membre de la Chambre Nationale des Experts Spécialisés en Objets d'art et de collection (CNES) et de la Compagnie des Experts (CNE).
Galerie François Hayem @ BRAFA (Brussels Antiques & Fine Arts Fair), Stand N°25. 21-30 january 2011
13 Rue du Bac. F-75007 Paris, France. T +33 (0)1 42 61 25 60 - M +33 (0)6 08 54 01 04 - F +33 (0)1 42 61 59 02 - hayemantiquites@free.fr