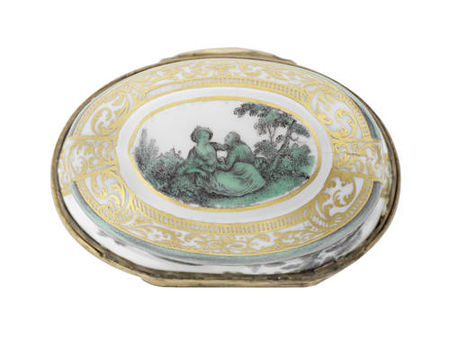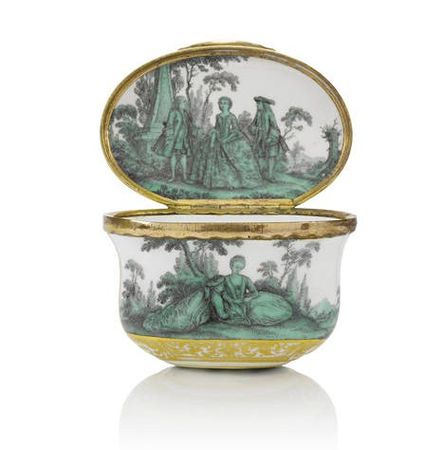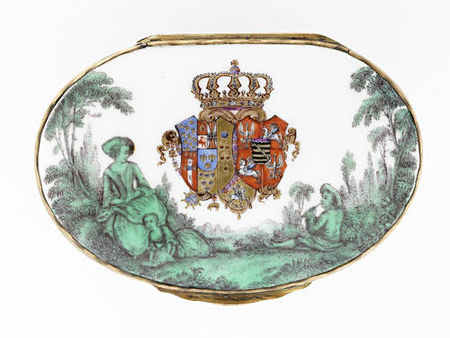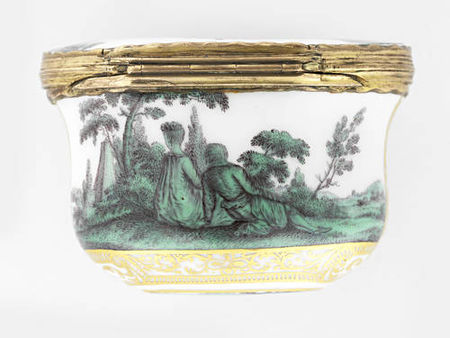 A Meissen gold-mounted oval snuff box from the toilet service for Queen Maria Amalia Christina of Naples and Sicily, Princess of Saxony, circa 1745-47. Photo Bonhams
Painted by Gottlob Siegmund Birckner, each side with a green monochrome scene of Watteauesque figures in park settings, framed by borders of gilt foliate scrollwork, the base with a similar scene within a gilt border, the cover with a scene and the arms of Naples-Sicily and Saxony-Poland, the inside cover with a scene depicting three figures by an obelisk, 7.1cm widel; 4.8cm high - Sold for £78,000
Provenance: Given to Maria Amalia, Queen of Naples, in 1747 by her mother, Maria Josepha, Electress of Saxony and Queen of Poland;
Mrs Ilse Bischoff, Hartland, Vermont
Literature: Boltz 1978, p. 23, fig. 8;
Beaucamp-Markowsky 1985, no. 68;
Beaucamp-Markowsky 1988, no. 19;
Cassidy-Geiger 2007, p. 239, fig. 10-65
Exhibited: Amsterdam, Rijksmuseum, 1972-2003;
London, Gilbert Collection, Somerset House, 2003-2008;
New York, The Bard Graduate Centre for Studies in the Decorative Arts, Design and Culture, Fragile Diplomacy: Meissen Porcelain for European Courts, ca. 1710-63, 15 November 2007 to 10 February 2008, no. 82;
Barnard Castle, Co. Durham, The Bowes Museum, 2008-2010

From an extensive porcelain toilet service that was in turn part of a larger gift sent from Dresden to Naples in November 1747 to celebrate the birth of the heir to the throne on the tenth anniversary of the marriage of Charles III of Naples and Sicily and Maria Amalia of Saxony (see Boltz 1978 and Cassidy-Geiger 2007, pp. 237ff. for a discussion of the gift). The king received an open carriage and team of horses, and the queen the Meissen toilet service, each piece of which was sent packed in its own leather case. The service consisted of between three and four dozen pieces and was comparable in scale to the silver toilet sets made in Augsburg and Paris. Although it was only arrived in Naples in February 1748 and was sent to mark the birth of the heir, work on the service had already begun in 1745.

The miniature-like decoration was almost all painted by Gottlob Siegmund Birckner in the new and highly fashionable copper-green, which alluded to the royal colour of Saxony and was reserved for the use of the Saxon royal family. The scenes were based upon prints after artists such as Watteau, Lancret and others. Several pieces of the service survive in the Museo Arqueológico in Madrid, where Maria Amalia lived for the last years of her life, after her husband became Charles IV of Spain. Interstingly, two stands from the service are decorated with a variation of the scene with the three figures on the inside of this box; one is in the Grassi Museum, Leipzig (Gielke 2003, no. 159; Pietsch 2010, p.102), the second is in the Hoffmeister Collection (Hoffmeister 1999, II, no. 370).

The Meissen manufactory archives record that Birckner worked on the snuff-boxes of this service between October 1745 and May 1747 (quoted by Boltz, op. cit., pp. 22-24).
Bonhams. The Helmut Joseph Collection of Important Snuff Boxes, 5 Jul 2011. London, New Bond Street
www.bonhams.com