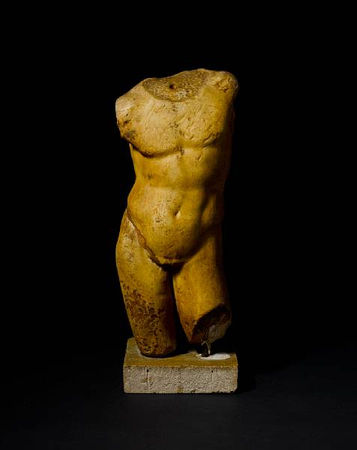 A Roman marble male torso. Circa 1st Century A.D.
Standing in contrapposto, with the weight on his right leg, his left shoulder raised, the muscular torso with defined pectorals, shapely hips and a recessed naval, with well-formed buttocks and muscular back with central depression along the spine, 34½in (87.7cm) high, right leg repaired, surface pitted and discoloured, mounted on a revolving granite column. Estimate: £20,000 - 30,000
Provenance: Formerly in the collection of the founder of Penthouse Magazine, United States.
Bonhams. Antiquities, 29 Apr 2009. New Bond Street www.bonhams.com (Copyright © 2002-2009 Bonhams 1793 Ltd., Images and Text All Rights Reserved)