This September, Christie's is pleased to offer over 350 lots of fine Chinese porcelain, jade, furniture and works of art from diverse collections. Following on the heels of the record setting March sales in New York, Christie's once again looks forward to a highly successful sale of exceptional Chinese works of art. Highlights of this sale.
An important and rare imperial Guangzhou tribute embellished ivory and tortoiseshell fan. Qianlong period (1736-1795)
Made of very thin, finely woven ivory caning mounted in a tortoiseshell frame, with a central bamboo strip on each side secured at the top by a ruyi-shaped gilt-metal mount inlaid with kingfisher feather, the bamboo strip on the front embellished with mother-of-pearl, amber, gilt-metal and painted ivory appliques secured on the reverse by small feather-embellished florets above a mother-of-pearl plaque, the front applied at the bottom with delicately painted ivory appliques depicting a grouping of a pine tree, lingzhi, aster, lotus and orchids below two grey bats and a crane in flight above, the painted enamel handle decorated in blue grisaille with composite foliate scroll between ivory mounts, the mount at the end pierced for a silk tassel. 19 5/8 in. (30 cm.) long - Est. $80,000 - $120,000
Provenance: Old Mid-Atlantic private collection.
Notes: This exceptional fan belongs to an elite group of luxury wares produced in the 18th century in Guangzhou, as tribute for the Court. Like the present example, they typically feature bird and flower scenes rendered in delicate ivory appliques superimposed on intricately woven ivory caning, all mounted in a tortoiseshell frame and attached to a painted enamel handle. Several comparable fans are in the Palace Museum, Beijing, and are illustrated in Zhongguo meishu quanji; Zhumu yajiaoqi, vol. 11, Shanghai, 1996, p. 95, no. 113. (Fig. 1); The Palace Museum Collection of Elite Carvings, Beijing, 2002, pp. 181-2, nos. 140-1; Gugong zhenbao, Beijing, 2004, p. 159; and Tributes from Guangdong to the Qing Court, Art Gallery, The Chinese University of Hong Kong, 1987, p. 71, no. 7. See, also, the fan of similar type included in the exhibition Chinese Ivories from the Kwan Collection, Art Gallery, The Chinese University of Hong Kong, 28 July - 14 October 1990, p. 351, no. 184.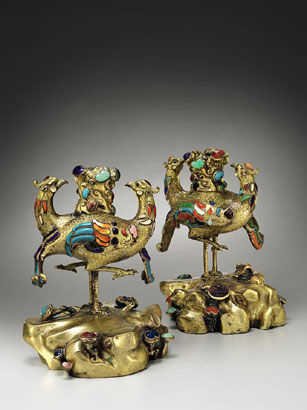 A rare pair of hardstone and glass-inlaid gilt-bronze phoenix-form candle holders. Qianlong period (1736-1795)
Finely cast as two phoenixes standing side by side on a rockwork base from which sprouts lingzhi fungus, the two birds facing in opposite directions with heads turned backwards facing the candle holder cast as a gnarled stem bearing further stems of lingzhi which rises from their joined, hollow bodies engraved with fine feather markings, inlaid all over with various hardstones. 7¾ in. (19.7 cm.) high (2). Est. $60,000 - $80,000
Provenance: Christie's, New York, 27 November 1991, lot 59.
Notes: A related candle holder with two birds surrounding a hollow trunk in the Victoria and Albert Museum, London, is illustrated by P. Rawson and L. Legaza, Tao, la Philosophie Chinoise de Temps et du Changement, Paris, 1973, p. 101, fig. 17. See, also, the similar example sold in our Paris rooms, 21 November 2008, lot 161.
Also related are hardstone-embellished gilt-bronze censers of qilin form and Qianlong date, such as the example illustrated in A Special Exhibition of Incense Burners and Perfumers Throughout the Dynasties, Taipei, 1994, no. 119, as well as the example sold in our Hong Kong rooms, 29 November 2005, lot 1584.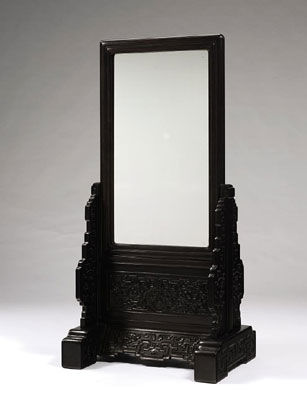 A rare large zitan floor mirror. 18th-19th century
With beaded, rounded rectangular zitan frame enclosing the glass panel and set into the solid zitan base carved on both sides with horizontal panels of confronted archaistic kui dragons repeated on the shaped aprons, flanked by tall spandrels carved in similar fashion and set into shoe feet carved with further archaistic scroll. 65 in. (165.1 cm.) high, 32½ in. (82.6 cm.) wide, 21½ in. (54.6 cm.) deep. Est. $100,000 - $150,000
Provenance: Acquired by the grandfather of the present owners, Whampoa, Guangdong, circa 1890-1920s, thence by descent within the family.
Notes: Standing mirrors of this size appear to be quite rare, although smaller examples are known. It is also a possibility that the current frame once held an embellished or enameled panel. See, for example, the slightly smaller (141 cm.) mid-Qing zitan floor screen with ivory inlays of the thirteen foreign firms in Guangzhou, illustrated in Witness to the Qing Empire: Cultural Relics From the Palace Museum, vol. III, Macau, 2007, p. 345, no. 94. See another larger (218 cm.) 18th century floor screen inset with an enameled panel depicting European ladies, illustrated by X. Yang and C. Zhu in Secret World of the Forbidden City: Splendors From China's Imperial Palace, Bowers Museum of Cultural Art, Santa Ana, 2000, p. 63.

It is interesting to note that this particular style of archaistic carving on the aprons, horizontal panel and spandrels appears frequently on mid and late Qing dynasty furniture, and seems to be derived from an early Qing form. Compare the similar carving on the rails of a zitan luohan chuang in the collection of the Palace Museum, Beijing, illustrated in Ming Qing Guting Jiaju Da Guan, vol. I, Beijing, 2006, p. 73, where it is dated to the Qing dynasty. See ibid., vol. II, p. 431, pl. 463, for a detail of an early Qing table spandrel showing a similar, though less formalized archaistic carving of a dragon.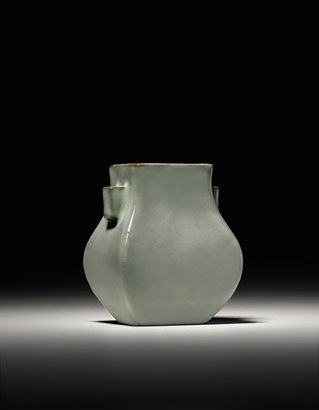 A rare and important imperially inscribed guan-type faceted vase, fanghu. Late Ming/early Qing dynasty, 17th-early 18th century
Of compact pear form and rectangular section, with a pair of faceted lug handles, covered inside and out with a glaze of pale bluish-grey color thinning on the edges to mushroom color and ending at the edge of the brown-dressed foot, in imitation of Song dynasty Guan wares, the base similarly glazed and inscribed with an 'Ode to the small Guan-type hu' composed by the Qianlong emperor, and dated Qianlong yushi yiwei, 'Spring of the yiwei year of the reign of Qianlong', corresponding to 1775. 4½ in. (11.5 cm.) high. Est. $200,000 - $300,000
Provenance: Mrs. Alfred Clark; Sotheby's, London, 25 March 1975, lot 110.
Eskenazi, London.
Earl and Irene Morse Collection, New York.
Exhibited: Arts de la Chine Anciennes, Musée de L'Orangerie des Tuilleries, Paris, 1937, no. 496.
Ju and Kuan Wares - Imperial Wares of the Sung Dynasty, Related Wares and Derivatives of Later Date, Oriental Ceramic Society, London, 12 November - 13 December 1952, no. 73.
Notes: The inscription on the current vase may be translated as follows:

'After Chaiyao, Guanyao is the finest and highest quality ware - exceptionally rare and difficult to fire
When you touch its surface, the lustrous glaze is so fine and delicate, and its size is well suited to the scholar's desk
It is easier to carry this vase when both handles are tied with a string, and contemplating this vase will bring relaxation
Ceramics of square shape are much more difficult to produce than those of rounded section, and taking the time to appreciate this vase will bring calm'.

This beautifully made, small, square-section vase with twin lugs (fanghu), reflects the interest in archaism that flourished in the Ming dynasty and was taken up with enthusiasm by the Qing emperors. Indeed, this vase has two aspects to its archaism. On the one hand its form is based upon a metal vessel of the Bronze Age, while its glaze imitates the Guan wares made for the Southern Song court. Interestingly, the fanghu form was also copied in ceramics during the Song dynasty, and Southern Song Guan ware examples have been preserved in both of the major Chinese palace collections. An example from the collection of the Palace Museum, Beijing, is illustrated in The Complete Collection of Treasures of the Palace Museum - 33 - Porcelain of the Song Dynasty (II), Hong Kong, 1996, pp. 6-7, no. 3.

The Beijing palace collection also contains some 18th century ceramic fanghu vessels with glazes imitating Song dynasty wares. A vase bearing a Qianlong mark with a glaze which copies Northern Song Ru ware is illustrated ibid., vol. 37, Monochrome Porcelain, Hong Kong, 1999, p. 238, no. 216, while a Yongzheng vase with imitation Guan ware glaze, which is nearer in proportions to the current vessel, is illustrated in the same volume, p. 227, no. 205. A small vase of very similar proportions to the current vessel, and also bearing a Guan-type glaze is in the collection of the Harvard Art Museum, to which it was donated in 1946. Unlike the current vase, the Harvard vase has a molded design under the glaze on the lower neck and shoulder, but like the current vase, it bears a Qianlong inscription incised into the glaze on its base. The date of the Harvard inscription is 1783, while that on the current vase is 1775.

This vase was included in the exhibition Arts de la Chine Ancienne, Musée de l'Orangerie des Tuileries, Paris, 1937, in case V of the Ceramics Room as exhibit 496. A photograph taken at the time of the exhibition shows the vase on the upper shelf of a case mainly occupied by pieces from the famous collection of Sir Percival David.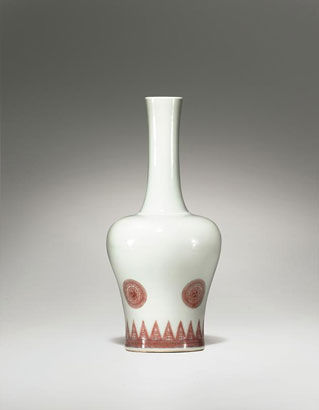 A rare and finely painted underglaze copper-red and blue 'mallet' vase, yaoling zun. Kangxi six-character mark in underglaze blue and of the period (1662-1722)
The high-shouldered body tapering towards the foot and finely painted in soft copper red with four circular medallions in the form of archaistic mirrors positioned above a band of upright blades rising from a herringbone band divided and outlined by fine lines in pale underglaze blue, the tall, slightly waisted neck rising from a bow-string band at its base. 9 1/8 in. (23.2 cm.) high - Est. $600,000 - $800,000
Provenance: Christie's, London, 8 April 1981, lot 33.
Private American collection.

Literature: A. de Boulay, Christie's Pictorial History of Chinese Ceramics, Oxford, 1984, p. 207, no. 5.
Notes:
An Elegant Underglaze Copper-Red and Blue Mallet-form Vase

Rosemary Scott, International Academic Director, Asian Art

Vases of this rare form appear decorated both in underglaze cobalt blue and also, like the current example, in underglaze copper red with underglaze-blue lines encircling the base. Both types have underglaze-blue six-character Kangxi marks. An underglaze-blue example in the collection of the Palace Museum, Beijing is illustrated in The Complete Collection of Treasures of the Palace Museum - 36 - Blue and White Porcelain with Underglaze Red (III), Hong Kong, 2000, p. 15, no. 11. An underglaze copper-red-decorated yaoling zun in the collection of the Tianjin Museum is illustrated in Porcelains from the Tianjin Municipal Museum, Hong Kong, 1993, no. 130. Another copper-red example, similar to the current vase, but with less well-controlled copper red, is in the collection of the Shanghai Museum, illustrated in Kangxi Porcelain Wares from the Shanghai Museum Collection, Hong Kong, 1998, pp. 10-11, no. 7. A similar copper-red example in the Baur Collection is illustrated by J. Ayers in The Baur Collection, vol. 4, Geneva, 1974, no. A 528. The Metropolitan Museum of Art, New York, has two Kangxi vases of this form, one decorated in underglaze blue, and one, like the current example, in underglaze copper red. The latter appears slightly smaller and more delicately potted than the former. See Oriental Ceramics, The World's Great Collections, vol.11, Tokyo/New York/San Francisco, 1982, no. 119. Further copper-red examples include one from the Collection of Frederick J. and Antoinette H. Van Slyke, sold at Sotheby's, New York, 31 May 1989, lot 197, and two from the J.M. Hu Collection, sold at Sotheby's, Hong Kong, 29 October 2000, lot 14, and 23 October 2005, lot 351.

The elegant form of these vases, with their long, slender, slightly waisted necks rising from pronounced shoulders, is particularly associated with the Kangxi reign. In Chinese the name often given to this form is yaoling zun, or 'hand bell vase'. The reference is to bronze bells, which formed part of the repertoire of Chinese instruments used in formal secular and religious music, although pottery bells of similar, if less refined form, were made in China as early as the Neolithic period. A greater number of ceramic bells were made during the Warring States period, and the body of the current porcelain bell is close in form to some of the large, handsome, glazed stoneware bells made in Zhejiang province, such as the example in the Asian Art Museum of San Francisco illustrated by He Li, Chinese Ceramics, London, 1996, p. 68, no. 41.

However, in English the form is usually called mallet-form, in reference to earlier ceramic vases which took their shapes from mallets or paper-beaters. Song dynasty vases of this type, known as zhichui ping (paper-beater vase), which were particularly admired, were those of Ding ware (see Song Ceramics - Objects of Admiration, Percival David Foundation, London, 2003, pp. 20-21, no. 1) and Ru ware (see Porcelain of the National Palace Museum - Ju Ware of the Sung Dynasty, Hong Kong, 1961, pp. 30-31, pls. 3a & 3b; and pp. 32-33, pls. 4a & 4b).

However, the sides of the Kangxi porcelain form are slightly concave, in contrast to the convex sides of the Song wares, which are closer in shape to the wooden paper-beaters. In fact, the Kangxi vases are also more attenuated, and the yaoling zun seems to have been a new addition to the Qing dynasty porcelain repertoire in the Kangxi reign and was rarely seen thereafter. It has been noted by the British scholar John Ayers, in discussion of a similar vase decorated in underglaze cobalt blue, that the form of these yaoling zun resembles in form the white Lamaist pagodas of Mongolia and Tibet. See J. Ayers, Chinese Porcelain: The S.C. Ko Tianminlou Collection, part II, Hong Kong Museum of Art, 1978, p. 76, no. 49. The vase is particularly close in form to that of the White Dagoba of the Lamaist temple in Beihai Park in Beijing, which was originally built in 1651 under the Shunzhi Emperor, but following its destruction in an earthquake in 1679, was re-built by the Kangxi Emperor in 1680.

It is not surprising to find that forms influenced by Lamaism or Tibetan Buddhism should be found amongst the porcelains of the Kangxi period. In his youth the Kangxi emperor was much influenced by his grandmother the Grand Dowager Empress Xiaozhuang, who was both a Mongol and a Lamaist Buddhist. Kangxi also compared himself, somewhat disingenuously, with a reincarnation of Kublai Khan in his relationship with his Tibetan Buddhist preceptor, Phagspa. During Kangxi's reign ten Chinese Buddhist monasteries were converted into Tibetan Buddhist monasteries. The Kangxi emperor built the Bishu shanzhuang at Chengde which was used as a retreat from the summer heat of Beijing and for hunting, but also to provide a more relaxed atmosphere in which to meet Mongol and Tibetan chieftains. In the area of Chengde Kangxi also built monasteries, and the great monastery at Dolonar was built near Beijing, which became designated as the center for Buddhism for South Mongolia. Interestingly, some of the policies adopted by Kangxi were known as 'respecting the Dalai Lama in order to pacify Mongolia'.

The underglaze copper-red decoration on the current vase is of a deep raspberry red and has spread slightly into the surrounding glaze, only in a very controlled way that adds richness to the overall design. It is interesting to note some of the special features of the underglaze decoration. On the one hand John Ayers has suggested that "the rosette motif has the flavour of Tibetan Buddhism", Ayers, ibid., p. 76. These rosettes can also loosely be linked to the whorls seen on bronze vessels, but the rising leaves or blades around the base of the vase indicate an even stronger link to ancient bronze vessels. Thus the vase provides an interesting decorative mix, reflecting dual influences - ancient bronze and Lamaism.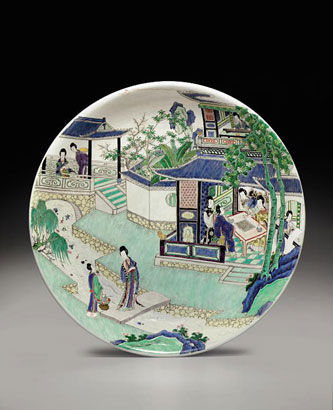 A very rare and unusually large famille verte charger. Kangxi six-character mark in underglaze blue within a double circle and of the period (1662-1722)
With shallow rounded sides rising to a slightly everted rim, the interior finely painted with a scene of court ladies practicing the 'Four Scholarly Pursuits' in garden pavilions, including playing weiqi, playing the qin, painting and calligraphy, while two ladies converse at a bridge where fish and water weeds can be seen in the rushing water below, all in a rich famille verte palette with gilt highlights. 20 7/8 in. (53 cm.) diam., box - Est. $200,000 - $300,000
Provenance: From the Louis Van der Heyden A. Hauzeur Collection, no. 63.
Sotheby's, Hong Kong, 23 May 1978, lot 160.
Literature: Sotheby's, Hong Kong: Twenty Years 1973-1993, Hong Kong, 1993, p. 164, no. 199.
Notes: This unusually large famille verte charger is beautifully decorated in overglaze enamels and gold with a design of elegant ladies engaged in the four 'scholarly pursuits' of painting and calligraphy, playing the qin, and playing Chinese chess (weiqi). The two ladies playing chess, in particular, wear beautiful robes, which are decorated with finely-painted roundels - in gold on the outer blue robe and in black on the outer pale green robe. Even the details of the servants' dress are well painted.

The palette of this charger is distinctive, with minimal use of yellow or iron red, and greater use of various greens and cobalt blue enamel. As the blue enamel had only recently been developed when this charger was painted, it may be that the color-scheme was devised especially to draw attention to the new color. Previously, underglaze blue had been used with the famille verte enamel palette because of the difficulty of producing a good blue enamel using Chinese cobalt, which contains manganese. However, it had been found that the main famille verte palette was greatly enhanced by being painted onto a more opaque white glaze, through which the underglaze blue could not properly be seen. This was the spur to the development of the successful blue enamel seen on this charger.

The composition of the charger is also interesting. The interior is visually divided by a shallow terrace, onto which two of the pavilions open. Two ladies are seated in a smaller pavilion to the left, while four female figures can be seen around a table on the ground floor of the two-storey building on the right. The two most elegantly attired ladies are seated playing chess, watched by two standing figures, one of whom holds a fan decorated with bamboo. Seen through a moon-shaped opening on the right is a lady who stands deep in thought in front of a hanging scroll. She has a brush in her hand, and is about to paint or write on the scroll. At the window in the upper storey a lady sits playing the qin. Another lady, apparently coming to join the groups, has stopped on a bridge in order to talk to a servant carrying a basket.

The four 'scholarly pursuits' in which these ladies are engaged are usually associated with men, but they could also represent the pastimes of an accomplished lady. For example, elegant court ladies are shown 'Playing Chess in the Pavilion of Leisure' on an album leaf representing the third month from a collection of twelve album leaves showing the activities of court ladies in each month of the year by the court artist Chen Mei (c. 1694-1745), which is illustrated in The Golden Exile - Pictorial Expressions of the School of Western Missionaries' Artworks of the Qing Dynasty Court, Macao Museum of Art, 2002, p. 121, no. 45. These depictions so pleased the Qianlong emperor that in 1741 he had them copied in ivory by the famous carver Chen Zuzhang and added inscriptions of his own.
Christi'es. Fine Chinese Ceramics and Works of Art Including Property From the Arthur M. Sackler Collections. 15 September 2009. New York, Rockefeller Plaza. Image Christie's Ltd 2009 www.christies.com