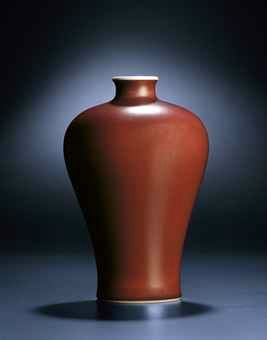 A fine copper-red glazed meiping. Yongzheng six-character mark within double-circles and of the period (1723-1735). Photo: Christie's Images Ltd. 2011
Of finely potted baluster form with rounded shoulders and a short waisted neck, the exterior covered with an even rich red glaze stopping neatly at the everted rim and spreading foot, the interior and base with transparent glaze; 8 1/2 in. (21.5cm.) high, stand, box Estimate HK$2,000,000 - HK$3,000,000($258,286 - $387,430). Price Realized HK$5,060,000 ($653,468)
Provenance: The T.Y. Chao Private and Family Trust Collections of Important Chinese Ceramics, Part 1, sold at Sotheby's, Hong Kong, 18 November 1986, lot 95 (sold as a pair with the preceding lot)
The property of a lady
Exhibited: Ch'ing Porcelain from the Wah Kwong Collection, Chinese University of Hong Kong, Hong Kong, 1973, illustrated in the Catalogue, no. 6
Ming and Ch'ing Porcelain from the Collection of the T.Y. Chao Family Foundation, Hong Kong Museum of Art, 1978, illustrated in the Catalogue, no. 48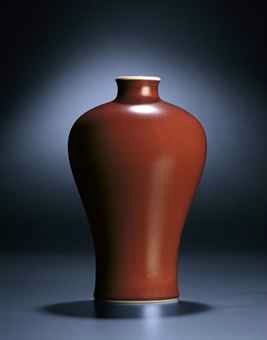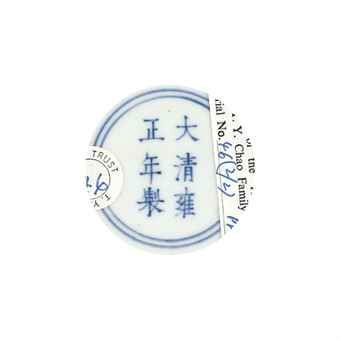 A fine copper-red glazed meiping. Yongzheng six-character mark within double-circles and of the period (1723-1735). Photo: Christie's Images Ltd. 2011
Of finely potted baluster form with rounded shoulders and a short waisted neck, the exterior covered with an even rich red glaze stopping neatly at the everted rim and spreading foot, the interior and base with transparent glaze; 8 1/2 in. (21.5cm.) high, stand, box . Estimate HK$2,000,000 - HK$3,000,000 ($258,286 - $387,430). Price Realized HK$3,620,000 ($467,501).
Provenance: The T.Y. Chao Private and Family Trust Collections of Important Chinese Ceramics, Part 1, sold at Sotheby's, Hong Kong, 18 November 1986, lot 95 (sold as a pair with the proceeding lot)
The property of a lady
Exhibited:
Ch'ing Porcelain from the Wah Kwong Collection
, Chinese University of Hong Kong, Hong Kong, 1973, illustrated in the Catalogue, no. 6
Ming and Ch'ing Porcelain from the Collection of the T.Y. Chao Family Foundation, Hong Kong Museum of Art, 1978, illustrated in the Catalogue, no. 48
Notes: Compare with a copper-red meiping illustrated in The Complete Collection of Treasures of the Palace Museum, Monochrome Porcelain, Hong Kong, 1999, pl. 24. Another slightly larger copper-red meiping (24 cm. high) from the collection of Emily Trevor sold at Christie's New York, 19 September 2007, lot 344.