An exceptional Art Deco 'Tutti frutti' bracelet, by Cartier..Photo: Christie's Images Ltd. 2011
Designed as an undulating circular-cut diamond vine with black enamel border detail, mounted with alternating carved emerald bead leaves and clusters of ruby bead berries studded with diamond collets, to the pavé-set diamond buckle clasp, circa 1928, 18.5cm long;. Signed Cartier, no. 7250. Estimate £300,000 - £400,000 ($490,500 - $654,000). Price Realized £1,150,050 ($1,880,332)
Literature: Cf. Judy Rudoe, 'Cartier 1900-1939', published by Metropolitan Museum of Art, New York, 1997, p.228, no. 158, for a similar bracelet made in 1928.
Notes: Few jewels have captured the imagination and enthusiasm of connoisseurs and collectors as the Tutti Frutti creations by the Maison Cartier. These pieces are directly inspired by the intricate Mogul carving and craftsmanship found throughout the decorative arts of India from the 16th century onwards.
Jacques Cartier was to make his first trip to India in 1911. This visit had a profound effect on the jewels produced by the firm throughout the 1920s and 30s and indirectly affected the entire field of jewellery design which Cartier so strongly influenced. Alongside the rather severe, geometric Art Deco style, mainly executed in diamonds, Cartier produced vibrant Tutti Frutti jewels, full of colour and flowing naturalistic design. Summing up the influence that Mogul jewellery had on the designs of Cartier, Ettagale Blauer wrote, "Though strongly influenced by the Indian jewellery, the Cartier designs are marked only by the most finely extracted essence of that style: the spirit and colour are reproduced, but we see no trace of the coarseness of the original design." Such was the skill of the Cartier workshop at its zenith, reworking such exotic influences into consummately elegant jewels.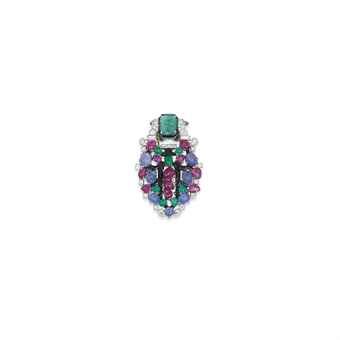 A rare Art Deco 'Tutti frutti' clip brooch, by Cartier. Photo: Christie's Images Ltd. 2011
Designed as a shield-shaped openwork onyx plaque mounted with a series of carved sapphires and ruby leaves interspersed by cabochon emerald and diamond detail, the pavé-set diamond terminal mounted with a ribbed rectangular-shaped emerald to the black enamel surround, circa 1928, with French assay mark for platinum, 6.0cm long. Signed Cartier, number indistinct. Estimate £55,000 - £65,000 ($89,925 - $106,275). Price Realized £103,250 ($168,814)
Literature: Cf. Hans Nadelhoffer, 'Cartier', Thames & Hudson Ltd, London 2007, p.172, no. 203 for a pair of similar Tutti Frutti clip brooches.
Christie's. Important Jewels , 8 June 2011, London, King Street www.christies..com