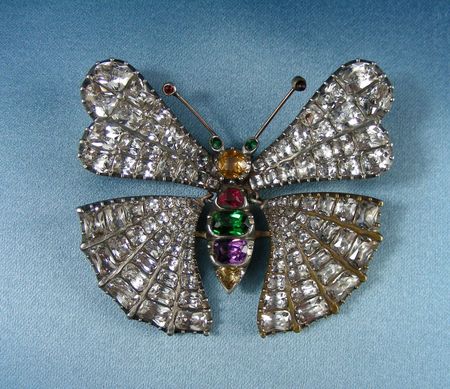 Butterfly. White and coloured paste, close set in silver. French, 18th century. Width: 50 mm
A glittering exhibition of paste and other jewellery dating from the golden years of the 18th and 19th centuries will be staged by S.J. Phillips Ltd., 139 New Bond Street, London, from Tuesday 15 to Tuesday 29 June 2010. Founded in 1869, S.J. Phillips is a leading dealer in antique and modern silver, jewellery and objets de vertu and one of the oldest family-owned antiques shops in the world, run by Nicolas, Jonathan and Francis Norton, great-grandsons of S. J. Phillips.
The exhibition, comprising some 100 pieces, most of which come from a private collection, will provide a comprehensive overview of paste between 1750 and 1900. It will be accompanied by a fully-illustrated catalogue written by Diana Scarisbrick, the world-renowned jewellery historian, with a foreword by Anna Wintour, Editor-in-Chief of American Vogue since 1988. As the first publication on the subject for over 30 years, it will throw new light on an area of jewellery that has been rather neglected. Remarkably, the jewellery, with its wonderful colours and wearable designs, has not dated and still appeals to women today and is relatively accessible with prices ranging from £500 to over £25,000.
Paste jewellery is part of a tradition dating back to antiquity when craftsmen discovered that glass could provide a fine substitute for the colour, brilliance and splendour of expensive gemstones. Roman writers, describing the passion of rich men and women for gold jewellery set with emeralds and pearls imported from the East, remarked that those who could not afford genuine gems sought the same effect. Similarly in the Middle Ages, when wealth was also expressed by the possession of valuable gold and jewellery, there was a demand for substitutes met by the glass makers of Bohemia, Venice and Paris. Glass even appears in the collections of Elizabeth I, Mary Queen of Scots, Queen Anne (wife of James I), the first Duchess of Marlborough and, among others in France, Henri IV.
During the 17th century the demand for glass imitations increased as jewellery design focused on the display of stones, especially diamonds. English travellers to both Venice and Paris remarked on the quality of imitation stones and the translation by Christopher Merrett, a London physician, of A. Neri's L'Arte Vetraria (Florence 1612) stimulated English makers to follow suit. George Ravenscroft perfected a formula for colourless glass with greatly improved optical properties, creating copies that were so good that speculation on whether jewels were genuine or not was one of the amusements of society.
There followed in the 18th century the great flowering of paste jewellery, coinciding with what was called 'the age of the diamond'. Improvements in lighting with wax candles meant that diamonds could be seen to their best advantage especially since not only had the brilliant cut been mastered but setting and foiling techniques had also greatly improved. Paste gems were made by equally skilled craftsmen who produced excellent imitations, bright and hard, which were similarly set in well-designed jewellery.
Among the best examples of beautiful 18th century pieces to be exhibited is a stunning French butterfly in white and coloured paste close set in silver, the wings pavé set with white pastes and the head, thorax and abdomen set with coloured pastes (first above). A glamorous pair of girandole earrings in pink and white pastes set in silver is probably French dating from the early 18th century. The design is of 17th century origin and named 'girandole' as it resembles the branches of a candlestick (below).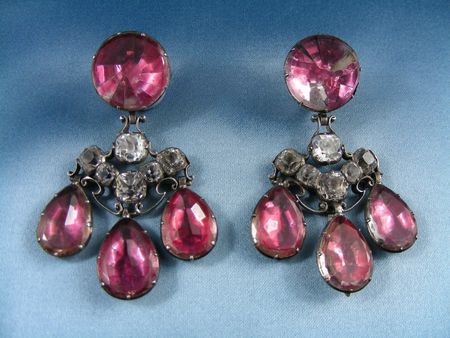 Girandole earrings. Pink and white pastes, close set in silver. Probably French, early 18th century. Length: 65 mm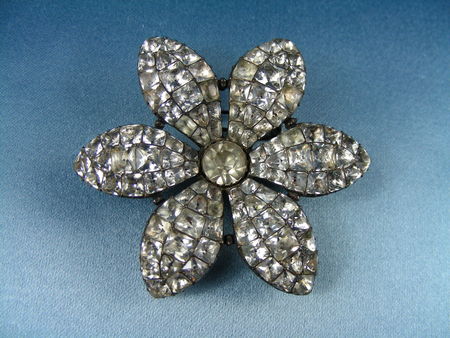 Jessamine. White paste, close set in silver. English, late 18th century. Width: 48 mm
A late 18th century English jessamine flower head of white paste close set in silver (above) is a favourite English neo-classical design which has been consistently copied and was often seen being worn by Mrs Thatcher. A pair of top and drop earrings in white paste close set in silver illustrates another very popular 18th century design. The round cluster at the top can be worn on its own in the daytime and the separate pendeloque attached to provide additional glitter in the evening candlelight (below).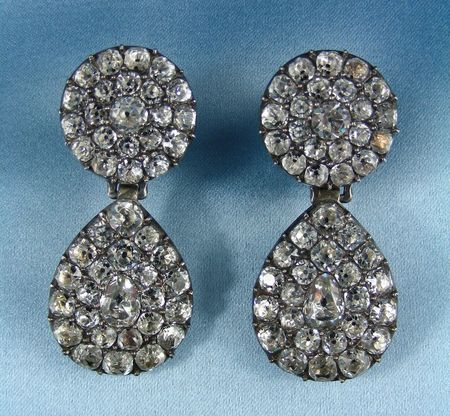 Top and drop earrings. White paste, close set in silver. 18th century. Length: 48 mm
The Parisian jewellers G.F. Strass and Madame Cheron were particularly successful makers of paste while English makers excelled at a white paste, brilliant cut and set in simple mounts that were ideal for buckles and buttons, or clusters, such as two brilliant cut white and green paste examples set in silver. With the fine proportions and excellent workmanship which characterise the best English paste jewellery, they could still transform any outfit (below). All the leading jewellers sold paste which appealed not only to those of modest means but also to the rich as it could be worn without having to worry about thieves and was a sensible substitute when travelling – attributes which continue to attract buyers today.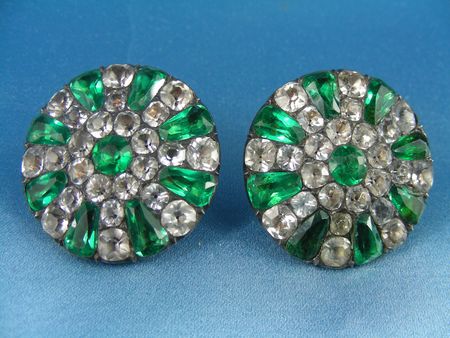 Clusters. Brilliant cut white and green paste, close set in silver. Probably English, 18th century. Diameter: 34 mm
Demand for paste continued to increase in the early 19th century and, between 1810 and 1830, a fashion for bright colours in dress as well as jewellery eclipsed white paste 'diamonds'. Parures or matching sets of imitation amethyst, topaz, emerald and sapphires survive to illustrate this taste, which is exemplified by an early 19th century English parure in blue paste close set in gold. The pair of bracelets, necklace with Greek cross pendant, top and drop earrings and open brooch/buckle are all still in the original fitted case. Over the years, much old jewellery has been broken up for the stones, particularly parures, so paste survivals are of great interest. Another piece that reflects the love of colour is a tiny early 19th century Harlequin, the many patches on his costume set with pastes of different colours and shapes. This charming piece could be worn with any colour and its wit would always raise a smile (below).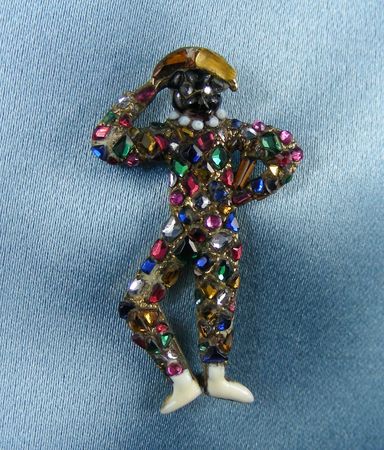 Harlequin. Coloured and opaque white pastes, close set in gilt metal. Probably French, early 19th century. Height: 32 mm
sses, which are very fashionable today, are represented by several examples from France and England as well as a Spanish green paste cross set in silver, circa 1830. Emeralds from South America are characteristic of Spanish jewellery so emerald green paste was used here as a substitute (below).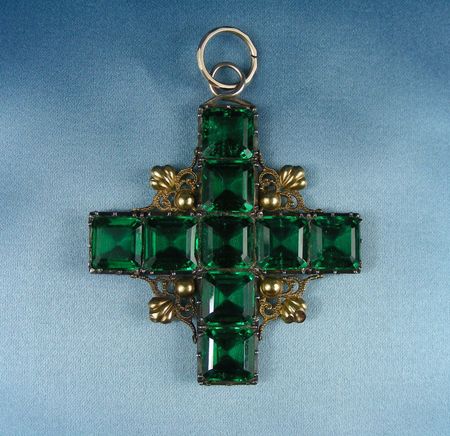 Greek cross. Green paste, close set in silver. Spanish, c. 1830. Width: 55 mm
There are also four 18th century badges of the Order of Christ, awarded by the monarchs of Portugal, designed as double crosses in paste mixed with real gemstones (below).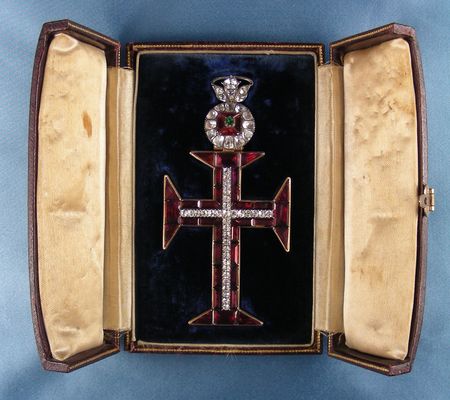 Badge of Order of Christ. Garnet, white paste, emerald, close set in silver. Portuguese, 18th century
Another, very glamorous, Portuguese piece from the late 18th century is an aigrette made from chrysoberyls and tawny topazes close set in silver (below). These, and other popular semi-precious stones, were produced in large quantities in the Portuguese dominion of Brazil which is why paste jewellery is less common in Portugal than elsewhere.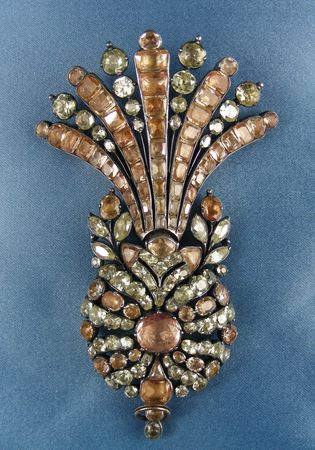 Aigrette. Chrysoberyls and tawny topazes, close set in silver. Portuguese, late 18th century. Length: 98 mm
The ritual of mourning was strictly observed in the 19th century which led to the manufacture of suitably sombre jewellery. The jewellery could be made of black enamel or onyx with seed pearl but was principally of jet, both the genuine article from Whitby and the 'French', or black glass version, which was not only less expensive but could also be moulded into a greater variety of patterns. A particularly striking example is a bib necklace of French jet mounted in silver (below)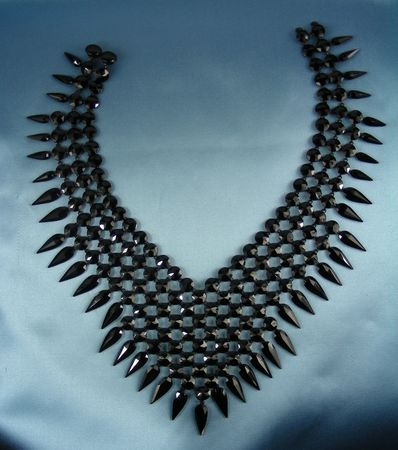 Bib necklace. French jet, mounted in silver. Possibly English. 19th century. Length: 39 cm
In the second half of the 19th century designs became more naturalistic as the moneyed classes looked for something new and different. Flowers, leaves, bees, butterflies, a variety of insects, lizards, frogs, birds and tortoises were all popular. The Vauxhall Glass Manufactory produced mirrored glass that was much used in the production of inexpensive jewellery particularly by makers in Birmingham. This glass was ideal for insect pieces such as the elegant red and green glass moth brooch with gold wire body, legs and antennae (first below) and for other novelty items such as the red glass horseshoe brooch – then as now – a popular good luck motif (second below).
Moth brooch. Red and green glass, mounted in gilt metal. English, after 1870. Length: 40 mm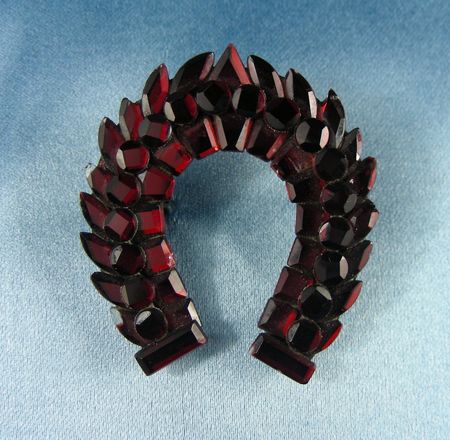 Horseshoe brooch. Red glass, mounted in gilt metal. English, 19th century. Width: 32 mm
In 1869, Queen magazine stated the case for 'sham' jewellery: "If the profession or career of the husband requires that his wife should go much into society on a small income, she would be perfectly justified in wearing imitations to save money. ….it cannot be wrong for a lady who cannot afford and has not inherited them to wear a moderate amount of paste." The article added that she should not give the impression that her 'jewels' were of any value.
This exhibition offers an unusual opportunity to see the development of paste jewels over 150 years of changing tastes and fashions. It demonstrates the quality, excellent design, colour, range and charm of the best paste and shows why it has given pleasure to women throughout the generations and continues to do so.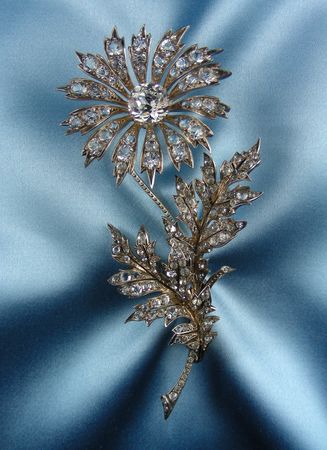 Daisy. White paste, mounted in silver and gold. French, c. 1890. Height: 115 mm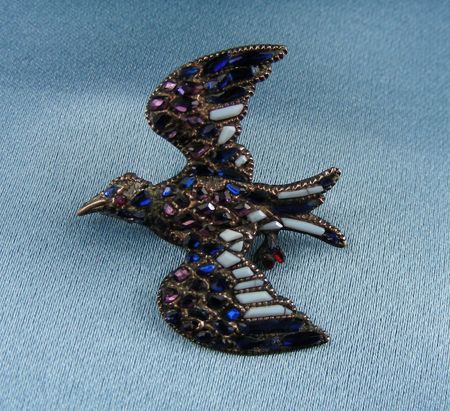 Bird. Enamel, blue, pink and opaline pastes, mounted in gold with silver back. French, 19th century. Length: 34 mm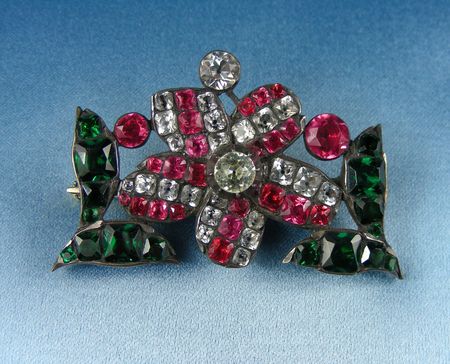 Five-petalled flower. Silver, white, red and green pastes. Probably French, 18th century . Width: 50 mm