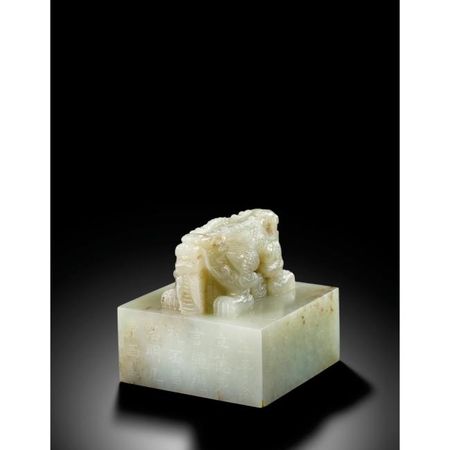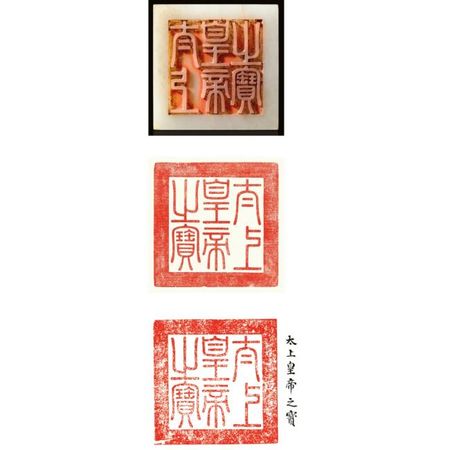 An Important lmperial White Jade Seal With An Imperial Poem Qianlong Yuti Mark, Jiaqing Period, Dated To 1796. Photo Sotheby's
of large square form, surmounted by a superbly carved pair of addorsed dragons, each powerfully carved with alert eyes and flaring nostrils above curling whiskers and a jaw bearing sharp fangs, the scales and flowing mane meticulously incised, the two scaly bodies tightly intertwined and crouching on the haunches, pierced through the centre with an aperture, the four vertical sides incised with an imperial poem, dated to the bingchen year of the Jiaqing reign corresponding to 1796, the square seal face deeply and crisply carved with the characters Taishang Huangdi zhi bao ('Treasure of the Emperor Emeritus'), the stone of a milky-white tone with natural inclusions; 8.2 cm., 3 1/4 in. Estimate 30,000,000—40,000,000 HKD. Lot Sold 64,500,000 HKD (8,269,231 USD) to an Asian Private
PROVENANCE: A private family collection.
Christie's Hong Kong, 27th November 2007, lot 1861.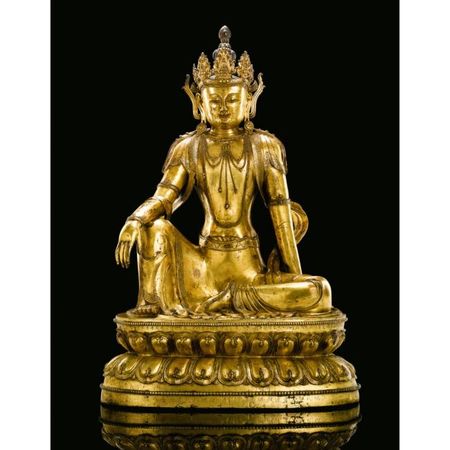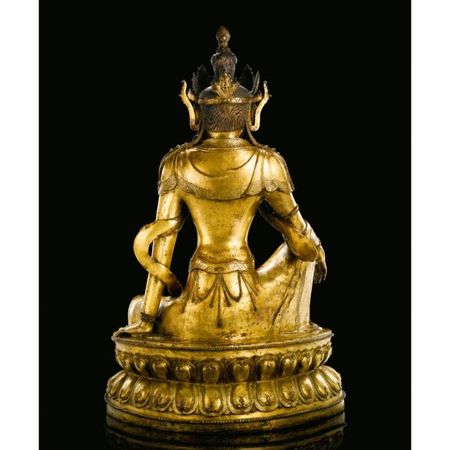 A Magnificent And Very Rare Inscribed GiIt-Bronze Figure 0f Avalokitesvara, Ming Dynasty, Xuande Period, Dated To 1435. Photo Sotheby's
finely cast and seated in rajalilasana, his left hand resting on the lotus pedestal behind and the right arm supported by the raised knee, the serene face with downcast eyes, surmounted with a five-leaf crown, inset with a diminutive figure of Buddha Amitabha to the central leaf, enclosing the tightly curled hair rising to an elaborate high chignon and jewel, the pendulous earlobes with wheel-shaped earrings, wearing a patterned shawl and dhoti, elaborately bordered with chased and engraved lotus, peony and chrysanthemum on a circle-punched ground, the chest bare, wearing an elaborate beaded necklace, bejewelled bangles and armlets, supported by a double lotus pedestal with a dated inscription corresponding to 1435; 78 cm., 30 3/4 in. Estimate 30,000,000—40,000,000 HKD. Lot Sold 33,140,000 HKD (4.248,718 USD) to an Asian Private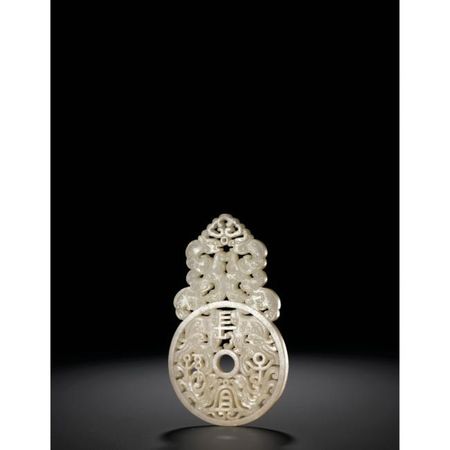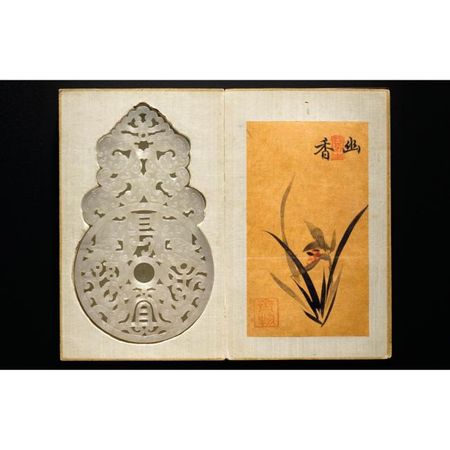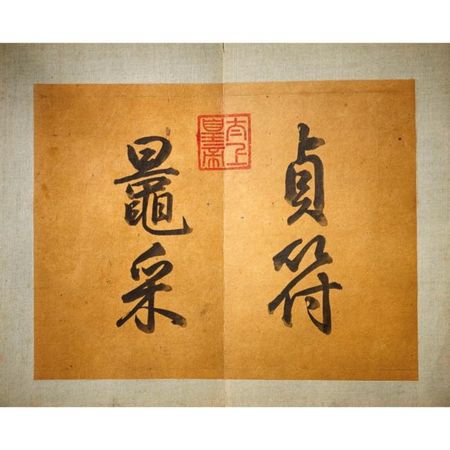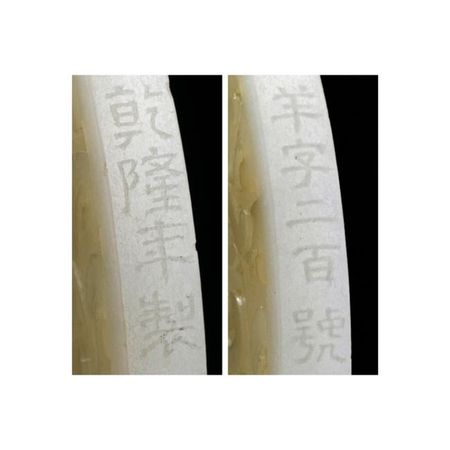 A Rare White Jade Bi Disc And Album Iricised. Mark And Period of Qianlong. Photo Sotheby's
the translucent stone of a milky white tone, meticulously carved in openwork, with four characters Chang yi zisun ('To Benefit Future Generations Forever'), surrounded by two pairs of stylised phoenix, the terminal above deftly carved with a pair of confronting phoenix beneath a scrolling cloud, the narrow sides incised with a Qianlong nianzhi mark and the characters yang zi erbai hao ('Number 200 of Yang'), the jade mounted in an album with a small ink painting of orchid on the opposite page, inscribed Youxiang ('Delicate Fragrance'), impressed with seals Xiesheng ('Life Drawing') and Qiwu ('To Equalise Things'), the frontispiece bearing a four-character inscription Zhenfu zhaocai ('Auspicious Edict, Beautiful Jade'), impressed with a seal Taishang Huangdi ('Emperor Emeritus'), together with a wood front cover carved with the characters Zhenfu zhaocai filled-in with ground lapis lazuli; jade 13.5 cm., 5 3/8 in.; album 15.6 by 9.5 cm., 6 1/8 by 3 3/4 in. Estimate 3,000,000—4,000,000 HKD. Lot Sold 11,300,000 HKD (1,448,718 USD) to an Asian Private
PROVENANCE: Collection of L. de Luca, 1900 (according to inscription).
NOTE: The Qianlong emperor's penchant for the antique saw a great number of copies of ancient jades and archaistic carvings to be produced during his reign. This expertly carved piece is based on the bi, an ancient ritual disc that according to Han ritual texts and commentaries symbolised Heaven. Although this piece was not intended to serve any ritual purpose, under the Qianlong emperor jade discs continued to be associated with Heaven and were seen as a symbol of power and the Emperor's appreciation of antiquity. A closely related example mounted in a very similar album, but illustrating a leafy bamboo branch, in the Qing Court collection and still in Beijing, is published in The Complete Collection of Treasures of the Palace Museum. Jadeware (III), Hong Kong, 1995, pl. 127; another, with the album illustrating a marigold, was sold in these rooms, 27th April 2003, lot 3, and was included in the exhibition A Romance with Jade from the De An Tang Collection, Palace Museum, Beijing, 2004, cat. no. 21; and a third example, but lacking the album, in the Fitzwilliam Museum, Cambridge, is included in James C.S. Lin, The Immortal Stone. Chinese Jades from the Neolithic Period to the Twentieth Century, Cambridge, 2009, pl. 77a and b.
For the prototype of this bi, see a large disc decorated with a pair of dragons in ornate openwork excavated in the tomb of Liu Sheng (d. 113BC) at Mancheng, Hebei province, illustrated in Zhongguo meishu quanji yuqi, vol. 9, Beijing, 1991, pl. 164. See also another bi attributed to the Eastern Han dynasty (AD25-220) similarly carved with chilong flanking the characters chang le ('happiness') in openwork carving above a disc, in the Qing Court collection and still in Beijing, included in The Complete Collection of Treasures of the Palace Museum. Jadeware (I), Hong Kong, 1995, pl. 217; together with a jade bi carved with a dragon and two phoenixes, attributed to the Western Han dynasty (206BC-AD9), pl. 215.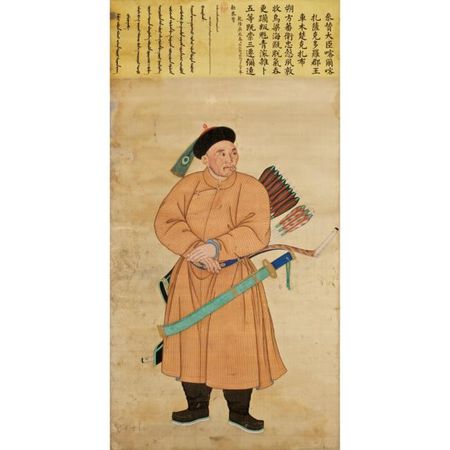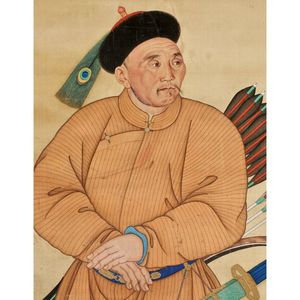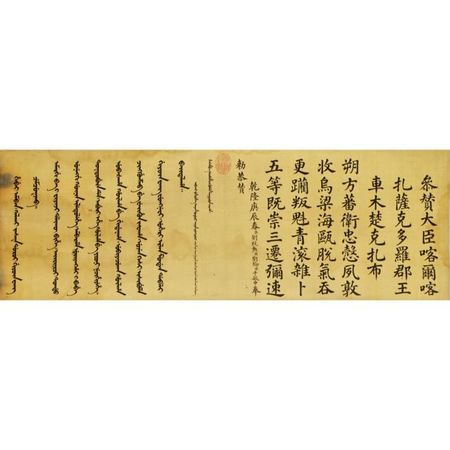 An extremely rare and important imperial court painting of the bannerman Cemcukjab attributed to Ai Qimeng (Ignaz Sichelbart) (1708-1780) and Jin Tingbiao (Fl. 1757-1767). Qing dynasty, Qianlong period, dated to 1760. Photo Sotheby's
hanging scroll, ink and colour on silk
portraying the commanding officer of the northern borders of the Qing empire, with a distinguished war-weathered face, donning a fur-lined hat marked by a red glass bead and a peacock feather with a single-eyed plume, danyan hualing, dressed in a beige striped robe over black silk boots with white soles, his left hand resting atop the right hand at his waist, his belt securing his ceremonial sword concealed in a green shagreen sheath, his buffalo horn bow slung over his back along with a quiver of arrows with two types of fletching, all below a eulogy with several lines of text written on the right side in Chinese in kaishu (standard script) and in Manchu on the left, with one seal of the Qianlong Emperor, Qianlong Yulan Zhi bao; 151.5 by 95 cm., 60 3/8 by 37 3/8 in. Estimate 5,000,000—6,000,000 HKD. Lot Sold 7,220,000 HKD (925,641 USD) to an Asian Private
PROVENANCE: Acquired in Germany.
EXHIBITED: Die Bilder für die Halle des Purpurglanzes: Chinesische Offiziersporträts und Schlachtenkupfer der Ära Qianlong (1736-1795), Museum für Ostasiatische Kunst, Berlin, 2003, cat. no. 4.
LITERATURE AND REFERENCES: Charles R. Bawden, 'The Mongolian rebellion of 1756-1757'. Journal of Asian History 2. 1968, pp. 1–31.
Hartmut Walravens, 'New material on the portraits of meritorious officers of the Qianlong campaigns', Historical and Linguistic Interaction Between Inner-Asia and Europe, Szeged, Hungary, 1997 (Studia uralo-altaica 39), pp. 401–423.
Nie Chongzheng, Tan Ziguangge Gongchuan Xiang ['A discussion about the meritorious officers paintings of Ziguangge' (Hall of Purple Splendour)], Beijing, Zijincheng, 156.2008, pp. 138–169, esp. 151–152.
NOTE: This painting shows Cemcukjab (d. 1776), a commanding offficer of the northern borders of the Qing Empire, whom the eulogy describes as a meritorious officer of loyal and upright character who played a pivotal role in bringing peace to the area of Urianghai by completely subduing the robbers and capturing the rebel-chief Cinggunzab alive. For his bravery and military ability he was granted special favours and made a Prince of the second degree.
The translation from Manchu reads:
The councilor to the government, the Manchu Prince second degree, Kalka-Jasak Cemcukjab.
He was the protector and shield of the North, always demonstrating loyal and upstanding character, largely bringing peace to the area of Urianghai by completely subdueing the wicked and evil robbers.
He took the rebels by surprise, captured the heinous robber Cinggunzab [in Mongolian: Činggüncab] alive, after which he was granted special favor and made a prince of the second degree.
He was altogether promoted thrice, in quick succession.
In [gengchen] 1760 the officials Liu Tongxun , Liu Lun and Yu Minzhong received the imperial command to respectfully compose this eulogy.
Bannerman Cemcukjab distinguished himself in the Eastern Turkestan campaign (Xinjiang 1755-59), one of the major victorious campaigns of the Qianlong emperor where he sought to control the Dzungar state and secure the boundaries of Chinese Turkestan. This campaign helped eliminate Dzungar rivalry for control over the Dalai Lamas in Tibet and led to the pacification of the Islamicised, Turkic-speaking southern half of Xinjiang, thereby securing Qing imperial control over the vast region of Inner-Asia.
The present portrait is the sixth painting from the second series of bannerman paintings created in 1760. The eulogies of the second series of portraits were composed and written by the eminent officials Liu Tongxun, Liu Lun and Yu Minzhong. The painting shows Cemcukjab in his prime wearing a light brown striped surcoat and a single-eyed peacock feather attached to the back of his black fur-trimmed winter hat, an imperial gift bestowed only to officers who had distinguished themselves in a military campaign. His naturalistically rendered weathered face is depicted in three-quarter view, which is characteristic of this type of traditional Chinese portrait painting. The thick ink brushstrokes outlining the body and the vivid palette are typical of the painting style of the imperial academy of the 18th-century. A close look at the face reveals the influence of Western painting techniques introduced by Jesuit missionary artists at the Qing court. The modelling of the face is intense and naturalistic, especially in the eyes that are painted with white specks.
It is interesting to note that while professionally cleaning this painting, it was discovered that the figure's name was inscribed on the silk beneath the face. This supports the theory that the court artists painted the body, while the faces were left to the Jesuits to paint. In order not to wrongly match up heads and figures the person's name was written in the place where the face was to be later inserted.
For further information on bannerman paintings see Nie Chongzhen, 'The Newly Discovered Bannerman Painting of Yisamu from Ziguang Pavilion', Imperial Peking. The Last Days, Sotheby's, London, 2007, pp. 112-3. Various such paintings have been sold in our rooms; see a painting of the Bannerman Zha Er Shan, from the same series as the present one, sold in London, 13th May 2009, lot 136; and another of the Bannerman Yisamu, attributed to Ai Qimeng and Jin Tingbao, sold in Hong Kong, 9th October 2007, lot 1314, together with portraits of Bannerman Tanibu, lot 1315 and Bannerman Dalhan, lot 1316.
Further bannerman portraits include that of Hu Er Cha Ba, sold in New York, 3rd June 1986, lot 90; of the General Fu Heng, also sold in New York, 23-25th April 1987, lot 56; and a set of ten paintings from a handscroll of fifty paintings of bannermen by Jin Tingbao, also commissioned by the Qianlong emperor in 1769, again in New York, 31st March – 1st April 2005, lot 280. A group of bust-size oil paintings can be found in the Museum fur Volkerkunde, Staatliche Museen in Berlin, illustrated in Herbert Butz et al., Bilder fur die 'Halle des Purpurglanzes'; Berlin, 2004, pls 12-17.
Imperial bannerman paintings were housed in the Ziguange (Hall of Purple Splendour), a hall of fame for immortalised heroes, located in the West Garden of the Imperial Palace precincts in Beijing.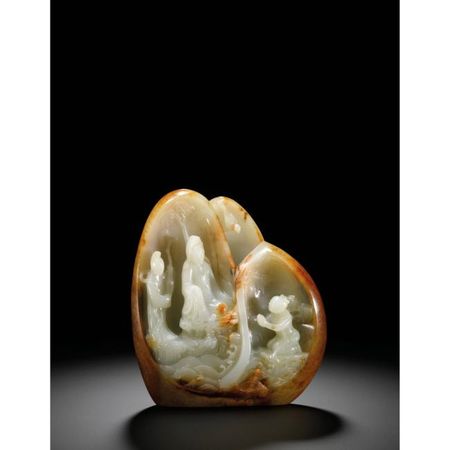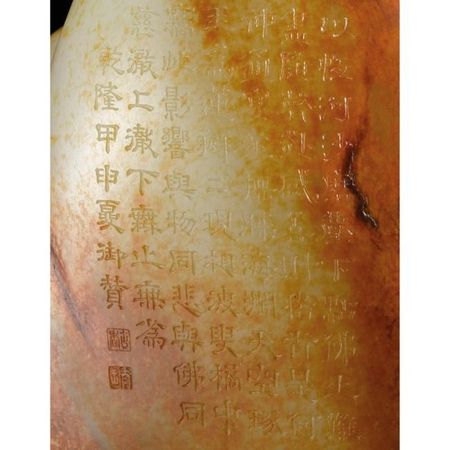 A Fine And Rare lnscribed Carved White And Russet Jade Boulder. Mark And Period of Qianlong. Photo Sotheby's
finely and deeply carved to the front face depicting Guanyin seated on a rockwork pedestal, wearing loosely draped robes, an attendant standing behind her holding a vase containing a single willow branch, with a boy kneeling towards her in a position of deference, amid bamboo trees, with swelling waves crashing against the rocks below, a magpie perched above, round and smooth the reverse side skilfully carved utilising the natural inclusions in the stone, neatly incised to the centre with a six-column poem in kaishu, ending with the seven-character mark Qianlong jiashen xia yu zan ('appraised by the Qianlong emperor in the summer of 1764'), followed by two seals, the stone of a pale celadon-white tone, with attractive warm russet inclusions on the reverse, later wood stand; 16 cm., 6 1/4 in. Estimate 1,500,000—2,500,000 HKD. Lot Sold 7,220,000 HKD (925,641 USD) to an Asian Private
PROVENANCE: Sotheby's Hong Kong, 16th November 1983, lot 383.
NOTE: The inscription comes from Qing Gao Zong yuzhi shi wen quanji, yuzhi wen er ji (Anthology of Imperial Qianlong Writings), juan 41, p. 5, and can be translated as follows:
By river sands working ever constantly
All crudity is thus worn entirely away,
But the Buddha-land is harder to fully realize
For she can't help but respond when cries are heard,
And since even Sudhana kowtows,
What numinous power she must have!
Sitting in meditation hands on knees
Mind broad as the sea, empty as the sky,
On a lotus blossom made of polished jade
Each and every petal clearly defined.
Those old fellows inside their oranges
Could have taken their cue from this.
At one with the people in all their grief,
And with the Buddha in complete compassion,
Identifying perfectly with those above and below,
Ever unceasing and ever unconditioned.
The present carving is unusual for its depiction of the figure of Guanyin and the three oval-section shape, and no other example appears to have been depicted. The proficiency of the carver is revealed in the clever way in which the natural shape and russet skin colour of the stone have been manipulated to create an intimate enclosure that exudes a sense of calm befitting to Guanyin.
Jade carvings depicting figures in naturalistic settings and modelled in the round with elaborate detail were particularly popular with the Qianlong emperor who was a keen collector of jade artefacts. All jade pieces in his collection were carefully chosen or commissioned by him, and only those that were of particular significance were endowed with his inscription or appraisal. Such carvings would have been housed in the Palace for his enjoyment and appreciation.
For carvings of figures in oval-shaped grottos, see one enclosing a figure of the Buddha sold in these rooms, 23rd October 2005, lot 414; and another depicting Damo, inscribed with an Imperial poem and dated to 1772, sold at Christie's Hong Kong, 1st May 1995, lot 801.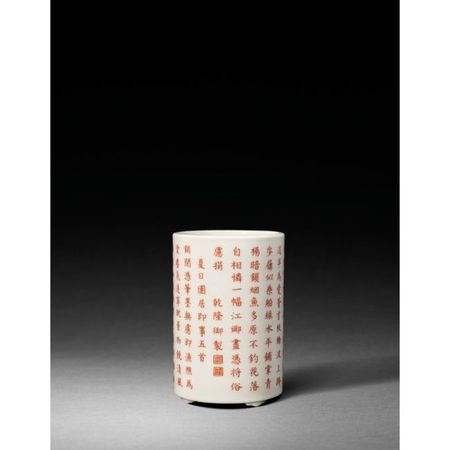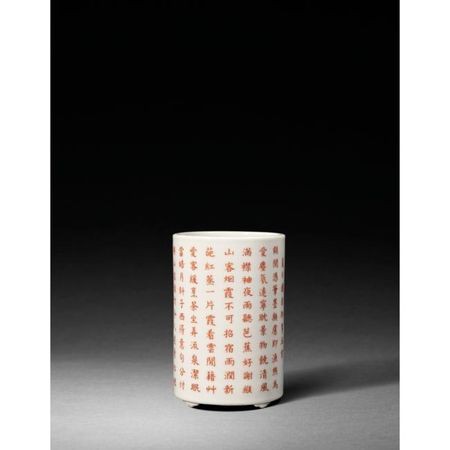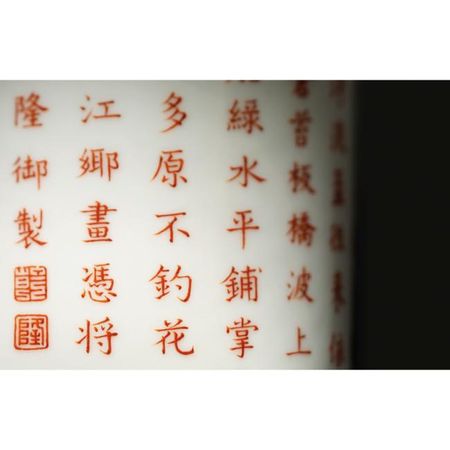 A SmaIl Fine And Rare Brushpot With Imperial Poems In Iron Red. Yuzhi Mark And Period of Qianlong. Photo Sotheby's
well potted as a cylinder supported on four short ruyi legs, the exterior inscribed in iron-red with five imperial poems, titled Xiari yuan ju jishi wu shou ('Five Poems on Summer Days in the Garden'), all neatly written in regular script, signed Qianlong yuzhi, followed by two seals Qian and Long; 10 cm., 4 in. Estimate 5,000,000—7,000,000 HKD. Lot Sold 6,020,000 HKD (771,795 USD) to an Asian Private
NOTE/ The five poems comes from Yuzhi Leshan Tang quanji dingben (Definitive Edition of the Complete Works by His Majesty from the Hall of Pleasure in Goodness), juan 29, p. 3, and can be translated as follows:
To while away time I rely on brush and ink,
Or, free from care, just go fishing, gather firewood.
Because I so love this distance from the dusty world,
I'd rather linger here surrounded by such scenery.
Clear wind fills my blouse and sleeves
As I listen to the night rain on banana leaves,
So I want to thank the visitor to Mount Gou
Since I myself cannot conjure up mists and clouds.
Rain which last night moistened new blossoms,
Is now red steam for a whole stretch of rosy clouds.
To watch clouds I occasionally lay back on the grass
And for fond guests I take my time over brewing tea.
Or sit and play with pure water from the running spring,
Going to sleep just when the bright moon starts to set,
And when this Zixi comes up with a line that satisfies,
He always sends it off to some mountain recluse.
Green bamboos make me feel remote,
Blue-green pines thrusting up above their company.
Hills are bright eyebrows painted in a flash,
Stream a dark sash which seems to split.
Occasionally an ancient calligraphic model is brought to my couch
Where I myself light a famous brand of incense.
The evening is cool thanks to a quick pass of rain,
And the Milky Way shines faintly through thin clouds.
Since there's a sincere and honest fellow here
A forest breeze has come to caress my face,
Where lotuses decorate the jade-green marsh
A summer pavilion open to the willows.
So fond of cranes I occasionally move my couch
And call to the boy to wash my cup clean.
Going back and forth I keep to the stone lined path,
Half because I so love its deep green moss.
A plank bridge spanning the waves
On which those in clogs seem walking in a boat.
Dark green water more flat than an outstretched palm,
Cathay poplars darker than pale enveloping mists,
Where fish are plentiful since no one fishes here,
And when blossoms fall they only can pity each other.
It's a picture-perfect river country scene –
Depend on it to banish all vulgar thought.
In their search for ever new designs and styles for the Qianlong emperor, the porcelain painters of the imperial kilns sometimes took the unusual step to reduce rather than to enlarge their choice of colours and decorative techniques from the plethora of possibilities at their disposal, yet while still producing subtly unique pieces. This is the case with the present brushpot, which at first glance appears familiar with its elegant imperial inscription on a cylindrical white form; however brushpots enamelled with iron-red inscription are rare. Two closely related examples, but inscribed with different poems, were included in the exhibition The Sun Yingzhou Collection of Chinese Ceramics, Palace Museum, Beijing, 2003, cat. nos 161 and 162.
Compare a Qianlong mark and period brushpot of similar form and size, but the poetic inscription written in black enamel, sold in these rooms, 5th November 1996, lot 921; and another but supported on five feet, in the National Palace Museum, Taipei, included in the exhibition Stunning Decorative Porcelains from the Ch'ien-lung Reign, National Palace Museum, Taipei, 2009, cat. no. 58.
Inscriptions in underglaze blue frequently adorned brushpots during the Kangxi reign (1662-1722) and this style of decoration was revived under the Qianlong emperor, but more frequently in black enamel on a variety of wares including brushpots, teacups and teapots. For the possible inspiration for the present brushpot, see a Kangxi example of broad proportions inscribed with a hundred shou characters in underglaze red, illustrated in The Complete Collection of Treasures of the Palace Museum. Blue and White Porcelain with Underglazed Red (III), Shanghai, 2000, pl. 166.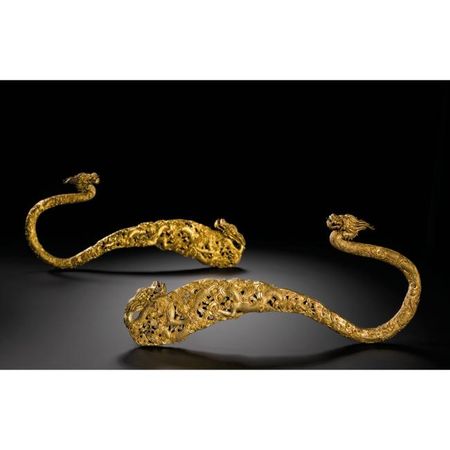 A Pair of rare gilt-bronze 'dragon' ornaments. Qing dynasty, 18th century. Photo Sotheby's
possibly made as lantern hooks, each of 'J'-shape made from two mirrored sections soldered together with the interior left hollow, the broader arched upper section set with a dragon-head with large eyes, a long tongue thrust out, curling whiskers and horns atop its head, the sinuous scaled body with powerful legs and five-claws on each foot, winding through layers of ruyi clouds with reticulated openings, tapering to a hook formed by the curved body of a second dragon writhing through clouds, terminating in a dragon head with similar features, the two dragon heads set confronting each other on either ends; length 53.5 cm., 21 1/8 in. Estimate 350,000—400,000 HKD. Lot Sold 3,380,000 HKD (433,333 USD) to an Asian Private
EXHIBITED: Chugoku Bijutsu ten series 5 (Chinese Art Exhibition Series 5) Minshin no Bijutsu ('Arts of Ming and Ch 'ing Dynasties'), Osaka Municiple Museum, Osaka 1980, cat. no. 3-15.
NOTE: Exquisitely cast in openwork to depict two dragons emerging amidst swirling clouds, the fine craftsmanship of the present piece is reminiscent of the level and style associated with gold of the same period, and no other related example appears to have been published. Dragons represent high rank and power while two facing dragons traditionally symbolise a happy reunion. This piece may have been used as a hook and its curvaceous form appears to be loosely based on much smaller garment hooks of the Warring States period (475-221BC), such as one in the Museum of East Asian Art, Bath, included in the Inaugural Exhibition. Chinese Metalwares and Decorative Arts, The Museum of East Asian Art, Bath, 1993, cat. no. 238.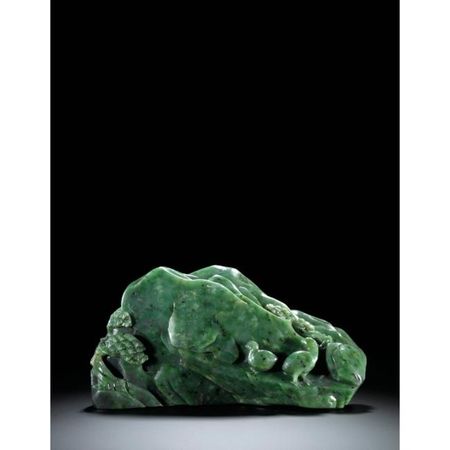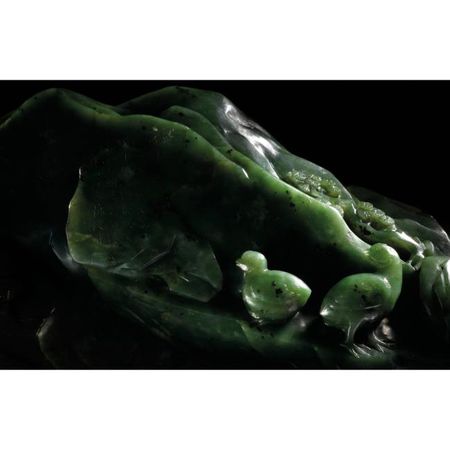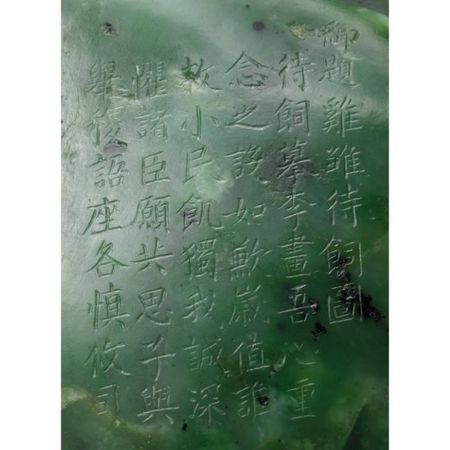 A rare and large green jade mountain with an imperial poem. Qing dynasty, Qianlong period. Photo Sotheby's
the stone of a forest-green colour with black and white mottling, carved on one side with a pair of high-relief chicks perched upon a rocky hill amidst pine and paulownia trees, incised on the rock face with a poetic inscription, the reverse with gnarled pine trees growing on jagged ledges above a deep ravine, the mountain crags skilfully carved utilising the natural flaws in the stone; 26.3 cm., 10 3/8 in. Estimate 2,000,000—3,000,000 HKD. Lot Sold3,140,000 HKD (402,564 USD) to an Asian Private
NOTE: The inscription can be translated as follows:
As I copy Li's paintaing of 'Chicks Waiting to be Nurtured',
My heart feels deep concern.
I surmise that the harvest has failed,
Who among the little ones is facing starvation?
In truth I alone am deeply appalled,
All the bureaucrats aspire to 'official concern',
My son makes eulogies in praise of millet.
In audience each sticks carefully to his own brief.
The depiction of two chicks is inspired by the famous painting Chickens Waiting for Feeding, signed and dated 1197, by Li Di (active 1163-1197), which is illustrated in The Complete Collection of Treasures of the Palace Museum. Flower, Bird and Animal Paintings of the Jin, Tang and Song Dynasties, Hong Kong, 2004, pl. 17. Li Di was a court painter in the Imperial Painting Academy of the Southern Song dynasty whose work was especially favoured by the Qianlong emperor. A copy of the Song painting, signed Hongli (the Qianlong emperor) and dated 1788, and a new version of poem were also transferred to stone so that multiple copies could be printed and distributed to the provincial governors. A zitan screen inlaid with a similar scene and carved inscription of a poem by the Qianlong emperor, dated to mid-autumn of the wushen year (corresponding to 1788) was offered in these rooms, 23rd October 2005, lot 386.
This poem expresses Qianlong's worries and concern for his subjects. Towards the end of his reign the emperor was faced with several problems, including the dramatically increased population of China, potential crop failure and famine in the country, an increasingly self-interested bureaucracy, and his uncertainty at his son's ability to reign effectively after his abdication.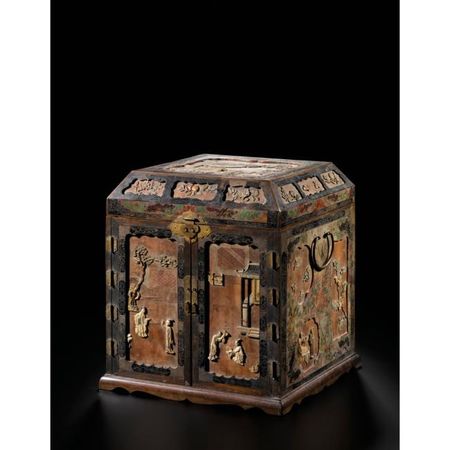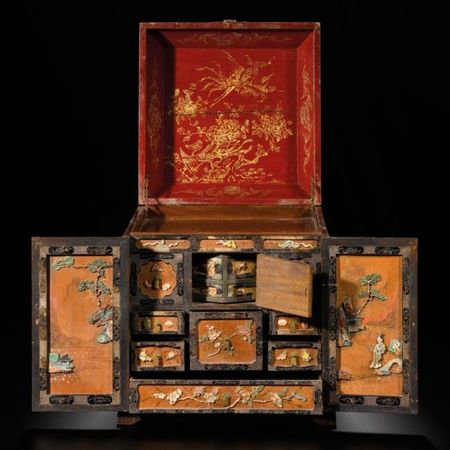 A rare finely inlaid soapstone curio cabinet. Qing dynasty, Qianlong period. Photo Sotheby's
of square section lavishly inlaid with panels of figures, flowers or vessel reserved on a bamboo-veneer ground, framed by multi-coloured soapstones finely incised with butterflies and flowers on wave-diaper ground, the tectal cover with a lady seated on a spindleback chair reading a book in a garden under a tall pine tree, the table before her laid out with peaches, a vase and books, the sides of the cover inlaid with panels of fruit sprays, flowers and vessels, the doors with two scenes, the left door with two ladies pointing at each other, and the right with a woman stooping before a bowing man, the soapstone set against finely painted architectual structures, the left and right sides each with three panels of lobed, quatrefoil, leaf or rectangular shape, enclosing either flowers, vessels or figures, the backside enclosing a scene of two lovers seated on a bench in a rock and pine tree garden, the cover opening up to a shallow tray and revealing a gilt-painted scene of phoenix and peonies on a red ground on the underside of the cover, the main doors opening to a landscape panel on one door and a scholar in a landscape on the other, the interior set with nine small drawers with metal pulls, each inlaid with either flowers, fruit or vessels within a lobed panel, the top centre door opening to reveal a secret six-sided rotating series of drawers, each further decorated with fruits and flowers, the flanking side drawers of triangular section, the exterior fitted with baitong hinges and ruyi-shaped lock plate and supported on a base. 44.5 by 40.8 by 41 cm. 17 1/2 by 16 by 16 1/8 in. Estimate 700,000—900,000 HKD. Lot Sold 3,020,000 HKD (387,179 USD) to an Asian Private
A rare white jade armillary three-ring disc. Qing dynasty, Qianlong period. Photo Sotheby's
deftly carved from a single piece of jade with three interlinked movable rings mounted like a gyroscope with each ring moving on a separate axis, the innermost ring decorated on each side in low relief with the constellation of seven stars of the Big Dipper, opposite to the moon, all surrounded by swirling clouds, the middle ring similarly carved with stylised archaistic dragons, encircled by the outermost ring with rocks rising from cresting waves, the translucent stone of an even milky-white tone with natural veining; 11.6 cm., 4 5/8 in. Estimate 1,200,000—1,500,000 HKD. Lot Sold2,420,000 HKD (310,256 USD) to an Asian Private
NOTE: The present disc of rings is carved from flawless white jade, the luminosity of which is accentuated by the restrained shallow carving, and no other example appears to have been published. This piece appears to have been inspired by armillary spheres, a device that first appeared in China during the Han dynasty (206BC-AD220) to help understand the movements of the heavens. With Earth placed at the centre of orbit, the outermost ring, the meridian ring, was fixed in the north-south direction; the middle ring, the equatorial ring, was aligned to the earth's equatorial plane; and the innermost ring, the Chijing ring, had a sighting tube and could revolve around the single metal axis which was oriented to the North and South Poles. To use the armillary, the position of a star would be identified by pointing the sighting tube at it and reading the angles of the different rings.
The four mountains on the meridian ring represent symbols and directions from the I Ching (Book of Changes), a compilation of writings and beliefs that predate the Xia dynasty. The inclusion of the symbols on the armillary and the constellations on the innermost ring shows the close ties between the traditions of astrology and astronomy in China.
It was not unusual to find armillary spheres made of precious materials as objects d'art for the collection of the imperial court, which could be purely decorative or functional.
Sotheby's. Vestiges from China's Imperial History, 08 Apr 11, Hong Kong www.sothebys.com